By Edward Faubert
A minor influence in prices has been felt by the strengthening of the U.S. dollar. Most soft commodities are grown in emerging economies and are dollar-denominated. A strengthening U.S. dollar tends to increase exports by creating remunerative returns in local currencies. Managed money has demonstrated time and time again it can ride a trend, but it can't create and sustain one. The dominant drivers of prices for softs are the individual patterns of supply and demand distinctive to each commodity.
Coffee
Coffee prices nose-dived during the past three months. Prices as measured by the ICE futures contract (KC) finished the second quarter at $120.40 a pound, down 20 cents, or 15%, on the quarter and down 32 cents, or 21%, YTD. Prices had reached a high of $1.51 a pound in early May only to fall to a low of $1.17 just five weeks later. The market has been in a long-term downtrend since May 2011 from a peak of more than $3.00 a pound.
The harvest in Brazil, the world's largest producer, is mostly complete. In its latest report, the USDA estimates Brazil's 2013/2014 crop to be at 53.7 million 60 kilo bags, down 2.4 million bags from the previous year due to a biennial off-year cycle. Total world production is forecast at 146 million bags (down 4.4 million bags), with Vietnam at 24.8 million bags (unchanged), Mexico and Central America at 16.5 million bags (down 1.4 million bags), and Colombia at 9.0 million bags (unchanged). Consumption is expected to rise modestly.
Money managers have maintained their long-held and profitable net short positions and are currently net short 27,500 lots compared with net short 26,000 lots three months earlier.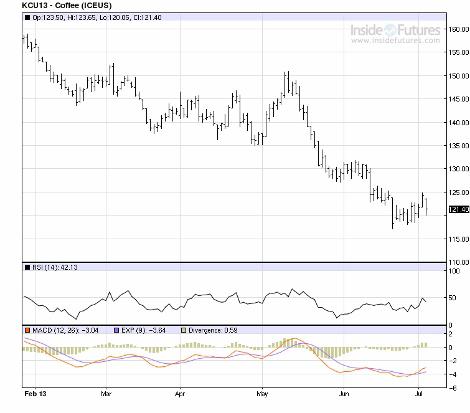 Cocoa
Cocoa prices are marginally lower. Prices as measured by the ICE Futures contract (CC) declined during the second quarter by $32 a ton to settle at $2,164 a ton, down 1% over the past three months and down $100 a ton, or 3%, YTD. The market staged two failed rallies during the quarter, the first up to $2,443 a ton in early May, and a lower high up to $2,384 in early June.
The latest forecast from the Intentional Cocoa Organization for the 2012/2013 crop year ending Sept. 30 projects total world production to drop year over year by 111,000 tons to 3.97 million tons. Total world grindings (which approximate consumption) are forecast to be 3.987 million tons, up 1%, based on indications of better grindings and consumption in Europe, which accounts for 40% of world cocoa processing. The result should be a reduction of ending stocks to 1.773 million tons representing a stocks/grinding ratio of a still-very-comfortable 45.5% compared with 46.4% a year earlier.
Money managers are betting prices are going higher and have increased their net long position from 13,000 lots three months ago to currently 42,800 lots.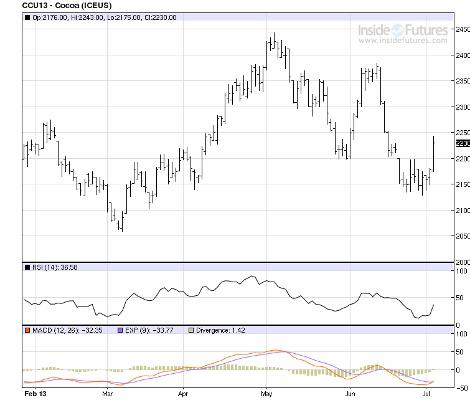 Cotton
Cotton prices as measured by the ICE Futures No. 2 contract (CT) finished the first quarter at 84.01 cents a pound, down 3.36 cents a pound, or 4%, during the quarter but up 5.27 cents, or 7%, YTD. In its latest forecast, the USDA projects total world production of cotton for the 2013/2014 year ending July 31 to be 25.51 million tons, slightly less than its May forecast and well off the peak of 27.25 million tons seen during the 2011/2012 crop year. Consumption, however, is expected to be soft, marginally down year over year.
As a result, total ending stocks for the world's 2013/14 crop year are anticipated to be 20.14 million tons, essentially unchanged from the all-time record of 20.19 million tons seen at the end of the 2012/2013 season. Money managers reduced their net longs during the quarter to 51,700 lots compared with 63,000 lots three months earlier, but still represent a sizable one-third of the total open interest.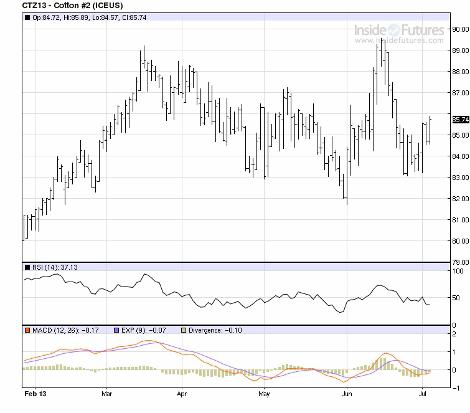 Sugar
International sugar prices have continued in a downtrend that began back in February 2011 at 36 cents a pound. Prices as measured by the ICE Futures NY 11 contract (SB) finished the second quarter at 16.92 cents a pound, down 1.23 cents, or 6%, during the quarter and down 3.14 cents, or 15%, YTD. Prospects for a fourth year of surplus production, fueled by production in Brazil and Thailand, have continued to pressure prices. The USDA projects total world production of sugar for the 2013/2014 crop year (October-September) at 175 million metric tons, narrowly setting a new record. The growth in production from Brazil to 40.4 million tons and from Thailand to 10.5 million tons are offsetting a drop in India to 25.3 million tons.
The expectation is that today's lower prices will encourage consumption to rise by 3.7 million tons to 167.3 million tons. However, ending stocks for 2013/2014 are forecast to be 38.2 million tons, just slightly off the record high seen a year earlier. Money managers have increased their net short positions to 47,800 lots, compared with net short 29,200 lots three months earlier.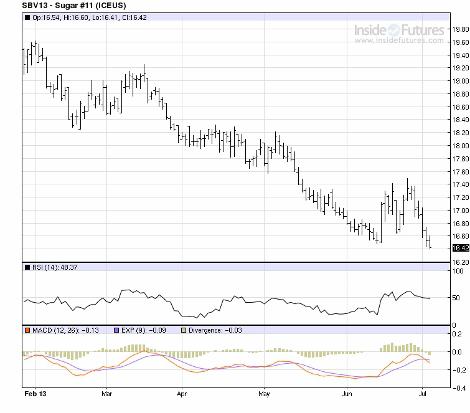 Individual ETFs are available shown below. All are based on futures contracts.
Coffee: The Dow Jones-UBS Coffee ETN (NYSEARCA:JO) issued by Barclay's iPath and the Pure Beta Coffee ETN (NYSEARCA:CAFE) also issued by Barclay iPath
Cocoa: The Dow Jones-AIG Cocoa Subindex (NYSEARCA:NIB) and the iPath Pure Beta Cocoa ETN (NYSEARCA:CHOC)
Cotton: The iPath Dow Jones-UBS Cotton Total Return Sub Index (NYSEARCA:BAL) and the iPath Pure Beta Cotton (NYSEARCA:CTNN)
Sugar: The Dow Jones-AIG Sugar Total Return Sub Index (NYSEARCA:SGG), the iPath Pure Beta Sugar (NYSEARCA:SGAR), and the Teucrium Sugar Fund (NYSEARCA:CANE).