Penn West Petroleum (NYSE:PWE) has had more than its share of major recent news. On June 5, the company announced a major strategic review. Penn West slashed its dividend 48%, announced a new CEO, and announced a 10% reduction to its workforce. This news was received quite favorably by the market, sending the stock up about 10% in a week. However, Penn West has since declined, and is now trading more or less at the level where it was before it announced these changes. Another major development for Penn West occurred recently when its Vice Chairman Allan Markin unexpectedly resigned. Penn West was down 4% on the news and led one analyst to downgrade the stock. Penn West currently offers a $0.14 per share quarterly dividend and yields about 5.40%.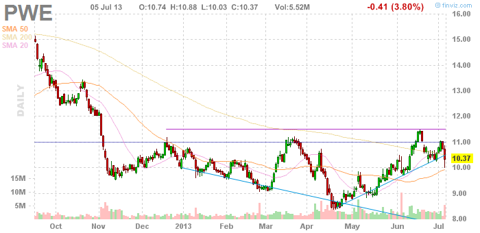 Penn West's Strategic Review
In its strategic review, Penn West formed a special committee to explore strategic alternatives. Penn West is considering various options to shore up its capital spending, including selling assets, business combinations and possible joint ventures. I had earlier speculated that asset sales were the most likely method for the company to secure this capital. Penn West has a large amount of acreage, much of it light oil rich. If it were located in more transportation friendly areas, this land would likely receive many offers.
However, this is not the case. Penn West assets are mostly located in Western Canada, an area faced with pipeline bottlenecks, weather related issues, higher than average wages and costs, and other various difficulties. In addition, Penn West's workforce seemed to be bloated and very inefficient. It was also my opinion that Penn West's previous management was wildly incapable and that the hiring of new CEO David Roberts was a major boon for the company. Roberts, previously COO of Marathon Oil Corp. (NYSE:MPC), is very likely to clean house and to bring some much needed operational discipline to Penn West. This review is barely a month old and its results are most likely to be a hot topic of discussion during the Q2 2013 earnings conference call.
Before Roberts was made CEO, Penn West had already attempted to find experienced managers. On May 5, Penn West announced the appointments of Rick George as chairman of the board and Allan Markin as vice chairman of the board. George was previously CEO of Suncor Energy (NYSE:SU), a large integrated Canadian energy company, while Markin was previously chairman of the board for Canadian Natural Resources (NYSE:CNQ).
That Markin was only hired by Penn West about two months ago makes his resignation even more puzzling. Below is the full announcement:
Penn West Exploration announces the resignation of Mr. Allan Markin

Jul 4, 2013

CALGARY, July 4, 2013 /CNW/ - PENN WEST PETROLEUM LTD. (TSX - PWT) (NYSE - PWE) ('PENN WEST') announces that effective July 5, 2013, Mr. Allan Markin will be stepping down from the Board of Penn West.

On behalf of the Board of Directors, Chairman, Mr. Rick George commented "we appreciate the contributions Al has made to Penn West in the time he was on the Board. We will continue to focus on many of the areas of value enhancement he championed."

Penn West continues to progress its transition plans with the Special Committee of the Board, chaired by Jay Thornton, moving forward on a detailed plan to review company strategy and assets. In addition, the company's new President and CEO, Dave Roberts, is now in place working detailed asset reviews, capital spending plans, personnel optimization and organizational structure.
This news was not received well by the market. While downgrading Penn West, National Bank Financial noted that the resignation was "rather suspicious", and also mentioning that Markin had only joined the board in May and the overall high turnover for Penn West's boardroom and senior executives.
Also worth mentioning is a theory put forward by fellow Seeking Alpha writer Devon Shire. Shire noted that Markin may have resigned in order to avoid a conflict of interest. This conflict would arise if Markin's former employer Canadian Natural Resources was to buy Penn West.
This seems like a sound theory and leads into my next topic of discussion:
Penn West Trades at a Deep Discount to Book Value
There is little doubt that at current prices Penn West is greatly undervalued. By themselves, Penn West's reserves have an estimated value of $9.1B, much less than the company's current market capitalization of about $5.0B. Badal Pandhi, an analyst at FrontFour Capital, which owns shares of Penn West in its funds, estimates that Penn West is worth around $18 to $19 per share using a sum-of-the-parts analysis.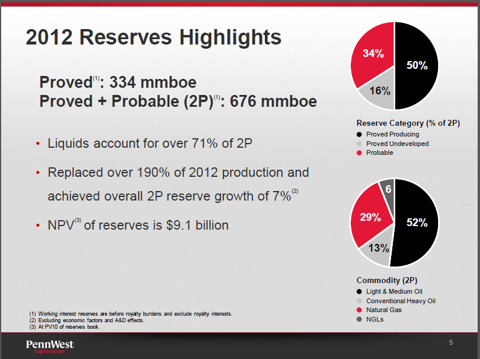 Rising Oil Prices and Lowering Spreads
That a large company like Canadian Natural Resources would invest or buy out Penn West would not be shocking. As mentioned above, Penn West is in need of capital. The company was forced to lower its dividend primarily in order to be able to fund its current capital budget. In addition, Penn West's assets are looking much more attractive given the recent increases in energy prices and the declining spread between Canadian crude and WTI.
With the recent turmoil in Egypt, oil futures have surged to levels not seen since mid 2012. However, these increases in oil prices have not led to higher stock prices for Canadian oil companies. Since November, oil has risen $15 per barrel, yet the broader Canadian energy sector has only risen 4%. This divergence may be caused by lukewarm support for the Keystone XL pipeline from the Obama administration. In a recent speech, President Obama referred to Canadian oil sands as "tar sands," which is a loaded term often used by critics of Canadian oil. While Penn West has relatively little oil sand exposure, it is still clumped together with the overall Canadian energy sector.
There is, however, some good news regarding oil price spreads. The spreads for Canadian oil, both heavy and light, have lowered recently due to increased use of rail, increased pipeline capacity, and improved weather. In addition, demand for Canadian oil remains robust, especially after several Midwest refiners came back online after planned maintenance. This may very well lead to a positive Q2 2013 surprise for many Canadian oil companies.
Conclusion
In my opinion, if the stock remains at current levels, it is very likely that Penn West will see a major asset sale or outright sale of the company medium to long term. That Penn West trades at such a large discount to its book value is astonishing given the improving fundamentals for Canadian crude overall.
Previously, the major downside risk for Penn West was its unsustainable dividend. However, the market only has a muted reaction when Penn West did cut the dividend, which points towards this event being priced into the stock. Penn West is now mostly a deep value play. Will the company be able to sell off assets at attractive prices? Will Penn West continue to see senior executives leave almost monthly? These are the questions one must ask themselves before investing in this stock.
Disclosure: I am long PGH. I wrote this article myself, and it expresses my own opinions. I am not receiving compensation for it (other than from Seeking Alpha). I have no business relationship with any company whose stock is mentioned in this article.
Disclaimer: The opinions in this article are for informational purposes only and should not be construed as a recommendation to buy or sell the stocks mentioned. Please do your own due diligence before making any investment decision.