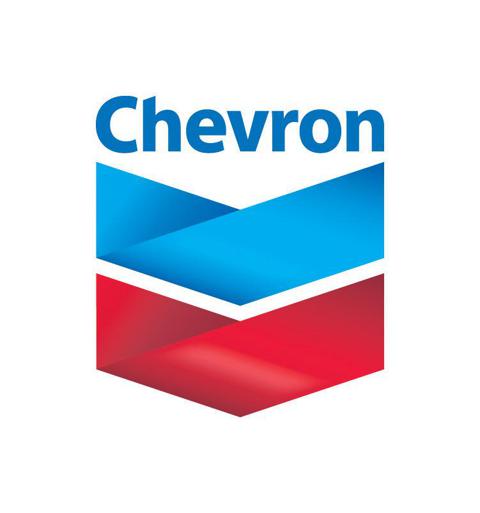 Click to enlargeLast month Chevron (NYSE:CVX) announced its subsidiary Cabinda Gulf Oil Company Limited began initial production of liquefied natural gas (LNG) at the Angola LNG project. The first cargo was sold to Angola's state oil & gas company Sonangol and is being shipped to Brazil by the SS Sonangol Sambizanga, one of seven 160,000 m3 LNG vessels under long-term charter to the Angola LNG project.
Angola LNG is one of the largest energy projects on the African continent. The project has the capacity to produce 5.2 million metric tons per year of LNG, 63,000 barrels per day of natural gas liquids for export and 125 Mcf/day of natural gas for domestic consumption. The Angola LNG project has a peak production capacity of 175,000 boe/d.
Chevron's subsidiary owns a 36.4% interest in the joint-venture, along with Angola's state oil company Sonangol (22.8%) and subsidiaries of Total (NYSE:TOT), BP (NYSE:BP) and ENI (NYSE:E), each with a 13.6% interest. Chevron is the operator. The $10 billion project received the final investment decision go ahead way back in 2007. The partners are finally cashing in on the project.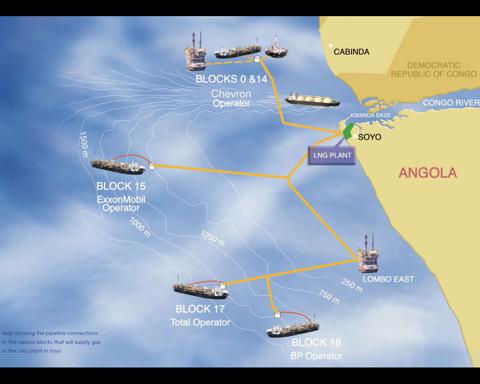 Click to enlarge
Angola LNG plans to use associated natural gas produced from existing crude oil operations operated by Chevron and its partners as well as new non-associated gas from other offshore fields from operators like ExxonMobil (NYSE:XOM). The slide above shows the pipeline connections from the various blocks that will supply gas to the LNG plant in Soyo.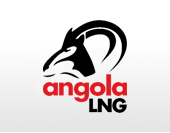 Angola is one of the world's deep water oil exploration "hot spots". More than 50 significant oil discoveries in Blocks 14, 15, 17 & 18 are believed to contain at least 10 billion barrels of oil. Historically, in the absence of a local market, associated gas has been flared or reinjected into the reservoirs. The Angola LNG project will reduce natural gas flaring and greenhouse gas emissions from offshore producing areas, and will support future offshore oil field development.
Chevron In Angola
According to a company factsheet, Chevron is one of Angola's top petroleum producers and is its largest foreign oil industry employer. In 2012, Chevron's operations in Angola had an average daily production of 128,000 net barrels of liquids.
In addition to its interest in Angola LNG, Chevron has an interest in four concessions: Block 0, off the coast of Cabinda province; Block 14, in deep water; Block 2, offshore northwest Angola; and the onshore Fina Sonangol Texaco area.
But if we look at the slide below from a recent CVX presentation, Angola LNG was one of the company's biggest new investments and highest peak production projects in Africa: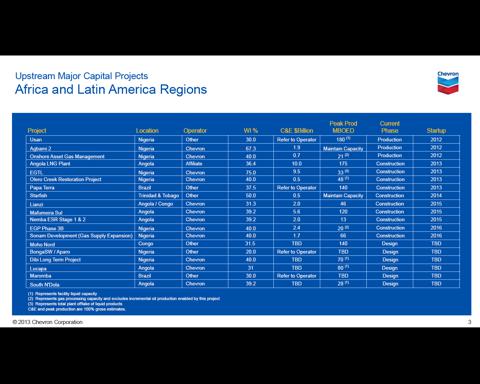 Click to enlarge
Chevron's 36.4% interest in Angola LNG equates to a peak production capacity of approximately 63,700 boe/day.
Chevron currently has three more projects under construction in Angola -- all of which are scheduled to come online in 2015:
Lianzi, 31.3% WI, 46,000 boe/day peak production
Mafumeira Sul, 39.2% WI, 120,000 boe/day peak production
Nemba ESR Stage 1 & 2, 39.2% WI, 13,000 boe/day peak production
Taken together, these projects will add 66,000 boe/day (net) to Chevron when peak production is reached. Added to Angola LNG's 63,700 boe/day (net to CVX), that is close to 130,000 boe/d of new Angolan production.
Block 0: A Monster
Chevron operates and has a 39.2 percent interest in Block 0. In 2012, Chevron reached a major milestone when Block 0 produced its 4 billionth barrel of crude oil. The block is divided into Areas A and B. Together they contain 21 fields that produced a net daily average of 98,000 barrels of liquids in 2012.
Summary And Conclusion
Chevron's plan is to grow production from 2012's 2.6 million boe/day to 3.3 million boe/day by 2017. As shown in this article, Angola LNG and other projects in Angola are a critical piece of CVX's growth plan. But production growth isn't the only reason to like Chevron: the company leads its industry in the very important "profit per barrel" metric as shown in this slide from a recent Credit Suisse Energy Summit presentation: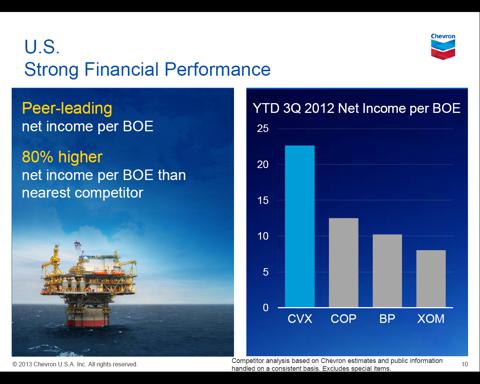 Click to enlarge
Combining the planned production growth with its profitability per barrel metric, it is not hard to understand why Chevron Is the Best Integrated Oil Company In The World.
Chevron's Q2 2013 Interim Update will be available July 10. Q2 earnings results will be released on August 2. The current consensus EPS estimate for the quarter is $3.03. If Brent and WTI prices spend much time at current levels, I suspect CVX will beat that estimate.
Chevron currently has P/E=9.1, pays a $4.00/share dividend and yields 3.3%. That is more than half-a-percent higher than the 10-year treasury yield, and that after a new 0.25% rally in the 10 year last week.
Chevron is a STRONG BUY.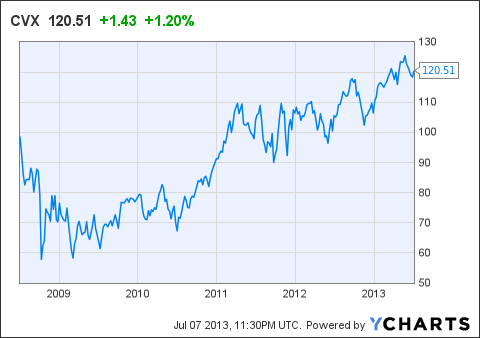 Disclosure: I am long CVX, XOM. I wrote this article myself, and it expresses my own opinions. I am not receiving compensation for it (other than from Seeking Alpha). I have no business relationship with any company whose stock is mentioned in this article.
Additional disclosure: I am an engineer, not a CFA. The information and data presented in this article was obtained from company documents and/or sources believed to be reliable, but has not been independently verified. Therefore, the author cannot guarantee its accuracy. Please do your own research and contact a qualified investment advisor. I am not responsible for investment decisions you make. Thanks for reading and good luck!