Rogers Communications Inc. (OTC:RCIAF) and Telus Corporation (NYSE:TU) are two of Canada's largest mobile phone carriers with 9.3 million and 7.7 million subscribers respectively. Together they share over 60% of the 27 million Canadian mobile phone subscriber market and enjoy average revenues per user of $59.68 and $60.02 respectively.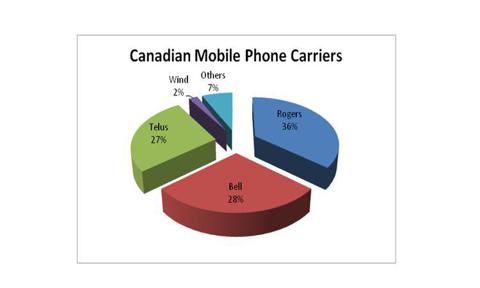 That is about to change. Verizon Communications Inc. (NYSE:VZ) reportedly has made an offer to acquire the Canadian operations of Wind Mobile, a smaller wireless carrier with a 1 or 2 percent share of the market. While Wind has only a few hundred thousand subscribers, Verizon's entry is likely to see it expand rapidly. Verizon is the largest U.S. carrier with a market capitalization of $115 billion and approximately 34% of the 325 million user wireless market in that country. It has the skills and resources to compete with the Canadian incumbents, and competition is something they have not really faced to this point.
The impact can be material. It is reasonable to assume Verizon will be able to capture at least 10% of the Canadian market in a relatively short period of time. Canadians have not been happy with the arrogant pricing and contractual policies of the Canadian providers based on my personal observations. I have often heard the quip "it is easier to get out of marriage than a Rogers cell phone contract," and there is some truth to that, although it likely applies equally to Bell and Telus.
Assuming Verizon proceeds with the purchase of Wind Mobile and expands to a 10% market share, what is the impact on Rogers, Telus and BCE?
Rogers Communications had annual revenue in 2012 of $12.5 billion, of which 56% came from wireless. It earned EBITDA of $4.8 billion in 2012. The loss of 1 million subscribers would reduce EBITDA by $600 million or about 13%, since in my view the wireless costs are largely fixed and revenue losses fall right to the bottom line.
Telus had 2012 revenue of $10.9 billion and EBITDA of $4.0 billion. The loss of 1 million subscribers would also cost it $600 million of EBITDA or about 15%.
BCE is a much larger company than Rogers or Telus with 2012 revenue of about $20 billion and EBITDA of almost $8 billion. The loss of 1 million subscribers would be less material to BCE and somewhat offset by its recent acquisition of Astral Communications.
Will Verizon go ahead and enter Canada? I think it likely that they (or another U.S. carrier) will do so. The benefits of having integration of Canadian and United States coverage would be seen as adding value by Canadian subscribers, and the entry cost to buy Wind Mobile is likely relatively low. Foreign companies are restricted to buying Canadian carriers holding less than 10% of the market, but their growth once established has no restriction, and they can compete to buy spectrum with the incumbents.
Shares of Rogers and Telus both took a drop when the possibility of Verizon buying Wind was first announced. In my view, that is just the beginning. I believe both Rogers and Telus are reasonable candidates for a short sale and I may establish a short position on any strength.
Disclosure: I have no positions in any stocks mentioned, but may initiate a short position in TU, OTC:RCIAF over the next 72 hours. I wrote this article myself, and it expresses my own opinions. I am not receiving compensation for it (other than from Seeking Alpha). I have no business relationship with any company whose stock is mentioned in this article.