(Editors' Note: This article covers a micro-cap stock. Please be aware of the risks associated with these stocks.)
Introduction
In February 2013, I wrote an article about the Trans-Alaska Pipeline System (TAPS) and the ongoing exploration programs of the primary energy players in Alaska. My article is here.
However, things have changed a lot during the last four months due to some unexpected developments. These developments are not only surprising but also crucial for the future of Alaska's energy infrastructure and the E&P companies that operate in this state.
Alaska's Oil Production
The Alaskan economy runs on crude and Alaska gets most of its revenue from taxing the oil industry. The state receives so much royalty and other oil tax money that there is no need for a state sales tax or income tax, and residents receive checks from the Alaska Permanent Fund that roughly total $5,000 a year for a family of four.
Since Alaska's oil production peaked in 1988 at 2.02 million bbl/d, the state's output has steadily dropped as output from wells naturally declines and isn't replaced. Alaska's production declined to approximately 550,000 bbl/d a couple of months ago.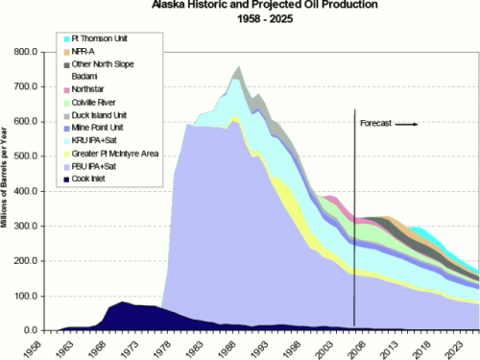 Click to enlarge
As a result, Alaska dropped to the third position in the top-10 of the oil-producing states in the U.S. Thanks to hydraulic fracturing and the horizontal drilling, North Dakota has passed Alaska to become the second oil-producing state in the U.S., redrawing the U.S. energy map. Texas holds a firm grip on first place.
Shell and ConocoPhillips
According to the recent news, future exploration in Alaska faces a serious setback and Alaska's hopes to reverse two decades of declining oil production seem to be fading. Oil and gas production will most likely continue to decline in the Frontier State after the following spate of delays and shelved projects in the region:
1) In early March 2013, Royal Dutch Shell (NYSE:RDS.A) put on hold its drilling plans this summer in Chukchi and Beaufort Seas after it was forced to remove its two drilling rigs from the area. The rigs were sent to Asia for repairs after a series of ship groundings, harsh weather, equipment failures, and regulatory uncertainty during last summer's drilling operations.
According to the U.S. Department of the Interior, Shell failed to finalize key components of Alaska program, reinforcing the Obama administration's commitment to ensuring oil and gas exploration activities maintain safety at all levels. Shell has spent ~$5 billion so far on its oil exploration efforts in Alaska, and "Shell remains committed to building an Arctic exploration program that provides confidence to stakeholders and regulators, and meets the high standards the company applies to its operations around the world," said Marvin Odum, director of Upstream Americas for Shell.
In addition, David Lawrence, Shell's executive vice president responsible for exploration activity in the Americas, is to leave Shell "by mutual consent" later this year. He was tasked with managing this multi-billion-dollar oil exploration program in Alaska among others. No details have been given why Mr. Lawrence, who joined Shell in 1984, was leaving the company.
2) In early April 2013, ConocoPhillips (NYSE:COP) said it was suspending plans to drill in Alaskan waters in 2014 because of uncertainties over federal regulatory and permitting standards.
ConocoPhillips Alaska President Trond-Erik Johansen said: "While we are confident in our own expertise and ability to safely conduct offshore Arctic operations, we believe that more time is needed to ensure that all regulatory stakeholders are aligned."
He also added: "We welcome the opportunity to work with the federal government and other leaseholders to further define and clarify the requirements for drilling offshore Alaska. Once those requirements are understood, we will reevaluate our Chukchi Sea drilling plans. We believe this is a reasonable and responsible approach given the huge investments required to operate offshore in the Arctic."
Alaska's Tax Policy
After the corporate announcements above, Alaska got the message. In April 2013, Alaska granted a tax break to oil companies in the hope of reinvigorating the state's production. This is an estimated $750 million in annual tax relief.
Tax policy has always been a crucial deterrent, since large tax increases can significantly diminish the profitability of marginal oil and gas projects. Drilling in the Chukchi and Beaufort Seas is very costly and such policies give the E&P companies a significant incentive to intensify their exploration and drilling programs.
The Effects
These three developments above will make a big impact on Alaska and its economy. Their main effects are:
1) TAPS Survivability: TAPS is a 48-inch, 800-mile pipeline that was built in 1977 and hailed as a marvel of engineering. Since then, TAPS has been transporting crude oil from the oilfields at Prudhoe Bay on Alaska's North Slope to the port in Valdez, where it is loaded aboard tankers for the journey to U.S. refineries. During the peak of construction, over 28,000 people were employed by Alyeska Pipeline Service company and its contractors. TAPS had a cost of $8 billion.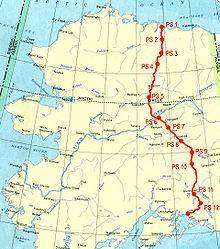 TAPS has been operating at less than one third of its 2.1 million bopd total capacity and Alaska has been suffering from an oil shortage to fill TAPS. Another oilfield, which is located at the Arctic National Wildlife Refugee in Alaska could potentially hold up to 10 billion barrels of oil and it could also feed TAPS. However, there is presently a drilling ban on it due to environmental issues.
The news above will deteriorate this situation. The reduction of the velocity that oil flows through the pipeline allows water to gather in the system, which could lead to more corrosion, ruptures and oil spills on the tundra. In short, the pipeline can become unsafe to be operated. According to the pipeline's operator, Alyeska Pipeline Service, the pipeline can not be reliably operated at throughputs lower than 350,000 bopd.
However, the installation of heaters along the pipeline can resolve most of the problems above. Assuming all the engineering problems above are solved with upgrades and modifications, the second question is whether it is worth the money. Is TAPS economical to run? Alyeska's engineering teams have been researching lately the most cost effective approach as the amount of oil continues to drop. Alyeska Pipeline Service wants to operate the line in a "cold dry flow" state where water is removed from the crude before it enters the pipeline and the system runs much cooler.
2) Alaska Natural Gas and Oil's Premiums: Alaska's oil and gas supply will continue to shrink, helping both North Slope oil and natural gas prices retain their current premiums. Natural gas commercial price in Alaska has been almost double the price paid in the rest of North America, and the Alaskan crude has also been holding a good premium against WTI and Bakken, although this premium has narrowed since early 2013 due primarily to two facts:
A) The results from the ongoing "Pipeline Revolution" in North America start to show up. In early 2013, I discussed this game changing development, providing maps and many other details. A sample of these articles are here, here and here.
B) The producers send more crude to the refineries on the Gulf Coast by rail, propelling WTI and Bakken prices to higher levels.
These two premiums above are important factors for the economic viability of the exploration and drilling projects of the following publicly traded companies that continue to operate in Alaska:
A) Miller Energy Resources (NYSE:MILL): Miller has operations in the heart of Tennessee's Appalachian Basin including the Mississippian Lime and the Chattanooga Shale. I discussed Miller in another article in March 2013. If Miller's ongoing drilling program in the Appalachian Basin is successful, it will be promising for Magnum Hunter Resources (MHR). Magnum holds significant undeveloped acreage (467,000 net acres) in the Appalachian Basin but it does not plan to drill in Tennessee in 2013. My article is here.
Apart from the Appalachian Basin, Miller's primary operating area is located in Cook Inlet, Alaska where the company holds 753,000 net acres. Miller and several privately-held companies have not changed at all their ongoing drilling programs in Alaska. Miller's program is moving forward smoothly and the company is about to drill one more well in Cook Inlet, targeting a structure that contains an estimated recoverable 800,000 barrels of oil.
B) Royale Energy (NASDAQ:ROYL): The company's stock surged in April 2013 after announcing a potential joint venture worth $43 million. The deal was completed in May 2013 when Royale Energy finalized a joint venture with Rampant Energy of Australia for the development of a portion of Royale's Alaska North Slope property.
Under the terms of this agreement, Rampart may earn up to 75% Working Interest in Royale's Western and Central acreage position, upon completion of a work program that includes seismic and drilling commitments. Royale owns 91,000 acres in Alaska.
C) Apache (NYSE:APA): The company is Alaska's largest leaseholder with about 850,000 acres under lease and is engaged in a multi-year seismic program to acquire 3-D data on a large area of the Cook Inlet basin, both onshore and offshore. Apache sees high-resolution 3-D seismic data as the key to finding those structures that may hold oil and natural gas. The company has completed about 320 square miles of its multi-year seismic program in the basin thus far, and it received the approval to proceed with more Cook Inlet seismic work in late February 2013.
Apache has high hopes for Cook Inlet, which produced more than 200,000 bbl/d in its heyday but its production has dwindled to about 10,000 bbl/d today. Apache completed drilling at its first Cook Inlet exploration well in March 2013, but it has not released any further information about that well since then. However, the company continues its Alaskan program with more details expected in H2 2013.
On a last note, I bought Apache when it dropped at $76. The stock has risen 20% since then and it hovers currently at $82. My article is here.
Conclusion
It remains to be seen whether TAPS' end is in sight and how much life this critical pipeline has left in it. This case must not be taken lightly and I expect more news about it in coming weeks.
Disclosure: I have no positions in any stocks mentioned, and no plans to initiate any positions within the next 72 hours. I wrote this article myself, and it expresses my own opinions. I am not receiving compensation for it (other than from Seeking Alpha). I have no business relationship with any company whose stock is mentioned in this article.