United Online (NASDAQ:UNTD) is an interesting small cap stock with a market cap of over $700 million. The company is an amalgamation of internet services including FTD, a flower order service, classmates.com, a website for looking up high school classmates, mypoints.com, a loyalty sales company, and Netzero and Juno, two internet service providers (dialup and mobile broadband). United Online currently has a dividend yield of 5.3% and has maintained its $0.10/quarter payout since Q3 2008.
Revenues
The company has seen diminishing revenues since 2009, with revenue falling 11.5% from 990 to 876 (TTM). The primary source of reduced revenue has been reduced income from both the content and media and communications segments of the company, where segment income has dropped significantly YOY. This is coupled with a significant write down for goodwill and intangibles associated with MyPoints due to material decline for that business unit.
The bright spot for the company is FTD, which they are planning to spin off in Q3 into a separate company in a tax free pro rata distribution. This unit has seen improving net income (~15%) since 2010 and has become the main source of revenue for the company.
Debt
United Online has been working to reduce debt that is largely a result of the purchase of FTD in the first place in Q3 2008 and now carries 487 million in total liabilities which results in D/E of 50.6%. This is not a particularly high value especially considering that the company has worked down from a D/E of 114% in 2008 after the purchase.
(United Online Financial highlights Q1 2013)
Free Cash Flow
FCF has been dropping along with revenues largely as a result of diminishing returns from both the content and media and communications segments. This trend will likely continue as the company continues to struggle to monetize online nostalgia and the demand for cheap dial up services continues to decline.
Using a discounted cash flow valuation for the company, I calculate an intrinsic value of $8.11/share. This model uses a WACC of 5.76 and a 2013 TTM FCF of 63 million.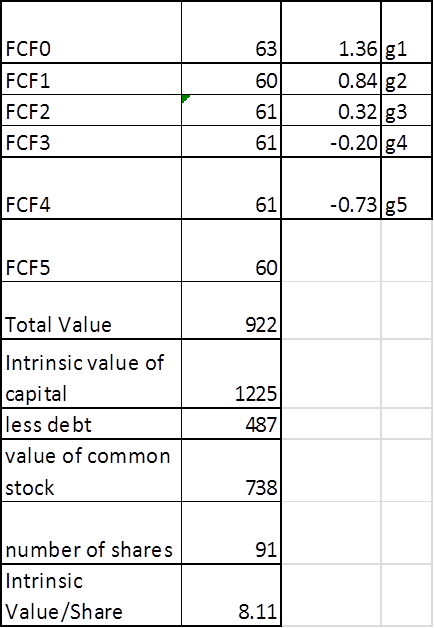 So the cash flow and growth projections for United Online show that the company is close to being fairly valued with a price of 7.80. They are selling off the segment of the company that is currently responsible for the majority of the FCF generation, leaving the other segments with diminishing revenues and cashflow as the whole of the company.
Sum of the Parts
Since we know that United Online is pretty close to well valued based on its FCF, it's time to look at the value that might be locked up in the different segments of the company. The object of this exercise is to see if there is a particularly large discrepancy between the market value of the shares and the value potentially locked up in the pieces of the company. This is especially important since we are aiming to gauge how much of the value of the company is currently tied up in FTD before the spinoff in Q3.
In this model, I used the net income from the different segments of the company, the P/E and growth calculations from 2012 and 2011, and the current forward P/E of 14.8, and the lowest P/E in the last five years of 9.2 to construct a range of valuation for the company.
If you do not agree with the multiples I used or have suggestions for how I can improve either model in this article, please leave feedback in the comments section and I will do my best to address concerns and improve the models in this article. This is the best way for me to improve the quality of my analysis and I value the feedback.
The low end of the valuation using a P/E of 9.2 yields a range from $6.49 to $8.70, this implies that even at the bottom end of estimates, the company has the intrinsic value to support its current share price and is likely currently undervalued. Using the current forward P/E value of 14.8, the range of valuation jumps to $10.40 to $12.60, implying a potential premium of 35-63% over the current price.
Considering that FTD contributes 70% of the revenues that are going into this model, it seems like United Online is currently priced based on FCF, and that the spinoff of FTD could unlock significant value for shareholders.
FTD Revenues
FTD has had increasing revenues for the last three years, with Q1 2013 rev increased YOY revenues increasing 8% YOY which is the 9th consecutive quarter of increased revenues. Consumer orders have increased YOY for the last 7 quarters with average price per order maintain a range from 60.75 to 63.46 in the past two years. This means that the company is maintaining price per order and that the driver of sales is not discounting in an effort to boost transactions. These numbers indicate that FTD is growing revenues, experiencing growth in orders, and this is unlikely to be considerably affected as the company splits off barring mistakes by management.
Overall
Given the current valuation of United Online, investing before the spinoff makes sense given that there is substantial potential for unlocking value in the spin-off. Unfortunately, this means that you have to invest in a company with two other segments that have diminishing revenues and a track record of failing to be able to monetize online content. Buyer beware, the value in this trade is for FTD, and after it has spun off, without considerable innovation, UNTD looks to be a company without a significant catalyst for future growth or even maintenance of current revenues.
Disclosure: I have no positions in any stocks mentioned, and no plans to initiate any positions within the next 72 hours. I wrote this article myself, and it expresses my own opinions. I am not receiving compensation for it (other than from Seeking Alpha). I have no business relationship with any company whose stock is mentioned in this article.