The first article of the series has introduced the Carbonate Triangle of the renowned Canadian oil sands. The region is the world's third largest oil reserve with its rich carbonate-hosted bitumen deposit located in northern Alberta's deep underground. Precisely, the Carbonate Triangle is situated between three major bitumen areas - Athabasca, Cold Lake and Peace River.
In today's investment guide on the Carbonate Triangle, I will briefly recap the main characteristics of the Cold Lake region to have a better assessment of its potential. Then, I will review a small-cap oil producer that has been analyzed previously with its Peace River assets and that owns a few assets as well in Cold Lake.
So far, I examined the following producers involved in the Carbonate Triangle. The first area analyzed was Peace River. The producers were:
The current area, Cold Lake, has been reviewed in a past article as well as the following oil producers:
Notably, an analysis of the current operations of the company in Cold Lake will be examined with the objective to provide the most complete information available to the potential investors before deciding to seize the opportunity that the 54,132 square miles of the Carbonate Triangle has to offer. Let's start by reviewing briefly Cold Lake, the second larger oil sands deposit of the Carbonate Triangle.
The Cold Lake Region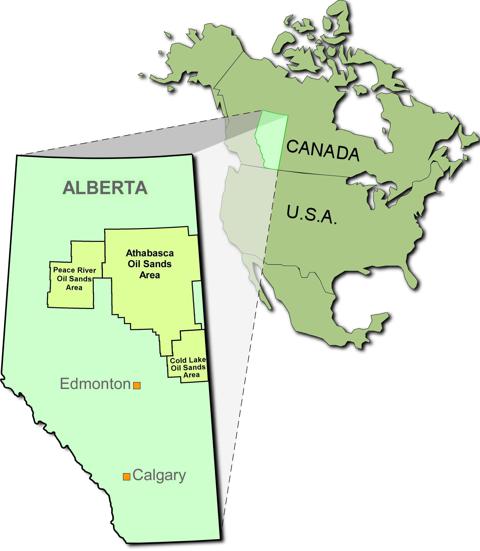 Source: ERCB
Historically, the majority of the primary bitumen has been produced from the Cold Lake oil sands area using vertical wells and progressive cavity pumps that tolerate the large volumes of sand produced with the bitumen. More recently, with improvements in horizontal and multilateral drilling technology, primary bitumen is being produced from the Athabasca and Peace River oil sands areas.
The Cold Lake oil sands lie within a package of stacked incised valleys that rest encased within more regional deltaic, shoreface sands and marine mud. These overlie the fluvial and estuarine sands of the Clearwater formation. This formation is overlain by regional deltaic, progradational barrier complexes and incised valley-fills of the Lower and Upper Grand Rapids formation, which extends to the top of Mannville group.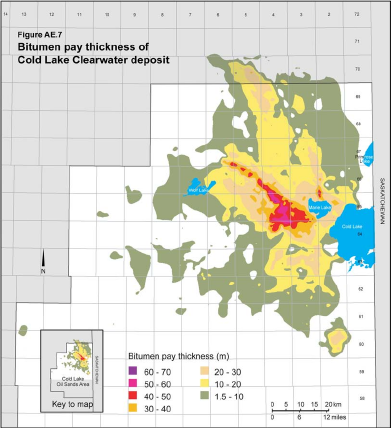 Source: ERCB
The entire Cold Lake area is estimated to contain 201 billion barrels of initial in-place volumes, within a total oil sands reserve estimated at 1.8 trillion barrels for the entire Carbonate Triangle. Approximately 8% of the 201 billion barrels would be accessible given the available technologies, which would represent 16.08 billion of recoverable barrels for Cold Lake.
Baytex Energy
The company is engaged in the acquisition, development and production of crude oil and natural gas in the Western Canadian Sedimentary Basin and in the Williston Basin in the U.S. Approximately 87% of Baytex's production is weighted toward crude oil.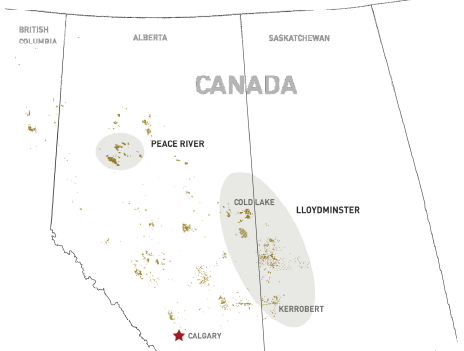 Source: Baytex June 2013 Presentation
As we have seen previously, Baytex owns 306 sections of oil sands leases in Peace River and grown its production from scratch to a current rate of approximately 21,000Bls/d (barrels per day) at Q4 2012. Furthermore, it added land position at Peace River with 157,000 net undeveloped acres.
One-Fifth Total Reserves' Growth With Cold Lake Addition
In October 2012, Baytex announced that it has entered into an agreement to acquire a 100% working interest in approximately 46 sections of undeveloped oil sands leases in the Cold Lake area of northeast Alberta. Total consideration for the acquisition was amounting to $120 million.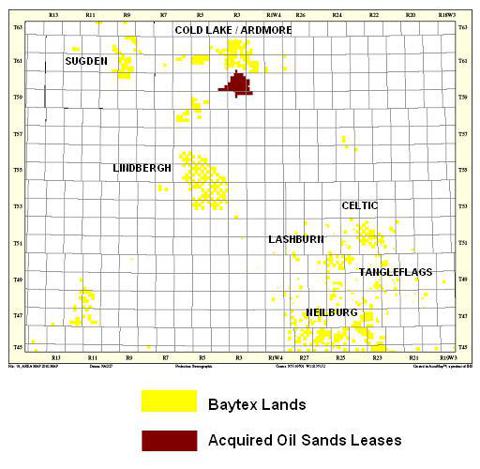 Source: Baytex Energy
The undeveloped oil sands leases are proximal to its core heavy oil assets at Cold Lake and are prospective for both thermal and cold development. Regulatory approval has been received for the construction and operation of a two-stage bitumen recovery scheme using SAGD (steam-assisted gravity drainage). The reservoir characteristics consist of a depth of 1,230 feet with a channel thickness of 98 feet. The average clean net pay is at 75 feet. Other features include viscosity of 40,000-120,000 c.p, porosity of 36% and bitumen saturation of 80%.
Baytex is moving forward with its Cold Lake pilot SAGD project this year. Upon success of the pilot project, construction of a commercial 5,000Bls/d project would commence in 2014 with initial production in 2016. The recent presence of Baytex in Cold Lake adds significant value for its future growth. As a matter of fact, this would translate in a 9.6% increase in total production, according to the current production.
Moreover, reserves associated with the Cold Lake SAGD project total approximately 43.7 million barrels on a proved plus probable basis (100% bitumen), as of August 2012. This addition increases its reserves of oil by more than 19%, representing one-fifth of the entire reserves for the company, also translating into an increase of 12% on a per-share basis.
Baytex assessed its reserve life index on a proved plus probable basis at 14.5 years, based on year-end reserves and Q4/2012 production of 53,986Boe/d. Given this assessment, the addition of its Cold Lake asset has extended its reserve life index by approximately 2.2 years, an increase of 15%.
Over the life of this project, Baytex estimates that finding, development and acquisition costs will approximate $12.50 per barrel. Baytex realized an average sales price for a barrel of heavy oil at $53.47. The average operating netback realized for Q1 of 2013 was $25.76 after hedging. Therefore, this acquisition could very much ensure strong cash flows for years to come for the company as it could translate, for 5000Bls/d, in about $47 million per year.
In addition to this project, Baytex has identified additional areas that are prospective for thermal development.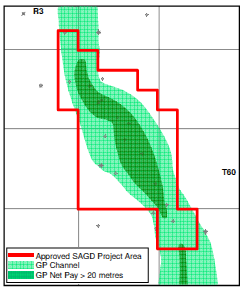 Source: Baytex June 2013 Presentation
The acquisition adds an approved SAGD project to Baytex's asset portfolio, which currently includes thermal recovery projects at Seal in the Peace River region and at Kerrobert in southwest Saskatchewan. Once developed, thermal recovery projects provide a source of long life, low decline production. Developing these projects will reduce Baytex's corporate decline rate and enhance its ability to continue to execute its growth and income model over the long term.
Financials At A Glance
Baytex produced 51,957Boe/d (barrels of oil equivalent per day) in Q1 of 2013, from which 87% were liquids. Current production is approximately 56,000Boe/d and full-year production guidance remains unchanged at 56,000-58,000Boe/d. Six horizontal oil wells encompassing 66 laterals were drilled in the Peace River area which, subsequent to the end of the quarter, established average 30-day peak production rates of approximately 800Bls/d, with its best performing well averaging over 1,000Bls/d.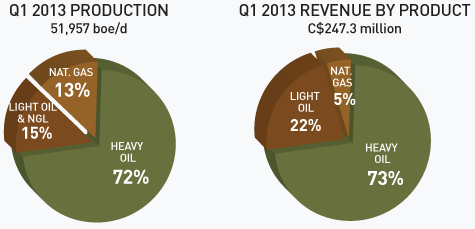 Source: Baytex June 2013 Presentation
These are amongst the highest rate wells Baytex has drilled in the Peace River area, and compare favorably to the average 30-day peak production rates it achieved in 2011 and 2012 of approximately 500Bls/d. Moreover, the company drilled 58 net wells in its Lloydminster heavy oil area with a 98% success rate, and one thermal infill well at its Kerrobert SAGD project.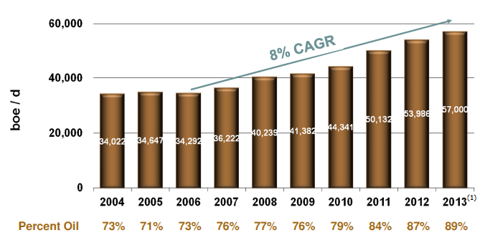 Source: Baytex June 2013 Presentation
According to its Q1 2013 earnings release, the producer generated $95.17 million in cash flow for Q1 of 2013, down from year-over-year of $151.36 million. The drop is mainly attributable to harsh winter conditions in Saskatchewan and North Dakota, and increases in the costs of labor and energy inputs. However, the operating expenses are expected to average approximately $12.00-$12.50/Boe for the balance of the 2013 year. The following chart depicts the cash from operations generated quarterly.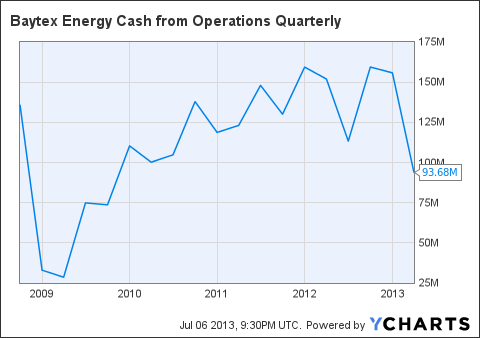 The long-term debt reached $452.34 million for Q1 of 2013, up 50.8% from year-over-year of $299.87 million. Although the long-term debt increased significantly, it is interesting to note that the long-term debt to equity ratio is at 47.31, below its industry average of 66.21, suggesting that Baytex is still using its financing at fair levels to develop its projects. As a matter of fact, the company dedicated $419 million in 2012 for its capital expenditures and its guidance for this year is estimated at $520 million.
Regarding its proved and probable reserves, Baytex has estimated 292Mmboe (million barrels of oil equivalent) from which 93% would be oil. Its best estimates for the economic contingent resources are approximately at 795Mmboe. The chart below depicts the tremendous growth of Baytex's reserves over the years.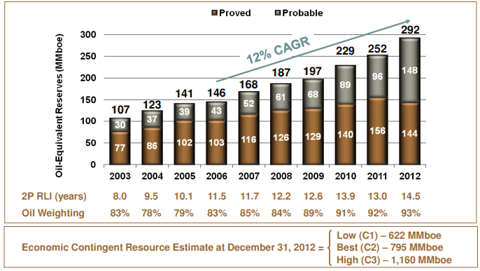 Source: Baytex June 2013 Presentation
Bottom Line
Baytex dividend yields an appealing 6.82% to its shareholders, way higher than its industry average of 1.57%. The chart below illustrates the dividend history from 2004 to nowadays.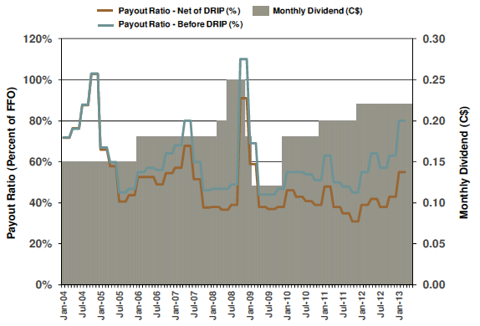 Source: Baytex June 2013 Presentation
Its current TTM P/E ratio is almost at its lowest from the last five years with 20.78, lower than the 24.57 ratio of its industry average.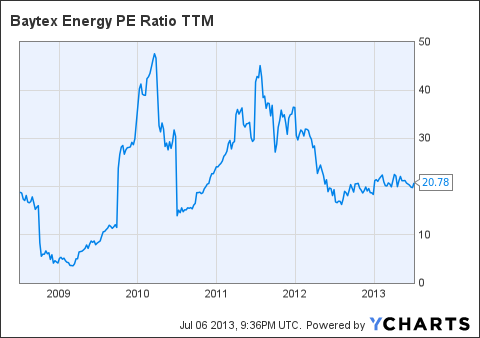 As seen above, the addition of the Cold Lake asset would translate in a 9.6% increase in Baytex's total production, a rise of more than 19% of its reserves of oil or one-fifth of the entire reserves for the company, as well as translating into a growth of about 12% on a per-share basis.
Here are the main reasons why investors should strongly consider Baytex if they plan to invest in the abundant Canadian oil sands and seize the opportunistic occasion that carbonate-hosted bitumen has to offer in the Peace River and Cold Lake regions:
Superior operational efficiencies with a long-term strategy
Strong capital efficiency's production rates
Sustainable and conservative payout ratio's business model
Attractive and meaningful dividend yield to shareholders
Effective use of financial derivatives as hedging strategy
Growth potential of a small-cap producer over the short term
However, investors should keep in mind the following risks associated with the company as well as the industry in which it operates:
A substantial and prolonged drop in oil prices would pressure its earnings and cash flow
A denial of TransCanada's (NYSE:TRP) Keystone XL and Enbridge's (NYSE:ENB) Northern Gateway pipelines could result in a bottleneck of oil supplies at Hardisty's terminal
Baytex could be slightly more aggressive in development efforts and still realize favorable returns to its shareholders
Disclosure: I have no positions in any stocks mentioned, and no plans to initiate any positions within the next 72 hours. I wrote this article myself, and it expresses my own opinions. I am not receiving compensation for it (other than from Seeking Alpha). I have no business relationship with any company whose stock is mentioned in this article.