Executive Summary
3M (NYSE:MMM) is a highly diversified manufacturer and technology company that has been operating in more than 65 countries. 3M's primary business segments include:
Transportation (34% of 2012 sales)
Health Care (17%)
Consumer & Office (14.2)
Safety, Security, Protection (12.5%)
Display and Graphics (11.7%)
Electro and Communications (10.6%)
Products are sold through various distributors, retailers, and wholesalers throughout the world. Popular 3M consumer brands include Post-It, Scotch, Scotch-Brite, Filtrete, and more.
Market Strengths and Catalysts
1.) Emerging Markets- Emerging markets represent a tremendous opportunity for 3M to grow. Significant growth in developing countries has resulted in an excess of disposable income. 3M's businesses are already fairly well known in foreign countries, which will be strong advantage for increasing sales internationally. Healthcare spending should also increase in emerging markets, which is a significant portion of 3M's income. Developing markets continue to increase as a percentage of sales for 3M, and the company thinks this trend should continue.
2.) Improving US Economy- Consumer and office supplies sales also have growth opportunities, as employment numbers increase. As more companies begin to hire more employees, sales of 3M's office supplies products in particular should increase. Another potential catalyst for 3M's healthcare business could be the implementation of Obama's Health Care reform. With more US citizens having health insurance, sales for 3M's healthcare products should grow. Competition from conglomerate Johnson & Johnson (NYSE:JNJ) does play a factor in the healthcare segment however.
3.) Research and Development- 3M recently had a conference to discuss their business plan going forward, and research and development was the focus. 3M expects to continue to increase investments in R&D, in hopes of spurring new product innovations. Creating new products for the new markets and changing the basis of competition are two of 3M's main goals.
Reasons to Hold
1.) Dividend- 3M has an above-average dividend yield of about 2.28%, making it an excellent stock to hold. 3M's dividend is greater than the industry average yield of 1.72%. The dividend is safe (excellent free cash flow), and has been shown to increase over time. 3M has also recently announced an 8% increase in the dividend, as well as a $7.5 billion share repurchase program. In the long run, 3M's dividends reinvested will account for a much higher return. 3M has continually paid a dividend for 97 years.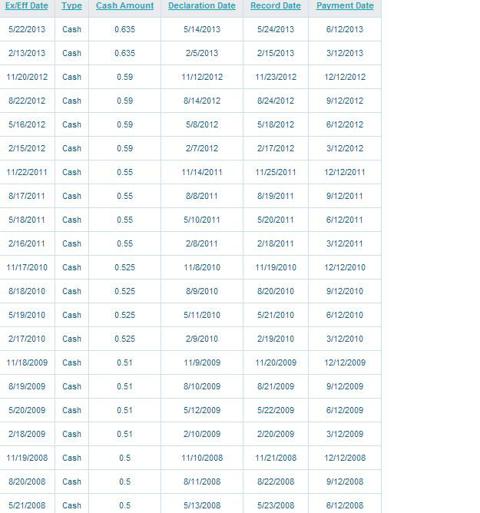 Dividend History since 5/2008 courtesy of NASDAQ.
2.) Growth Potential- Growth for 3M has been doing well, and has potential to perform even stronger. Emerging markets should be the bulk of the growth, but an improving US economy should also prove beneficial. In addition, growth opportunities exist in mergers and acquisitions, including their November 2012 acquisition of Ceradyne, Inc. 3M has highlighted that they plan to continue M&A in addition to their outlined growth strategies.
3.) Safety- As previously mentioned, 3M has been paying a dividend for 97 years straight, and has continually increased their payout. Value Line Investment survey ranks 3M "A++" in financial strength and a "1" in safety category. Excellent financial security and earnings predictability make this stock one for a conservative, income-oriented investor with a long-term time horizon.
Long-term performance history for 3M has been excellent. Below is a chart showing the 5-year performance for 3M's stock price courtesy of Google Finance.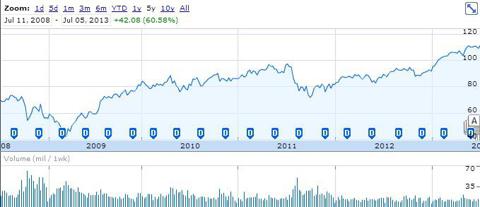 This chart doesn't show the true picture however. When adding dividends into consideration you find yourself with a much larger return. To maximize this increased return, it is important to reinvest your dividend payouts. 3M currently trades near its all-time high, but long-term performance should still be favorable.
Conclusion
Overall, 3M is a solid company, with no signs of slowing down. 3M's above-average dividend, excellent growth potential and fantastic product diversification allow 3M to be a great stock to own. Analysts' recommendations favor highly towards either hold or buy side, with zero sells according to Reuters. The catalysts mentioned above should prove beneficial for the stock price. 3M should be a great investment for the long term, income-oriented conservative investor.
Please note this article is for information purposes only, and is not investment advice. Please consult a professional before investing.
Disclosure: I have no positions in any stocks mentioned, and no plans to initiate any positions within the next 72 hours. I wrote this article myself, and it expresses my own opinions. I am not receiving compensation for it (other than from Seeking Alpha). I have no business relationship with any company whose stock is mentioned in this article.