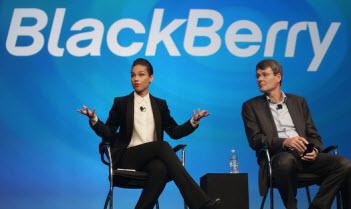 Executive Summary
Blackberry's (NASDAQ:BBRY) stock was destroyed after missing earnings, dropping over 20% in one day. Since then, the stock is off another 10% for a total of an approximately 30% loss in share price since earnings were announced. It appears even Alicia Keys was surprised. On May 30th I wrote an article titled "BlackBerry: Time To Throw In The Towel?" where I detailed the reasons I felt it was a good idea get out prior to earnings. I received 227 comments on the article. Most of the comments were from long shareholders berating my position. Since that time I have received numerous emails and messages from investors thanking me for influencing them to get out of the stock prior to earnings. Furthermore, I have recently received many requests regarding what I think about the stock now. In the following sections I will detail my current opinion on Blackberry.
Valuation: Trade or Trap
If you believed Blackberry's stock was undervalued prior to earnings, you must think it is a steal at these levels. The stock is now trading at a price to book ratio of .53, a price to sales ratio of .40 and a price to free cash flow ratio of 6.07. This is incredibly undervalued compared to its primary competitors Apple (NASDAQ:AAPL), Google (NASDAQ:GOOG) and Nokia (NYSE:NOK). See charts below.
Price to Sales Comparison

Click to enlarge
Price to Book Comparison

Click to enlarge
At first glance this may seem like a great buying opportunity. Yet, the question is this a value trade or trap? I posit this is a major trap. The stock appears undervalued when looking at the balance sheet and cash flow statement. Nevertheless, a quick review of the income statement and you see why the stock is trading at the bottom of the barrel. Sales and EPS were down 47% and 95% quarter over quarter. The profit margin was down 6.73% with ROI, ROE and ROA all negative. Sometimes stocks are down for good reason. This is one of those times.
Smartphone market is on the precipice of saturation
If you read between the lines, the smartphone market may be reaching full saturation. Samsung (OTC:SSNLF) recently guided below current analysts estimates causing the stock to sell off.
Apple has been in the doghouse for quite some time and trading near 52-week lows after lackluster earnings.
Monday, the entire chip sector began to sell off.
Google and Apple are actively working on wearable technology with products such as Google Glass and the iWatch. Could this shift to create new product revenue streams portent current product sales shortfalls? I say yes.
The problem is BlackBerry has been behind the product curve for the last few years. Unfortunately, they have showed up to the smartphone party just as it ended.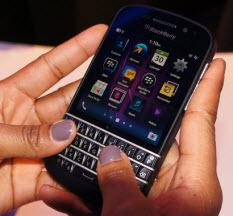 The Q10 with QWERTY key board to save stock
Many people still cling to the notion that the Q10 with the QWERTY keyboard will be the saving grace for the company. The mantra is the company has many loyal subscribers waiting for this product to upgrade. This may be true. Nevertheless, I see it as a one-time pop for the stock. I posit most current smartphone users have never used a QWERTY key board phone and therefore will not miss it. If the stock rises in value next quarter based on Q10 sales, I would sell into the strength. The majority of smartphone users are not impressed by the QWERTY key board.
Stock price so low the company may be for sale
Some have suggested the company may now be for sale based on the massive drop in the stock price. I beg to differ. I believe BlackBerry is committed to their current plan. Furthermore, Blackberry is a Canadian company. Canada is notoriously strict regarding the sales of Canadian companies to companies outside its borders. BlackBerry is one of Canada's flagship companies. I don't see them approving the sale to anyone outside the country. Finally, never buy a stock based on the assumption it is a takeover target.
Conclusion
Based on the above facts I would not buy BlackBerry at this level. Furthermore, I would sell my shares if I was long here and look to make up the loss elsewhere. In my early days, if I got stuck for a loss in a stock I would hold on to those shares for extremely long periods of time waiting for the stock to make it back to my cost basis so I could sell and break even. I have learned over time this is a bad decision. The opportunity cost of sitting on a dead money position is great. The point is you don't have to make your money back on the same stock. Take your loss and move on. There is an old saying never fall in love with a piece of real estate or a stock it clouds your judgment. If you are still long BlackBerry at this point you may end up with a broken heart and an empty wallet before it's all over. Tomorrow's shareholder meeting will be very interesting.
Disclosure: I have no positions in any stocks mentioned, and no plans to initiate any positions within the next 72 hours. I wrote this article myself, and it expresses my own opinions. I am not receiving compensation for it (other than from Seeking Alpha). I have no business relationship with any company whose stock is mentioned in this article.
Additional disclosure: This is not an endorsement to buy or sell securities. Investing in securities carries with it very high risks. The information contained within this article is for informational purposes only and is subject to change at any time. Do your own due diligence and consult with a licensed professional before making any investment.