Since the beginning of the year, Chevron (NYSE:CVX) has increased around 10% in a move that has added $23 billion in value to shareholders. This increase in share price comes in light of new LNG trading partners, leadership changes, and growth in discoveries of energy resources. Despite all of these glowing developments within the organization, I believe that shares of CVX are due for a correction in the future.
A History of Returns
In order to objectively analyze Chevron, I have relied heavily on return on assets. Return on assets is a useful metric in that it allows an analyst the ability to examine earnings in light of the asset base required to generate the earnings. Rather than simply relying on this metric, I have compared return on assets against share price performance to generate investing recommendations. Return on assets is calculated by taking the net income in a given operating cycle and divided by average total assets. Since Chevron is an integrated oil and gas company, the majority of its assets are tangible, such as drilling rigs, fractionation facilities, and refineries. What this means for our purposes is that as we study changes in return on assets, we are studying how well Chevron is able to use its entire exploration, production, and refining endeavors to generate profits for the firm. The chart below shows five years of return on assets for Chevron.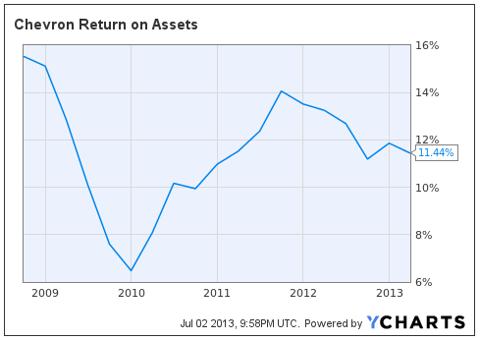 The chart above shows three distinct time periods in the economic history of Chevron. In the points below, I have discussed each of these periods and concluded with a table of results.
The first period of our study is the third quarter of 2008 until the fourth quarter of 2009. This period of time in Chevron's history was overshadowed by the tail end of the financial crisis and Great Recession. As financial firms toppled and shares fell around the globe, Chevron experienced a decline in performance. During these quarters, performance was slashed by nearly half, as measured by return on assets. Remarkably, shares within Chevron only fell around 5% during this same time period.
The next period we will study is the first quarter of 2010 until the third quarter of 2011. This period of time was marked by a strong recovery within Chevron. As oil prices rebounded from a traumatic decline and unemployment fell, Chevron doubly benefited. Since Chevron sells both oil and refined products, it was able to capture profits from rising oil prices and heightened demand for motor fuels. This period of growth was marked by a surge in return on assets in which performance more than doubled. Investors allocate capital to firms with growing returns, as witnessed by an increase in share price by nearly 52% during these quarters.
The final period of our analysis is from the fourth quarter of 2011 until the second quarter of 2013. These quarters have been marked by slow ebb in the performance of Chevron. As Chevron has progressed throughout these past few months, its returns have declined by around 20%, as measured by return on assets, and its net income has fallen. The reasons for this degradation are multifaceted. On one hand, oil and refined products prices have declined and on the other hand, natural gas production and prices are up. Despite these conflicting fundamentals, Chevron's shares have risen 22% during these months. In my opinion, this increase in share price represents an investment opportunity.
The table below summarizes the discussion above.

This table shows a simple economic relationship at work. On average, as a firm betters itself and delivers increasing returns, its stock tends to increase as well. Conversely, as a firm experiences declining returns, its stock experiences similar declines. This relationship is simple, logical, and has historically been profitable -- until now.
It is my belief that what we are witnessing in Chevron's share-price appreciation is a decoupling between true firm performance and market performance. The market will frequently misprice securities, but historically these irregularities do not last for long. I believe that what we are witnessing at work is a security that is benefiting from overall market gains. Since Chevron has a .80 beta with the overall market, this means that it will essentially move in tandem with market averages. The market has risen 27% during the last period studied in the table above and shares within Chevron have moved 22%. It is my belief that the current stock price has been buoyed by the market averages and in the near future, Chevron's shares may decline in a true reflection of company performance. Chevron has shed nearly 20% of its returns and yet shares have risen -- I believe that the market is ignoring the true condition of the firm and focusing instead on market-level drivers for investment. My recommendation: short Chevron to profit from the market's oversight.
Disclosure: I have no positions in any stocks mentioned, and no plans to initiate any positions within the next 72 hours. I wrote this article myself, and it expresses my own opinions. I am not receiving compensation for it (other than from Seeking Alpha). I have no business relationship with any company whose stock is mentioned in this article.