In my previous article I wrote about my beliefs on the bond market and how to trade the imminent collapse, or what I coined a 'rapid deflation'. While I expected the bond markets to be in trouble, I surprised even myself when I saw how well the scenario played out according to my hypothesis. The moves the bond market has made of late would be enough to invoke fear into even the sternest bond perma-bull.
I've been excitedly overwhelmed with the private queries and emails I've received from readers of my last article that I thought it necessary to create a follow up to clarify some points and elaborate some more.
To begin with, what has caused the bond markets to sink? The biggest enemy of bonds are yields, so it was always going to be a case that any hint of yields rising would cause a mass outflow of funds from bonds. The catalyst for this was Ben Bernanke of the U.S. Fed announcing plans to taper Quantitative Easing (QE) with a proposed end date of mid-2014. The U.S. Fed has artificially kept yields low to stimulate the economy; while I don't expect the Fed to raise interest rates for some time, I do expect the market to bump up real interest rates.
click to enlarge images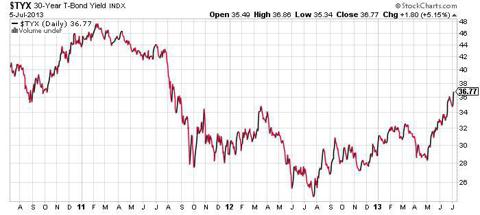 So is it too late to trade the most overcrowded trade on the planet? Absolutely not, however, the ship has most definitely left the harbor and entering a trade now will come with the added level of risk that yields could waver. It is clear from the email responses I received that many people were not sure how to trade the Eurodollar and were not familiar with futures contracts. So how could one apply a bearish view on bonds?
Eurodollar Continuous Future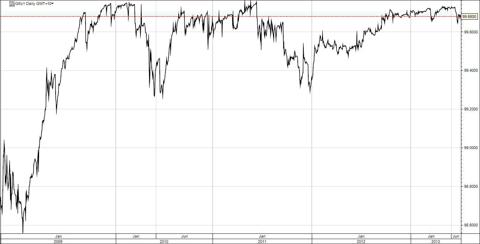 My preferred method, as mentioned previously, is to trade yields directly via futures contracts by going short Eurodollars (not to be confused with the euro currency). Given that the ride may be a little bumpier now, one may choose to do this via contract options on the Eurodollar; however, volatility on contract options has risen, making it not the most viable trade. Any other trade, strictly speaking, isn't a direct trade and has other factors at play, yet a bearish view on bonds could also be played with the bear funds: ProShares Ultrashort 20+ Year Treasury (NYSEARCA:TBT) and Direxion 20+ Year Treasury Bear 3X (NYSEARCA:TMV), or go short iShares Barclays 20+ Year Treasury (NYSEARCA:TLT). Be wary, however, that leveraged ETFs are susceptible to wild swings; yet when it goes your way, the movement can be exponential.
From the below chart of TMV, it's clear it has broken out of a trading range and now has lots of upside potential.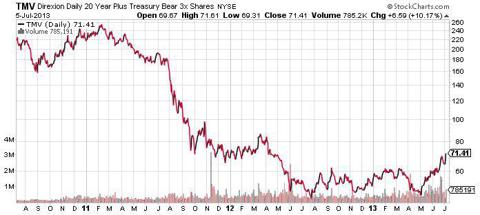 For anyone wishing to enter this trade now, I'd suggest scaling in; for example, of your allocated capital, divide it into four or five portions and enter at predetermined levels to allow for both up and down movements while minimizing risk.
With so much capital to flow out of bonds this obviously has to move to other asset classes. With expected interest rate rises, this is going to add strength to the U.S. dollar, so it's no coincidence that the U.S. dollar has rallied with the demise of bonds. So another indirect trade is to trade the dollar either via forex or the PowerShares U.S. Dollar Stock Index (NYSEARCA:UUP).
Given that my view is the ship has already left the harbor, I won't be entering any new positions, not on U.S. yields/bonds at least. The European and United Kingdom (UK) yields have not moved with such intensity as their American counterparts and with the European Central Bank and Bank of England stating last week that their economies are subject to further stimulus, this has caused their respective currencies and yields to weaken. I therefore am eying the yield trade on both the Euribor and Short Sterling via futures contracts. When these regions see stability and even some growth, yields can only go one direction from there.
Euribor Continuous Future (FEIc1)
Short Sterling Continuous Future (FSSc1)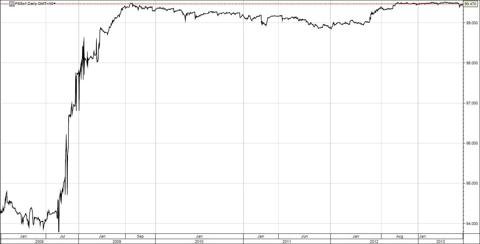 As can be seen from the above, after all the euro region and UK have been through in the last couple of years, the yields have remained rather steady and there is quite the downside to get to pre-GFC levels.
I understand that not many people can follow the concept of trading yields (or bonds) so seek to trade via alternative means. In this case, consider where money will flow once an economy experiences growth and rising yields. The respective stock markets and currencies would be a good start.
Disclosure: I am long TMV. I am short eurodollars, Euribor and Short Sterling via futures contracts. I wrote this article myself, and it expresses my own opinions. I am not receiving compensation for it (other than from Seeking Alpha). I have no business relationship with any company whose stock is mentioned in this article.