Infrastructure MLPs often rely significantly on debt issuance and debt refinancing to operate. That makes them sensitive to changes in the cost of money (interest rates) and the availability of credit. For those reasons, it makes sense to be aware of how the credit rating agencies view the credit worthiness of infrastructure MLPs.
This table shows the credit rating assigned to the 25 members of the Alerian Infrastructure MLP Index (proxy fund: AMLP). It also shows (1) the ratio of the change in long-term debt issuance from the last fiscal year and the prior fiscal year, (2) the sum of total short-term and long-term debt as of the last quarter divided by total assets, (3) the yield, (4) the 3-year Beta, (5) the technical ratings assigned by BarChart.com, and (6) the year ahead performance expectations of the analysts selected by Thomson Reuters for its StarMine rating system for this industrial area.
There is no one-to-one relationship between debt leverage of the balance sheet and credit rating - numerous other factors come into play, but the debt level is a known and is a factor in overall credit worthiness, and access to future debt for expansion.
MLPs that can grow assets by drop down of assets from parent organizations in exchange for units, or that can acquire assets by unit issuance, will face less in the way of growth challenges compared to those that must borrow. On the other hand, those that borrow may presumably be able to borrow at rates below their return on assets, resulting perhaps in better concentration of operating profit per unit.
For those income investors who would be inclined to look up an S&P or ValueLine financial strength rating on stocks, credit ratings may be the closest analog in many cases, since MLPs are not comprehensively covered by the major stock rating services.
Here is what the credit rating agencies think about the credit worthiness of the infrastructure MLPs. (See our blog for descriptions of the credit rating scales, as well as the StarMine scale).
(click images to enlarge)
MLPs Ranked By Credit Rating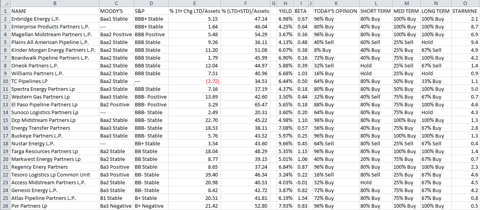 MLPs Ranked by Recent Change In Debt To Assets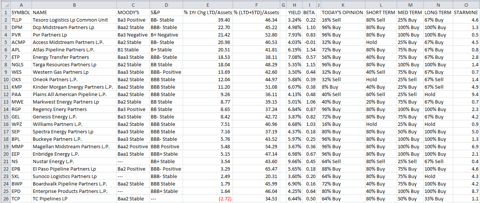 MLPs Ranked By Total Debt To Assets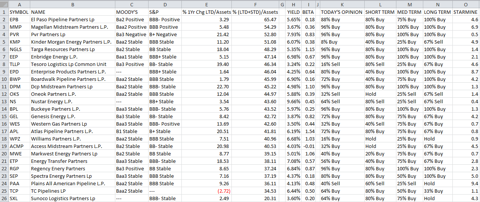 MLPs Ranked By Yield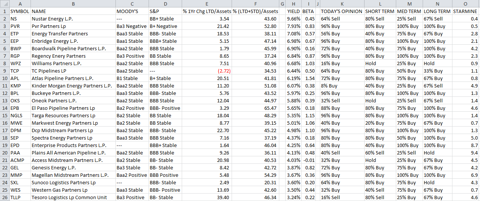 MLPs Ranked By 3-Year Beta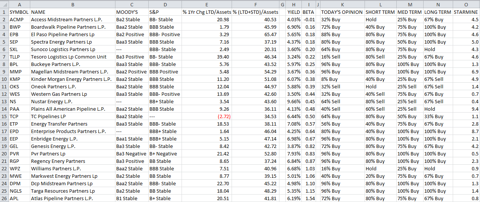 MLPs Ranked By Technical Ratings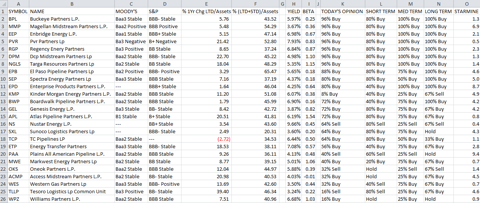 MLPs Ranked By StarMine Ratings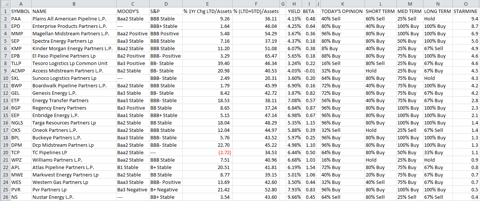 Which factors are most important to each reader will vary, but we think that being aware of credit ratings and debt levels is important as interest rates rise and as credit may become less available than over the past few years.
MLPs already face some short-term to intermediate-term headwind from interest rates to the extent that some of their price rise since 2008 has been stimulated by the search for yield.
Let's hope Congress does not compound the issues by limiting the tax benefits of MLP ownership when they supposedly will rewrite the tax code.
Here are links to symbols for the index members:
| | |
| --- | --- |
| (NYSE:EEP) | Enbridge Energy L.P. |
| (NYSE:EPD) | Enterprise Products Partners L.P. |
| (NYSE:MMP) | Magellan Midstream Partners L.P. |
| (NYSE:PAA) | Plains All American Pipeline L.P. |
| (NYSE:KMP) | Kinder Morgan Energy Partners L.P. |
| (NYSE:BWP) | Boardwalk Pipeline Partners L.P. |
| (NYSE:OKS) | Oneok Partners L.P. |
| (NYSE:WPZ) | Williams Partners L.P. |
| (NYSE:TCP) | TC Pipelines LP |
| (NYSE:SEP) | Spectra Energy Partners Lp |
| (NYSE:WES) | Western Gas Partners Lp |
| (NYSE:EPB) | El Paso Pipeline Partners Lp |
| (NYSE:SXL) | Sunoco Logistics Partners Lp |
| (NYSE:DPM) | Dcp Midstream Partners Lp |
| (NYSE:ETP) | Energy Transfer Partners |
| (NYSE:BPL) | Buckeye Partners L.P. |
| (NYSE:NS) | Nustar Energy L.P. |
| (NYSE:NGLS) | Targa Resources Partners Lp |
| (NYSE:MWE) | Markwest Energy Partners Lp |
| (NYSE:RGP) | Regency Enery Partners |
| (NYSE:TLLP) | Tesoro Logistics Lp Common Unit |
| (NYSE:ACMP) | Access Midstream Partners L.P. |
| (NYSE:GEL) | Genesis Energy L.P. |
| (NYSE:APL) | Atlas Pipeline Partners L.P. |
| (NYSE:PVR) | Pvr Partners Lp |
We have MLP exposure in our portfolios, but at this time have that exposure through various investment funds instead of individual MLPs.
Disclosure: QVM has no positions in any mentioned security as of the date of this article (July 8, 2013). We certify that except as cited herein, this is our work product. We received no compensation or other inducement from any party to produce this article, but are compensated retroactively by Seeking Alpha based on readership of this specific article.
General Disclaimer: This article provides opinions and information, but does not contain recommendations or personal investment advice to any specific person for any particular purpose. Do your own research or obtain suitable personal advice. You are responsible for your own investment decisions. This article is presented subject to our full disclaimer found on the QVM site available here.