The game has changed for investment markets. Drawing to a close are the days of boundless monetary stimulus to support steadily increasing risk asset prices. In its place, a new path is now being put in place where securities will now be forced to do more of the heavy lifting to justify their valuations. While this is a most welcome development for the global economy and the long-term outlook for capital markets, the transition to what will ultimately be a profoundly different policy backdrop is almost certain to be accompanied by periods of heightened turbulence and short-term volatility along the way. Thus, it is worthwhile to plan accordingly now in anticipation of what could be a particularly challenging market to navigate in the months ahead.
So what exactly has changed in recent weeks? It is the monetary policy stance of the central banks of the two largest economies in the world. And the benchmark date we are all likely to reflect back upon years from now when everything officially changed is June 19, 2013.
The Events Of June 19, 2013
What specifically happened on this day?
The obvious first answer is the press conference that followed the conclusion of the U.S. Federal Reserve's latest Federal Open Market Committee meeting where Chairman Ben Bernanke took to the podium and all but explicitly stated the Fed's intent to begin scaling back on QE3 asset purchases in the months ahead. Suddenly, the Fed's economic outlook was more sanguine and the necessary bounds for the U.S. economy to justify scaling back on stimulus had become more attainable.
And as it became increasingly clear as the press conference progressed that the monetary support that had soothed markets higher for so long was finally on the block to go away, investors reacted swiftly and violently. Over the final two hours of the trading day, the S&P 500 (NYSEARCA:SPY) shed -1.5%, the 10-Year U.S. Treasury yield tacked on 11 basis points to 2.31% and gold (NYSEARCA:GLD) declined by -1.9%.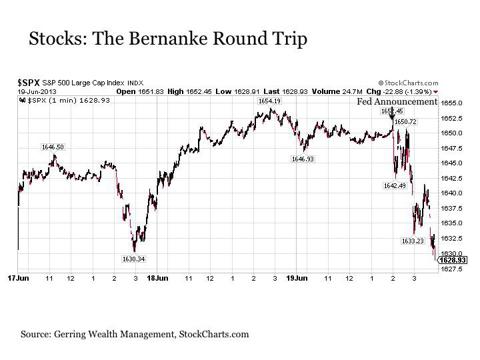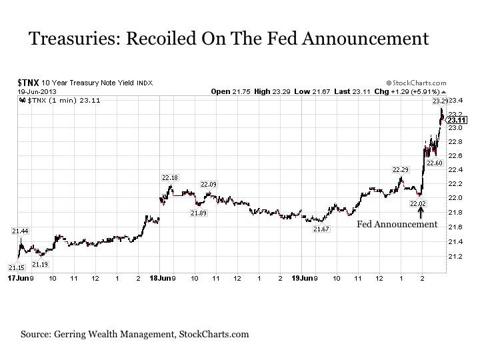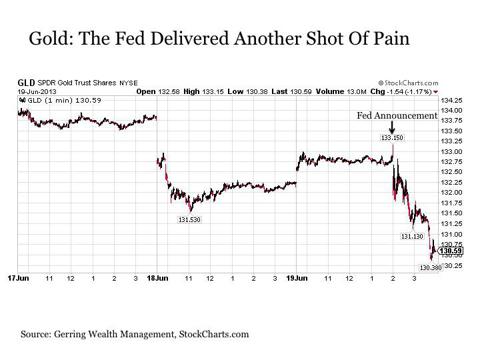 While the explanations for the market decline in the days since Bernanke's press conference has largely centered on the market's "taper tantrum", this was actually a sideshow to the primary issue that was also severely shocking markets literally at the same time the Chairman was speaking that Wednesday afternoon.
For it was on that very same day on Wednesday, June 19 that the Chinese banking system was entering into a seizure of its own. Financial institutions in China stayed open late that day in a frantic effort to secure liquidity as banks were becoming increasingly reluctant to lend funds to one another. By the next day on Thursday, June 20, the overnight lending rate in China had spiked into double-digit territory, suggesting that liquidity in the banking system was quickly drying up. Now the customary action for global central banks since the outbreak of the financial crisis has been to quickly open the liquidity floodgates the moment such stresses surface. But such was not the case this time around in China, as the People's Bank of China (PBoC) took a decidedly different approach by announcing that sufficient liquidity already existed in the banking system and that no additional central bank support was required.
Although the PBoC finally relented and selectively injected liquidity the following Monday, June 24, it was a dramatic and agonizing shot across the bow for financial institutions both in China and around the world that the game so many investors have come to know and love had finally changed. In short, Chinese authorities are no longer going to support their banks at all costs. Instead, they will be draining liquidity to prick growing asset bubbles and imposing discipline on those institutions engaged in reckless lending. What an absolutely refreshing development for a global marketplace that had otherwise returned thanks to the generosity of global central banks to many of the same reckless behaviors and targeted leveraging that got us into the crisis in the first place.
Demonstrating why the situation in China was the main story and the Fed meeting was the side show, it is worthwhile to reflect on how the markets performed during the period from Thursday, June 20 after the markets already had a full evening to digest Bernanke's comments and Monday, June 24 following several days of Chinese banking institutions liquidating assets to raise cash before the PBoC finally came to the rescue with targeted support. U.S. stocks shed another -4.2%, 10-year U.S. Treasury yields erupted another 34 basis points higher and gold was hacheted lower by another -5.5%.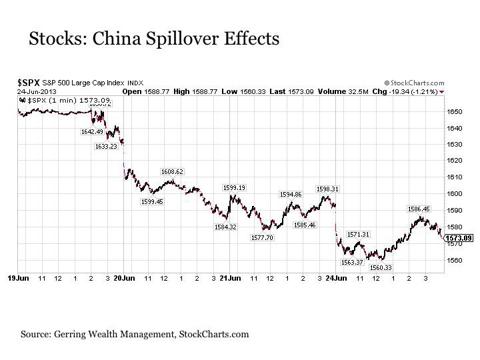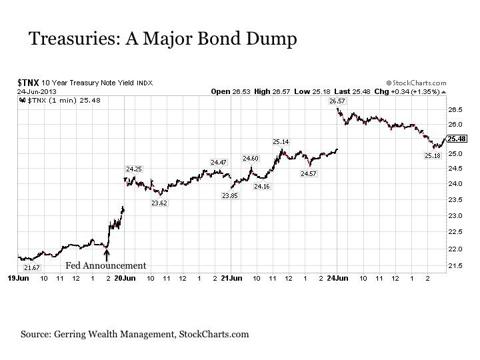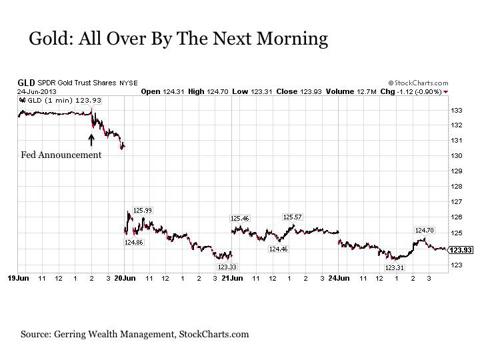 So while much of the discussion about the late June market correction has been centered around the reaction to the idea that the Fed will be scaling back on the amount of liquidity it will be injecting into the financial system at some point in the future, it was the reality that Chinese banks were facing a liquidity crunch today and quickly needed to raise cash today that appears to be the greater force that drove the markets lower over this time period. For the moment that the PBoC finally relented, U.S. stocks rallied and Treasury yields began moving back lower. But despite recent signs of relief, this does not at all imply that we should expect a return to the recent status quo in the months ahead.
The key takeaway from the market events in late June is that policy conditions have now fundamentally changed. The central bank for the second largest economy in the world in the People's Bank of China is now actively engaged in draining liquidity from their financial system. And the central bank for the largest economy in the world in the U.S. Federal Reserve has effectively announced that while they won't be draining liquidity any time soon they have done enough adding of liquidity and intend on discontinuing further stimulus sooner rather than later.
On this latter point, regardless of all of the debate about the specific criteria and data thresholds the Fed might require to help determine when they might begin tapering, the answer is likely far more straightforward when reading between the lines of the recent comments by Bernanke and his colleagues at the Fed. In short, unless the U.S. economy takes a sudden and dramatic turn for the worse very soon, the Fed is going to begin scaling back on its QE3 asset purchases starting in September. And I would fully expect that the $45 billion in monthly Treasury purchases that are so important to the U.S. stock market to be finished by December.
How The Game Has Changed For Investment Markets
So what does less monetary liquidity mean for investment markets going forward? Two very important things.
First, the multiple expansion that has been the hallmark of the stock market advance since early 2012 is likely coming to an end. With a diminishing flow of freshly printed money entering the financial system, the impact of the preference to allocate the additional investable cash that results from these liquidity injections becomes less. Thus, the ability of stocks to continue higher from their arguably lofty valuation perch is likely to become increasingly challenging, as they will need to increasingly rely on earnings growth to raise stock prices going forward. And with earnings growth already grinding to a halt and corporate profit margins already at record highs, this will be a tall order for corporations to achieve.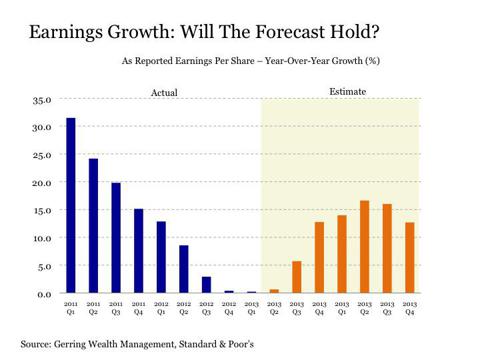 But what about the robust earnings growth projected for the coming quarters? Shouldn't this be enough to drive stock prices higher? Perhaps, if companies can actually achieve these projections, but I would suggest that these forecasts are dubious at best. For example, it was just the end of last year when 2013 Q2 operating earnings growth was projected to increase by +17.48% year-over-year. Today, this same projection for 2013 Q2 has been revised all the way down to +0.64%, yet the U.S. stock market has risen by nearly +16% on the S&P 500 over this same time period. Investors that are increasingly paying more for something that are becoming worth less is not an ideal way for stocks to be entering a phase where central bank support is increasingly fading away.
The second implication resulting from less monetary liquidity is that market volatility and choppiness is likely to increase dramatically and occur more frequently going forward. This is due to the fact that capital markets will be forced to undergo periodic adjustments as they transition from a world of boundless support to one where more challenging decisions will need to be made in terms of allocating capital. This is likely to include moments of seemingly irrational downside shocks for selected markets and periods where various asset classes may find themselves adrift to the downside for extended periods as institutions are periodically forced to deleverage or liquidate securities to address short-term funding needs.
The path of financial markets since June 19 highlights the periodic challenges investors may encounter in the months ahead. For while some categories like U.S. stocks and high yield bonds (NYSEARCA:HYG) have shown some renewed signs of life in recent days following the initial shock, others like emerging market stocks (NYSEARCA:EEM) and Treasuries (NYSEARCA:TLT) continue to thrash back and forth while selected categories like gold and silver (NYSEARCA:SLV) are still adrift to the downside. Thus, the residual effects continue to linger in many cases and have the potential to reintensify going forward. Perhaps even more importantly, what was most notable about recent shock event is that when markets started plunging to the downside, virtually everything moved lower in unison and by a similar magnitude.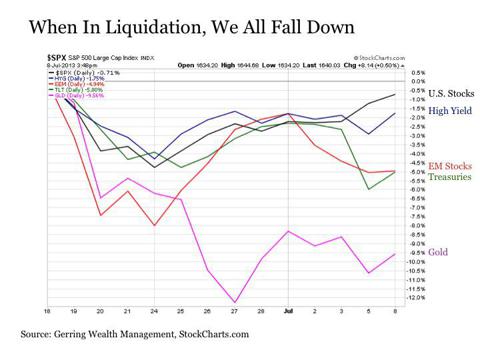 The Implications For Investors Going Forward
The broad shift by leading global policy makers toward greater monetary discipline for the first time in the post crisis period has important implications for investors going forward.
First, the ability to effectively hedge portfolios through asset class diversification is likely to be rendered ineffective at arguably the most critical times. For when financial institutions enter into a forced liquidation phase to address short-term funding, recent events have demonstrated that they may be indiscriminate in the securities they sell as long as they are liquid enough to readily raise cash. Thus, we are likely to see more periods where typically uncorrelated and negatively correlated asset classes all go down sharply at once regardless of fundamentals. And some of these categories may not necessarily rebound right away. Instead, they may continue to fall further or enter into a new round of selling just as precious metals and bonds have since June 19. And it would be a mistake to presume that the same fate may not befall U.S. stocks at some point going forward. Thus, the most effective way to hedge portfolio positions going forward is likely through opting for short-term allocations to cash instead of uncorrelated or negatively correlated categories. Inverse and pair traded allocations may also be suitable in selected circumstances.
Second, protecting against the downside in increasingly volatile and choppy markets in many cases will require viewing portfolio positions with shorter time horizons and a greater emphasis on tactical positioning. In other words, it is likely to be important now more than ever when establishing a position to know precisely where your entry and exit points reside and to be prepared to take swift action once these target thresholds have been either achieved or breached. For as recent events have demonstrated, once certain technical support levels have been broken, the subsequent downside may not only be severe but also prolonged at times. One has to look no further than the seemingly unending decline in stocks from 2000 to 2002 and 2007 to 2008 for evidence that a buy-and-hold approach can lead to an extended period of losses that can take years to recover once a market finally snaps.
When scanning across the various asset classes, the U.S. stock market appears to offer the most upside opportunity at least for now and sets up best from a technical perspective now that the S&P 500 has reclaimed the 50-day moving average. This is particularly true among U.S. small caps (NYSEARCA:IWM) that are more domestically oriented, less interest rate sensitive from a yield perspective, enjoy a extensive netting of technical support at current levels and just achieved an important upside breakout in recent days. I am currently long the iShares Core S&P Small Cap (NYSEARCA:IJR) to position for potential near-term upside in the coming weeks. U.S. mid-caps (NYSEARCA:MDY) also offer appeal in a similar regard and Japanese stocks (NYSEARCA:DXJ) are also showing signs of increasing technical strength as they bounce back following the precipitous sell off in May and June.
As for investment grade bonds and precious metals, I remain constructive on both from a fundamental perspective but am not actively allocated to these areas of the market at the moment to protect against further liquidation forces to the downside. In regards to quality bonds, a decisive break back below 2.4% on the 10-Year Treasury and 3.5% on the 30-Year Treasury are among the important thresholds worth monitoring to consider reestablishing a position. As for the precious metals, a decisive breakout above the 20-day moving average for either gold (NYSEARCA:PHYS) and silver (NYSEARCA:PSLV) along with any upward trend line reversal would be welcome developments to potentially considering entering back into these long-term positions.
It promises to be an interesting second half of 2013. And if policy makers stay true to their new game plan to begin backing away from monetary stimulus, it could be a particularly eventful time for investment markets. While such adjustments may prove chaotic and unsettling at times for markets along the way, if policy makers can maintain their resolve to seeing this adjustment process through, it has the strong potential to lead us to an exciting new sustained growth phase for the global economy and secular bull market for stocks in the coming decades. It may take a few years and some sacrifice to get there, but it certainly would be worth it in the end.
Disclosure: I am long IJR. I wrote this article myself, and it expresses my own opinions. I am not receiving compensation for it (other than from Seeking Alpha). I have no business relationship with any company whose stock is mentioned in this article.
Disclaimer: This post is for information purposes only. There are risks involved with investing including loss of principal. Gerring Wealth Management (GWM) makes no explicit or implicit guarantee with respect to performance or the outcome of any investment or projections made by GWM. There is no guarantee that the goals of the strategies discussed by GWM will be met.