It is being reported that Egypt has set a timetable to have new elections for Parliament, and those elections shall be followed by another election for President. Hopefully this will calm the chaos in the country and provide an avenue for activists to direct their attention to rather than rioting in the streets - a practice which has proven deadly recently.
Egypt will remain in the headlines, along with the rest of the Middle East, but readers also need to pay attention to the US and EU right now and the steps they are taking to move forward economically and the plans they have for growth. We like what the EU is doing right now with their latest bailout for Greece and the US appears to have come to grips with the fact that interest rates will ultimately go higher. That last bit indicates to us that everyone is starting to buy into the growth story in America.
The one thing that is apparent right now is that the momentum stocks are leading the way higher, a trend that we think is certainly 'tradable'.
Chart of the Day:
Before everyone goes and gets too excited about the Alcoa (NYSE:AA) news last night, remember that the stock has a long ways to go to get back where it came from, let alone back in the neighborhood of 52-week highs. Yes the beat was good, and yes the outlook was bullish, but looking at the big picture tells the true story. Our guess is the shares do not outperform until the European auto sales numbers improve.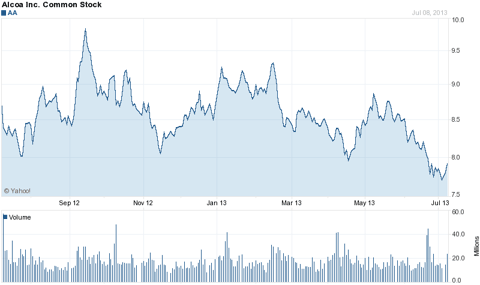 Source: Yahoo Finance
We have no economic news due out today, but plenty through the end of the week.
Asian markets finished up across the board today:
All Ordinaries -- up 1.44%
Shanghai Composite -- up 0.37%
Nikkei 225 -- up 2.58%
NZSE 50 -- up 0.68%
Seoul Composite -- up 0.74%
In Europe, markets are higher this morning:
CAC 40 -- up 0.55%
DAX -- up 0.69%
FTSE 100 -- up 0.71%
OSE -- up 0.19%
Greece
Yesterday was a positive day not only for Greece and Europe, but also for the rest of the investment community because the announcement clears the path for further clear sailing...until the next round of payments or negotiations arise. To keep positive though, readers would be wise to recognize that it appears that the Europeans are learning now that they cannot jerk around the markets anymore and after the Cyprus fiasco it seems they recognize the short leash the investment community has granted them. Capital markets always have checks and balances, and contrary to popular belief governments do not always hold all of the cards. Investors' capital is key to running countries and funding their debt markets, so playing with interest and tax rates or devaluing currencies works initially but then leads to migration of capital.
How much did investors like yesterday's news? Simply put, a lot. Europe was up across the board and Greek names were showing strength for a change. National Bank of Greece (NBG), which has become a favorite among day traders, saw its shares rise $0.61 (19.81%) to close at $3.69/share on above average volume of 9.5 million shares. Although we would recommend steering clear of the Greek banks, some of the European names look attractive here as well as the European manufacturing names.
By no means is this Greek bank investable. 'Tradable', yes, investable, no. Reverse splits, a poor home economy and operations focused in a country which requires constant cash infusions from the EU. No thank you.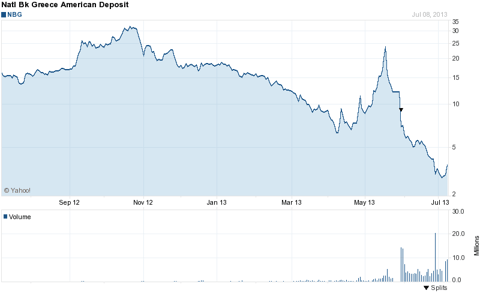 Source: Yahoo Finance
Technology
We had discussed Pandora (NYSE:P) in this column more in the past few weeks than at any time over the past 2 years combined. The stock is moving higher as the company proves that its business model works and that profitability is achievable. After the company's latest earnings the stock has been mentioned favorably by many of the talking heads and has even garnered additional 'Buy' recommendations, or their equivalent, from various brokerages which were not already bullish. Even the names which were already bullish have upped their price targets and moved earnings estimates higher. Although all of this is great, we would direct readers' attention towards how Pandora is changing the business. The company pays royalties which are akin to performance fees, rather than for the work that enables the production of the music (songwriters' royalties). With the recent uproar over this practice, we imagine that we are about to witness another tectonic shift take place in the music business...and if not, then it might all backfire on Pandora.
Manufacturing
Among the momentum stocks we have pointed readers towards is Tesla Motors (NASDAQ:TSLA). Full disclosure, we do think that the shares ultimately will head lower as a correction will be needed to bring the valuation inline with others in the industry. However we also have spent considerable time learning how investment fads play out and this experience has enabled us to spot the bullish case for the shares and led readers into considerable gains. Now that we have reached the latest price target, being $120/share, we want readers to have a tight stop on positions now with the focus shifting towards $130/share. If shares stall out here or falter around the $125/share level we would recommend exiting, but until then winners are to be ridden.
Tesla is in that nice $100/share area where you get the 'step-up' from one level to another. Usually the trend starts around $90/share and if momentum carries shares through the century mark it is usually a good bet that $120 or $130 will be visited. Readers should continue to watch this name, but we do think that it is getting toppy and recommend a tight stop.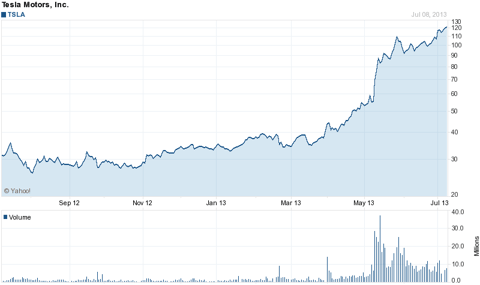 Source: Yahoo Finance
Media
Broadcast stocks are back in vogue now as investors' eyes have been opened to the value present in the names. One of the names which continues to perform well is Sinclair Broadcast Group (NASDAQ:SBGI). The company's shares rose nearly 6.3% yesterday to finish at $31.45/share while hitting a new 52-week high on the session. True, the company did come up short in its effort to outbid Tribune for the local stations of Local TV Holdings but there is still a lot going right for the name. With cable deals set to add to profitability and the opportunity we see in incorporating their content with other platforms, most notably Netflix, the entire industry may see further double digit percentage increases.
Disclosure: I have no positions in any stocks mentioned, and no plans to initiate any positions within the next 72 hours. I wrote this article myself, and it expresses my own opinions. I am not receiving compensation for it (other than from Seeking Alpha). I have no business relationship with any company whose stock is mentioned in this article.