Bear with me for a few minutes and I will explain how the rise in mortgage rates is a net positive for the housing market. I am sure this seems like a counterintuitive statement, maybe even downright idiotic to some, but those who flippantly deride the increase in mortgage rates as the end of the housing recovery can't see the forest for the trees. The reality is that house prices were rising too far and too fast. Artificially low mortgage rates, if they continued at depressed levels, would have simply led to another housing bubble or, at the very least, another correction when rates finally did move higher if prices moved higher unabated for much longer. The spike in interest rates across treasuries, bonds, and mortgages will be a net positive for housing in the long run and investors need to stop listening to the talking heads and understand this simple fact.
The Rate Spike and Its Implications
Unless you have had your head buried in the sand for the last 30 days, you are well aware that the talk of the Federal Reserve winding down its Quantitative Easing (QE) program has sent treasury rates soaring over the last 60 days as seen in this chart of the 10-year treasury: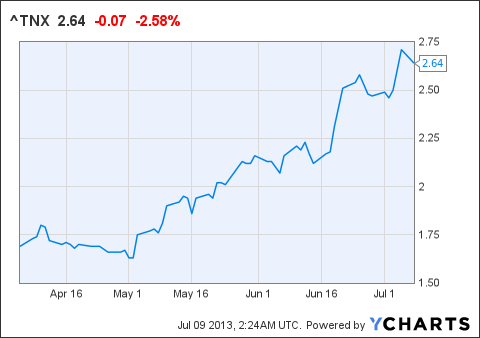 Over that same period, the 30-year mortgage rate has risen over 100bps from ~3.5% to over ~4.5%: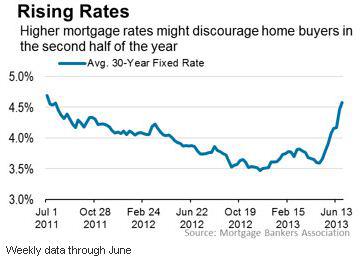 In the face of rising interest rates and the Fed finally removing the punch bowl that the market has become drunk on, a long overdue correction has also materialized with the S&P 500 (NYSEARCA:SPY) pulling back from a record high earlier in the year: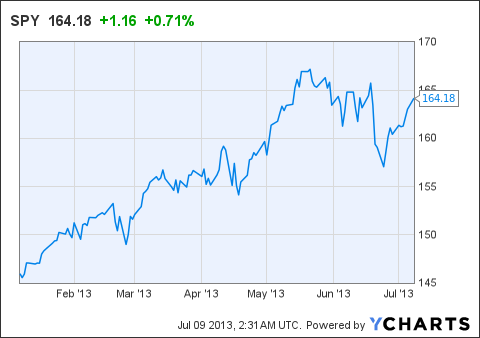 The final chart I would bring your attention to is that of the homebuilder ETF index (NYSEARCA:XHB), which has taken a beating as investors fret over the impact of the swift spike higher in rates: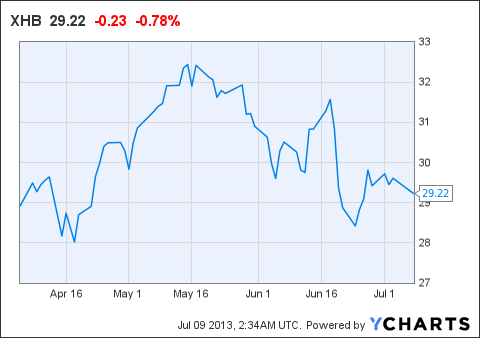 It is this final chart that is truly indicative of the misplaced fear surrounding the rise in all types of interest rates, but in this case specifically mortgage rates.
How Rising Rates Will Help Housing
Multiple dynamics are at play as a result of rising bond yields and mortgage rates that will ultimately benefit housing.
First, it is a known fact that investors have been plowing into the residential real estate market in search of bargains and more importantly in search of yield. As real interest rates rise, allowing these investors to earn yield in less risky assets, the allure of making a long-term investment in residential real estate will wane. These investors are helping to drive housing inventory to low levels not seen in over a decade, which in turn is driving up prices at a pace faster than that which would be seen if primary home buyers were not being forced to compete with institutional investors.
Second, rising mortgage rates will most likely spur banks to loosen lending standards in an effort to capitalize on their ability to profit from an increase in mortgage rates. One of the long-lasting effects of a period of record low interest rates will be that scores of homeowners will never again have a reason to refinance their mortgages. As the refinancing market dries up, banks will be forced to compete more heavily in the purchase mortgage market. Competition will lead to more alternatives for home buyers than what currently exists on the market today.
Finally, rising mortgage rates will have the effect of driving down the housing affordability equation. You might wonder how this possibly could be good for housing. The answer is that housing is still affordable today, but if another year of double-digit price increases were to materialize that affordability equation would begin to materially erode. The effect of rising mortgage rates will be to cool a housing market that was beginning to overheat. If rates were to continue to spike to 6% or 7% in the next 12 months, an argument could be made that the affordability equation would be significantly damaged. As it is, rates are still sitting at historical lows and will not be a detriment to the recovery in the housing market.
Take Advantage of the Fear
Select homebuilders have seen their stocks crushed over the last 60 days as the market seems to believe a rise from record low mortgage rates, to rates that are still basically at record lows, will have an outsized effect on the homebuilders' operations. This is extremely unlikely to happen. If you do not believe me, just listen to the CEO of any major homebuilder speak and notice that none seem worried at all about the spike in mortgage rates. Lennar (NYSE:LEN) just reported its latest quarterly results, with profitability continuing to climb and no slowdown in new orders, and on the earnings call the CEO practically dismissed the rise in interest rates as just a bump in the road.
What investors do not seem to realize is that the homebuilders have been furiously raising prices on the homes they sell. This is for a number of reasons. First and foremost, it is because the market would bear the price increases. The builders were searching for a level of equilibrium between driving the pace of sales and maximizing the profit they could generate from each home sold. The assets, the land, are irreplaceable. The spike in home prices has funneled through to the land market where land sellers were forcing homebuilders to buy land using assumptions that prices would continue to materially increase in the near future. Some builders will probably get caught with their hands in the cookie jar having bought land assuming price increases that might not materialize. However, most builders have returned to a level of profitability where they would be perfectly content to see home prices rise just enough to offset increasing material costs and/or inflation.
As home prices raced higher and certain builders saw their valuations explode to levels as high as 4x book value, I was decidedly bearish on most names in the sector. Now, with many of the builders again trading at very reasonable valuations and rising mortgage rates curtailing the race to increase prices, the entire sector should continue to recover at a much more even pace. This might not excite those investors looking for 25% moves in the stock prices of the homebuilders every month, but for those looking for long-term value, the interest rate dynamic currently unfolding is extremely healthy for the housing market and the homebuilders in particular.
Disclosure: I have no positions in any stocks mentioned, and no plans to initiate any positions within the next 72 hours. I wrote this article myself, and it expresses my own opinions. I am not receiving compensation for it (other than from Seeking Alpha). I have no business relationship with any company whose stock is mentioned in this article.