I have the same reaction to Alcoa's (NYSE:AA) Q2 earnings results that I did last quarter. The weakness in Alcoa's upstream business -- due to declining aluminum prices -- overshadowed the success in the downstream business. Aluminum prices are the key swing factor for Alcoa's earnings and stock price. Unfortunately, Alcoa's Q2 material and earnings call did not give investors a better understanding of where aluminum prices are headed. Aluminum prices declined through a key level recently and it is not yet clear if this is just a breach or the start of a breakdown. In this article, I will discuss Alcoa's Q2 results as well as the dynamics in the aluminum market that are driving its stock price.
Previous Articles About Alcoa
I wrote five articles about Alcoa and aluminum prices recently:
My basic thesis about Alcoa, which appeared in my last article, is as follows:
Alcoa is a well run company with an attractive downstream business that produces components for several growing end-markets, especially automobile and aviation. However, its upstream business has been pressured from very weak aluminum prices. Alcoa has a lot of debt and is marginally cash flow positive, so the price of aluminum is the key driver of Alcoa's overall profitability and the stock price. The drop in aluminum prices below $1,800 could lead to a sharp move lower. The more time it takes for aluminum to recover this level, the greater the downside risks. Alcoa faces continued short term pressure with these low aluminum prices. Eventually, low aluminum prices will lead to more supply cuts, but it is unclear when that will happen and if they will be successful in reversing the downward move.
Alcoa's Q2 Earnings
Alcoa's Q2 earnings results can be found here. Alcoa generated Q2 EPS of $0.07, which beat estimates by $0.01. Estimates had been cut prior to earnings, so the beat is not significant. I want to highlight a few takeaways.
Alcoa maintained its forecast for 7% increase in the demand for aluminum in 2013. Alcoa's current outlook for supply/demand in the aluminum industry calls for a 315K mt deficit in 2013.
Click to enlarge images.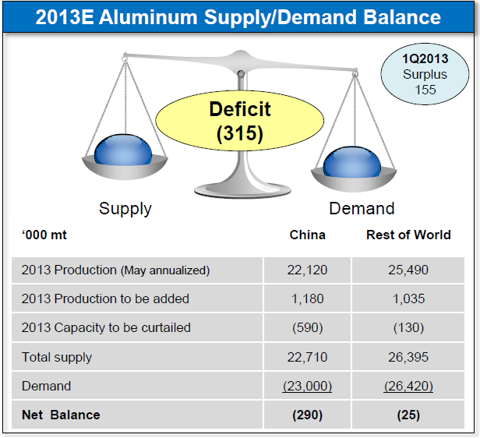 Source: Alcoa Q1 earnings presentation.
As of the Q1 2013 earnings presentation, Alcoa's management believed that there would be a 155K mt surplus in 2013. As of the Q4 2012 earnings presentation, the forecast was for a 535K mt surplus. Despite the swing in the forecast from surplus to deficit, aluminum prices have dropped over the last six months. As I discussed in previous articles, other industry participants are not as optimistic about the supply/demand outlook and believe that the aluminum market is in more of a surplus. The price action in the aluminum market does not seem to suggest a supply/demand deficit (more on this below).
Alcoa reaffirmed its guidance for positive free cash flow in 2013. Weak aluminum prices are a big headwind for free cash flow, but the company has been able to offset the losses from weak aluminum prices by productivity gains and other initiatives.
Alcoa's management spent a lot of time on the earnings call discussing productivity gains. Alcoa's 2013 outlook called for $750 million of productivity gains and it achieved $539 million in the first half. The productivity gains are important because they helped offset the negative impact from weak aluminum prices. Since 2009, the company has achieved approximately $6 billion of productivity gains.
Alcoa's CEO also discussed in detail how Alcoa's products are gaining market share in the automotive and aerospace markets. The exposure to these markets is one of the reasons why I am interested in Alcoa and think it will turnaround eventually, but this is not new news.
I continue to focus on aluminum prices as the key driver for Alcoa's financial results. According to management, every $100 mt swing in London Metal Exchange (LME) aluminum prices will increase/decrease net income by $240 million. There are other factors, such as productivity, that also impact net income, but aluminum prices seem to be the biggest variable. Furthermore, Alcoa is only marginally free cash flow positive, so the added income from aluminum prices is important.
LME Aluminum Prices
The LME aluminum price (three-month buyer) is hovering around the $1,800 mt level. A few weeks ago, LME aluminum traded below $1,800 mt for the first time since 2009. It still is not clear if the recent trading activity represented a breach or a breakdown from the $1,800 mt level.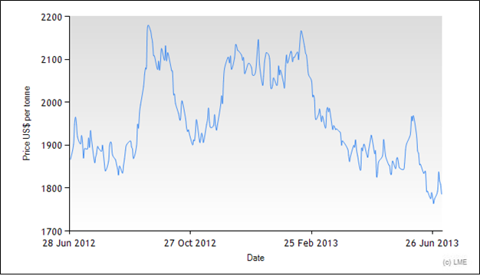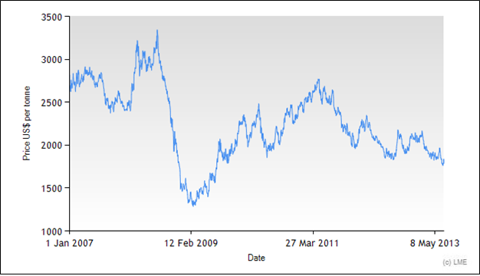 Source: LME.com.
As I discussed in my previous article, several investment banks recently cut their outlook for metal prices, including aluminum prices.
Impact of Copper, Gold, and Silver
Aluminum has been trading in line with copper (NYSEARCA:JJC), gold (NYSEARCA:GLD), and silver (NYSEARCA:SLV). The recent plunge in gold prices seemed to drag other metals down with it. Here is the price action in these metals over the last year: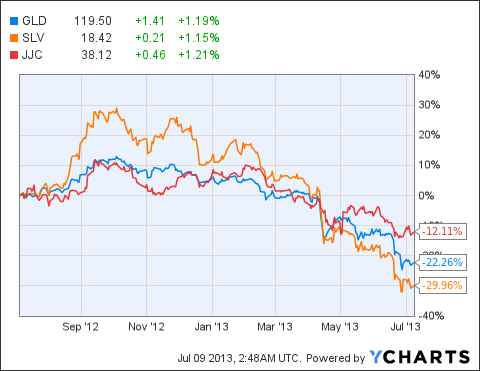 I don't know when gold will bottom. The eventual bottom in gold -- whenever it occurs -- should be a positive for aluminum prices.
Alcoa's Valuation and Capital Structure
The following is a summary of Alcoa's financial position followed by a few takeaways.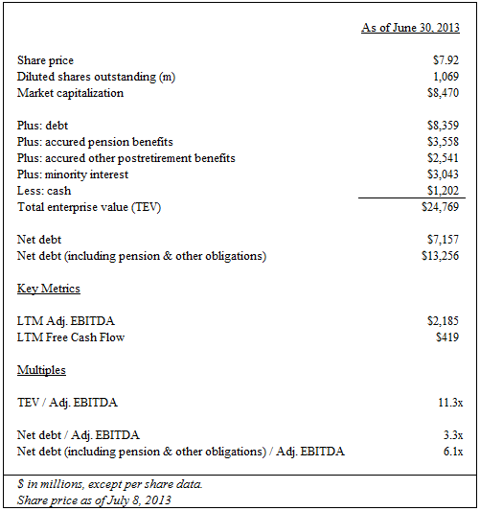 Alcoa is highly levered. In my analysis I added the pension and other retirement liabilities to the leverage figures. On this basis, Alcoa's market capitalization represents only 34% of the total enterprise value. Most of the enterprise valuation comes from the debt and pensions; therefore, movements in the share price have little impact on the company's overall valuation.
Alcoa does not have meaningful near-term maturities on its debt. It has time to wait for a rebound in aluminum prices to boost its profitability. However, the current debt load and low free cash flow will pose a problem at some point, if there is no turnaround.
It is hard to make an argument about Alcoa's share price based on valuation. The metrics above can be used by those who say that Alcoa is overvalued or undervalued. Alcoa's share price depends more on the price of aluminum than the valuation.
Stock Price
Like the price of aluminum, Alcoa's share price recently breached a key support level. Alcoa has traded below $8 per share since June 21, the longest period since 2009.
It will take more time to tell if Alcoa only breached the $8 level or if this is the start of a larger breakdown. The market's reaction to earnings over the next few days may be important in clarifying the nature of this move.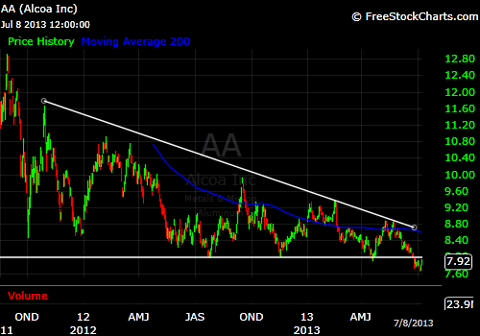 Source: FreeStockCharts.com.
Conclusions
Alcoa's Q2 earnings continued the theme of aluminum weakness weighing down the upstream segment and overshadowing the success in the downstream segment. The price of aluminum continues to be the key swing factor in Alcoa's results. The earnings call did not give investors new insight into the dynamics of aluminum prices.
LME aluminum recently traded below $1,800 mt for the first time since 2009. Similarly, Alcoa's share price traded below $8 per share. These were key levels and it if not yet clear if the recent price action was just a breach or the start of a larger breakdown.
At some point, the aluminum industry will take out enough production capacity to impact aluminum prices. Already, a large percentage of the aluminum industry is operating at a loss, as I discussed in previous articles. Eventually, the reduced supply will spark a rally in aluminum prices, but the timing is not clear. There could be more downside before the eventual turnaround.
Alcoa is highly levered and increased its operating leverage through productivity gains. It will stand to benefit from an uptick in aluminum prices. Furthermore, its downstream business continues to perform well and helps support the company during this period of weakness for the upstream business.
I have a small long position in Alcoa through options. Nonetheless, I am very cautious about the company until aluminum prices trade firmly above $1,800 mt.
Disclosure: I am long AA through options. I may trade any of the securities mentioned in this article at any time, including in the next 72 hours. I wrote this article myself, and it expresses my own opinions. I am not receiving compensation for it (other than from Seeking Alpha). I have no business relationship with any company whose stock is mentioned in this article.
Disclaimer: The opinions expressed above should not be construed as investment advice. This article is not tailored to specific investment objectives. Reliance on this information for the purpose of buying the securities to which this information relates may expose a person to significant risk. The information contained in this article is not intended to make any offer, inducement, invitation or commitment to purchase, subscribe to, provide or sell any securities, service or product or to provide any recommendations on which one should rely for financial, securities, investment or other advice or to take any decision. Readers are encouraged to seek individual advice from their personal, financial, legal and other advisers before making any investment or financial decisions or purchasing any financial, securities or investment related service or product.
Information provided, whether charts or any other statements regarding market, real estate or other financial information, is obtained from sources, which we and our suppliers believe reliable, but we do not warrant or guarantee the timeliness or accuracy of this information. Nothing in this article should be interpreted to state or imply that past results are an indication of future performance.
THERE ARE NO WARRANTIES EXPRESSED OR IMPLIED AS TO ACCURACY, TIMELINESS, COMPLETENESS, OR RESULTS OBTAINED FROM ANY INFORMATION IN THIS ARTICLE OR ANY LINKED WEBSITE.