Kimberly-Clark (NYSE:KMB) surged following first-quarter earnings, a beat and raise. Concerns that the firm may be over-valued, and that future dividend increases may be less than certain, point to an analysis directed at growth prospects. The key insight involves an understanding of the company's ongoing investment in strategic marketing and R&D.
Briefly, the company has been increasing strategic marketing expense faster than revenue for the last seven years. Ongoing savings from the FORCE (Focus on Reduced Cost Everywhere) program have been directed to support innovative products and build brand equity.
Developing the Information
Strategic marketing does not appear as a line item in the financial statements. At times when the increased amount is significant, a dollar figure for the increase is provided, in management's discussion. But the base amount is not disclosed.
A review of the company's annual outlook, as provided with fourth-quarter earnings press releases, reveals that the company has maintained an ongoing expectation that the item will grow faster than sales. From the 1/25/2007 press release:
Strategic marketing spending is anticipated to increase at a faster rate than sales to support new and improved products and other targeted growth initiatives.
Similar language is found in all subsequent years, most recently on 1/25/2013:
Strategic marketing spending is planned to increase faster than sales, primarily supporting product innovations and targeted growth initiatives. Research and development and selling expenses are also expected to rise faster than sales to support growth initiatives and further improve capabilities.
Over the past 10 years, the item has increased by $450 million, of which $115 million occurred in 2012, and $100 million in 2011. The point is, that these expenses, if effective, will drive increased sales and brand loyalty in years to come.
The Man Behind It
Anthony J. Palmer, President of Global Brands and Innovation, is among the five highly compensated officers for whom disclosure is required. His salary increased 54.5% from 2008 to 2012, compared to 35% for the group as a whole. That suggests above-average performance.
I was able to locate a very good interview from 2009, which is worth reading, to get a sense of the thinking behind the increased budget. Here are two excerpts, with my commentary:
...Well our strategy hasn't changed - the way we are executing it has changed, is probably the best way to put it. Some of the adjustments we have made, the moment that things got really tough we increased our investment in market research for a simple reason that we came to understand very quickly that consumers' behaviour was changing very rapidly - and that we as marketers spend a lifetime trying to change consumers' behaviour and here all of a sudden all bets are off and consumers are willingly changing behaviours very rapidly so the opportunity to understand them and understand them real time, so we invested a lot more in a couple of areas. One was real time understanding - internet panels and blogging and tweeting and so forth so that we are getting real time feedback from consumers. The other space we spent a lot of effort and money on improving our pricing methodologies. Most of our large brands, around the world now, we can draw the price demand curve for and the cross elasticity curve (literally) which we could not have done in the past. Now that has served us really well in terms of being able to understand how consumers are behaving - qualitatively and quantitatively and statistically. So bringing that together was one element so there was more emphasis there. We continued to invest very heavily in advertising and innovation, so we have spent $100 million incrementally in 2007, the same in 2008. We are up 95 million to the end of the third quarter this year, so we have spent more on advertising and we have increased the intensity of our innovation.
Consumer Staples is a competitive business, and not immune to recession. Consumers can trade down to house brands as a response to financial pressure, and they may not necessarily trade back up. It's important to develop intelligent and flexible responses in a timely manner as situations change.
...the success of businesses is going to come from driving growth. You cannot save yourself to prosperity. It has never happened and it is never going to happen. You can do it short term not long term. Marketing is the engine of growth for the company when you are defining marketing in its broader sense. I think marketing is being redefined to include research and development, marketing customer development and almost the centre of the plate of the company.
It should be noted, that R&D, after being flatlined for a number of years, increased by 12% in 2012, and is expected to increase faster than sales in 2013.
Implications for the Dividend
Valuentum, writing on 7/4/2013 and 4/25/2013, has questioned the sustainability of the dividend here on Seeking Alpha. Much of the thinking behind these articles works off historical information and cash flow.
First, it's important to understand the company's capital allocation framework. Here's a slide from a recent presentation [pdf]: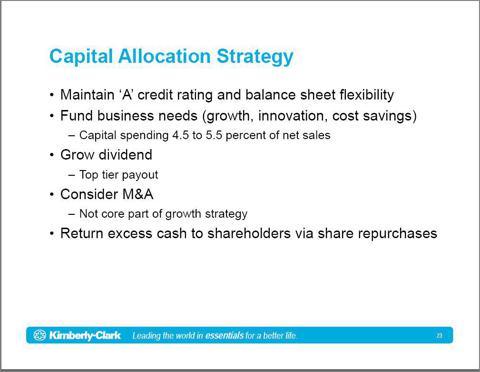 The point is, Kimberly-Clark does what it has to do to support growth as a priority item, ahead of the dividend. An additional point, for those who work from the cash flow statement: strategic marketing and R&D are both expense items. And they both drive growth.
Kimberly-Clark's reported profits (and cash flows) in recent years have been less than they would have been if the company had held strategic marketing and R&D growth to the same level as revenue increases. But these expenses need to be interpreted from the entrepreneurial perspective, as investments in future growth. And the company was able to make these investments, and still have funds left over to return to shareholders as dividends and buybacks.
Buybacks and the Dividend
The company's stated minimum goal for buybacks is to offset dilution. Beyond that, if there are excess funds for which they don't have a better use, they return them to shareholders, targeting a dividend increase equal to the sales increase. Buybacks have fluctuated substantially over the years, but amount to a 23% reduction in share count over the past 10.
A study of dividend activity reveals that the total dollar increase roughly tracks revenue growth over the past 7 years. Per share dividend increases are higher, because buybacks reduce the number of shares. Over the 7-year period, per share dividend increases track revenue increases plus share count decreases very closely.
Buyback activity is relatively prudent: on average, the company repurchased shares for less than my estimate of FMV. Through the end of 2012, all shares were repurchased for substantially less than today's market value.
Valuation
Any method relying on historical information will conclude that shares are over-valued. Recent growth in EPS, and the information developed above, suggest that increased future growth is likely, and the current relatively high TTM P/E may not be unjustified. Fair value by my preferred PE5 method is $80, as compared to recent prices in the $97 area.
Historically the company has not commanded the same multiple as the leader in its category, Procter & Gamble (PG). However, if the increased marketing improves brand equity over time, a higher multiple would be in order, sufficient to move my fair value up over $90. Likewise, increased growth would merit a higher multiple.
I'm investing on the basis that $5.70 (mid guidance) X 16.4 (long-term average market multiple) = $93. I took a position based on a portfolio strategy that backtests well, and don't see any reason to override selection criteria here.
Strategy and Tactics
I'm long deep in the money LEAPS as a substitute for owning the shares, and short covered calls at the Jan 2014 105 strike. I plan to roll the short position down to the 100 level, more in keeping with my opinion on value.
I like the long-term potential here, and plan to monitor developments. The investment hypothesis, that increased strategic marketing will generate increased profits, can be tested on a quarterly basis.
Conclusion
Kimberly-Clark's ongoing investments in strategic marketing and R&D create a high probability that dividend increases can be sustained well into the future.
Shares are over-valued, and investors who are looking for capital appreciation can do better elsewhere.
Disclosure: I am long KMB, PG. I wrote this article myself, and it expresses my own opinions. I am not receiving compensation for it (other than from Seeking Alpha). I have no business relationship with any company whose stock is mentioned in this article.