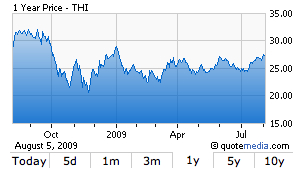 The late Easter this year, in April instead of the usual March, has left many consumer companies with skewed quarterly results, and Tim Hortons Inc. (THI) looks set to be the next victim of the Easter Bunny when it reports on Thursday.
The beloved coffee brewer is expected to take a -0.5% hit in U.S. same-store sales due to the Easter holiday, Irene Nattel, RBC Capital Markets analyst, said in a note Tuesday.
She said:
We are moderating our same-store sales growth assumption for Canada from +2.5% to +1.5% to reflect the shift in timing of Easter, the three-week McDonald's (NYSE:MCD) free coffee giveaway and weak consumer spending.
The family-oriented Easter long weekend means consumers are more likely to sleep in than stop by at a Tim Hortons for a a caffeine pick-me-up, leading to lower traffic.
Elsewhere, the rollout of 12 Tim Hortons storefronts in New York from converted Dunkin Donuts locations occurred during the quarter, with mixed results so far.
She said:
While the success (or lack thereof) of the New York units will have virtually no impact on Tim Hortons's bottom line, the visibility of the New York market is substantial, and success in this highly competitive market would give Tim Hortons a boost in its drive to establish a brand in the northeast United States.
Ms. Nattel forecasts operating income growth of 3.5% to C$121-million but an earnings-per-share estimate of only C$.43, down 1 cent compared with the market consensus.
She maintains an Outperform - Average Risk rating on Tim Hortons, with a price target of C$36.