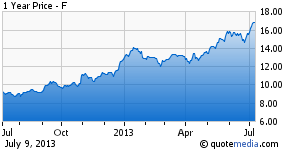 Up over 30% in the past three months, investors are in full speed trying to catch the automotive stocks. While General Motors (NYSE:GM) is doing well, Ford (NYSE:F) is doing incredible. I have nothing against the former, but the latter is certainly my favorite automaker. The stock has had an incredible move since the fall of 2012 and even more so, from the depths of 2008. But while the move might be large now, it's just the beginning of the overall bigger picture. Allow me to explain.
June sales figures were recently released and it revealed that once again, Ford continues to sell a ton of vehicles here in the United States. Analysts expected an increase of 11.7%, an already strong year-over-year increase, but Ford coasted past that, with a 13.4% increase. General Motors did do well too. While the bar was much lower at 1.3%, the automaker posted gains of 6%. But in my mind, why not invest in the best and go with Ford?
Ford's biggest money maker is the F-Series pickup truck. In May, the company shocked analysts and the investment community, by posted a year-over-year sales increase of 31%. Wow, that's huge. Considering how much it costs for the consumer and how much Ford makes on each one. For the month of June, Ford posted another robust 24% increase in F-Series pickup truck sales. It was the best June since 2005 for the model.
Ford's sales are robust in the States, but that's not the only place. While Ford continues to be dogged by Europe, another part of the world will become a large components to the company's profit going forward. While Asian auto sales make up a relatively small part of Ford's profits, the growth there is incredible. Consider this: Investors cheered the 13.4% increase in U.S. auto sales for the month of June, where Ford sold ~235,000 vehicles. In China, the company posted an increase of 44%, its best June ever.
With a total of 75,254 vehicles sold for the month of June, China is quickly catching up to that of the sales in the U.S. Overall, sales are up 47% for the year in China, after being up 21% in 2012. Ford, which is the fastest growing foreign automaker in China, expects light vehicles sales in the region to match that of the U.S and Europe by 2020.
While Ford does not have as big of a market share as General Motors or Volkswagen (OTCPK:VLKAY), that doesn't mean the automaker isn't trying. By investing nearly $5 billion, Ford will double its production to 1.2 million on an annual basis by 2015. For perspective, That's about half of the U.S. auto sales in 2012.
Mid-decade will be a busy time for Ford, as CEO Alan Mulally has continually stated he expects company operations in the European region to be at breakeven. In a recent article, I detailed why Ford was beginning to turn the corner in Europe, even though the region itself doesn't seem to be doing so quite yet.
In 2012, Ford lost about $2 billion in Europe. In the first quarter of 2013, the company lost about $460 million, on a similar path to another $2 billion loss. But, the company had a lot of restructuring costs related to plant closures, depreciation and more strict labor laws. In fact, nearly one-quarter of first quarter European losses were due to restructuring efforts, ($110 million of the $460 million).
In the past, Mulally has made it a focus to reduce Ford's debt, by buying back senior notes that are multiple years away from maturity. With the continued credit upgrades, Ford will be able to borrow money at cheaper rates than it already has, which makes the retirement of old notes very smart. But many people don't quite understand Ford's debt.
Thankfully, someone on Seeking Alpha understands it very well. Jacob Steinberg wrote an excellent article back in May that really breaks down Ford's debt. Steinberg showed that while Ford's balance sheet will read that there is $107 billion in debt, investors should dig a little deeper. From the article:
"When we look at Ford's balance sheet, we see that $92 billion of Ford's debt actually belongs to Ford Credit; whereas, Ford Automotive's debt is as little as $15 billion. Moreover, Ford Automotive's $24 billion of cash covers all of this debt, and leaves the company with a net cash position of $9 billion."
There literally isn't a better, more accurate way to describe the debt situation at Ford than the above statement. Steinberg took it a step further, saying that Ford Credit contributed to the bottom line with an operating profit of $1.7 billion in 2012.
For a recap, we have robust auto sales in the U.S. that are only expected to increase. Leading the charge is Ford's most profitable (and America's most popular) vehicle in the F-Series pickup truck. Sales in China are growing at nearly 50% year-to-date and production is scheduled to double by 2015. Also around 2015, Mulally has expressed Ford will be close to breakeven operations in Europe, saving the company close to $2 billion in annual losses.
Of course, $40 per share is a ways away too. In fact, based off of Friday's closing price of $16.70, it's over $23 or 140% away. But I believe that if Ford can accomplish its own lofty goals set forth, $40 is not out of the question by 2015 or 2016 based on future growth and loss reduction in Europe.
Disclosure: I am long F. I wrote this article myself, and it expresses my own opinions. I am not receiving compensation for it (other than from Seeking Alpha). I have no business relationship with any company whose stock is mentioned in this article.