Controversial independent oil and gas company Linn Energy (LINE) announced last Tuesday morning that the SEC has launched an informal inquiry into Linn and LinnCo (LNCO). Please view our story arch in the image below.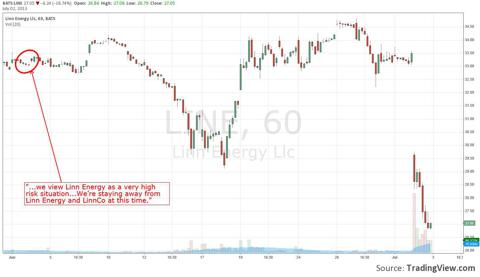 We give credit to Linn's management team for revealing the explicit details of the inquiry, stating in the press release:
"The SEC has requested the preservation of documents and communications that are potentially relevant to, among other things, LinnCo's proposed merger with Berry Petroleum Company, and LINN and LinnCo's use of non-GAAP financial measures and hedging strategy."
Essentially, the SEC is addressing concerns that several parties have brought to light, including Valuentum, with regards to the company's accounting for put contracts. For those interested, the rules for companies disclosing non-GAAP financial measures can be found here.
This isn't the first time research brought to light by market participants has led to SEC inquiries into companies. Prominent hedge fund manager David Einhorn detailed his saga to identify fraud at Allied Capital in his investment classic, Fooling Some of the People All of the Time, A Long Short. It took years for the SEC to inquire about the company's valuation practices. Still, the situation ended poorly for Allied Capital shareholders, as Allied was found guilty of securities fraud and was eventually sold to Ares Capital (NASDAQ:ARCC) at a steep haircut to its previous market value.
Not every SEC inquiry ends in disaster, however. Since late 2012, the SEC has been investigating Chesapeake Energy (NYSE:CHK). Although maligned CEO Aubrey McClendon lost his job, we've seen no evidence of any punishment from the SEC. The firm hired a new compliance officer and seems to be focused on improving its internal practices. The stock is down significantly from its all-time highs, but we think the steep declines are more related to Chesapeake's operations and the price of natural gas than SEC penalties.
An even brighter story comes from Whole Foods (NASDAQ:WFM). It's easy to forget that CEO John Mackey was investigated after he made anonymous posts on message boards about both his company, and Wild Oats Markets-a firm Whole Foods eventually acquired. The probe was dropped by the SEC a year later and ultimately had no impact on the stock or the company. Shares are up more than 300% since the probe was dropped.
Valuentum's Take
When it comes to SEC inquiries, smoke doesn't always mean fire. However, we think the SEC probe simply adds more uncertainty to an already-murky situation. Berry Petroleum (BRY), the firm Linn is trying to acquire, has made no comment on the situation. We think the merger could be at risk, especially since it depends on the price of LinnCo shares (down 16% since the announcement). In our view, Linn's weak internal cash flow generation is a greater risk than the informal inquiry from the SEC. We remain on the sidelines in the Linn situation.
* The Valuentum Dividend Cushion for master limited partnerships (MLPS) incorporates the cash proceeds of future equity issuance in the numerator of the calculation. This is unlike traditional operating firms, where capital market activity is excluded. In Linn Energy's case, its score on the Valuentum Dividend Cushion is 0.5, as of July 3, 2013 (was 2).
Disclosure: I have no positions in any stocks mentioned, and no plans to initiate any positions within the next 72 hours. I wrote this article myself, and it expresses my own opinions. I am not receiving compensation for it (other than from Seeking Alpha). I have no business relationship with any company whose stock is mentioned in this article.