The upshift in interest rates brought about a new set of return-risk asset class opportunities. Real estate investment trusts (REITs) were hit hard by rising interest rates. Regular U.S. REITs dropped by about 9% in May-June, and mortgage REITs sold off by 20%. Is the selloff justified by higher interest rates, or is this a buying opportunity?
3-Year Price Performance: REIT Index ETFs Vanguard REIT Index (NYSEARCA:VNQ), IYR (NYSEARCA:IYR), Mortgage REIT ETF (NYSEARCA:REM)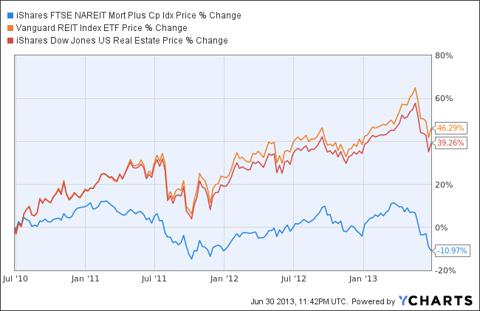 ETFs that invest in diversified portfolios of REITs are efficient instruments for investing in this asset class. U.S. REIT index ETFs invest in an index of "traditional" REITs, which in turn invest in diversified U.S. real estate (including residential, commercial, and industrial properties). By far the largest among them is the Vanguard REIT Index, with $36 billion in assets. It is also the most cost-effective, with an expense ratio of only 0.10%. Other index ETFs of this type are iShares's IYR and SPDR's Wilshire ETF (NYSEARCA:RWR).
Whether the selloff in REITs is justified depends largely on how the shift in rates will affect the real estate market. The average 30-year mortgage rate just jumped to 4.46% last week from 3.93%, the biggest one-week increase since 1987. Housing prices rose again in May, and pending home sales increased 6.7% to the highest level since December 2006 - but this was likely a result of people rushing to buy before mortgage rates rose. However, in the 4.4% range, the 30-year mortgage rate will be close to average over 2010-2011, while the real estate market is clearly stronger than it was in that period (see chart below). It seems that higher rates will simply balance the housing market, which is becoming overheated.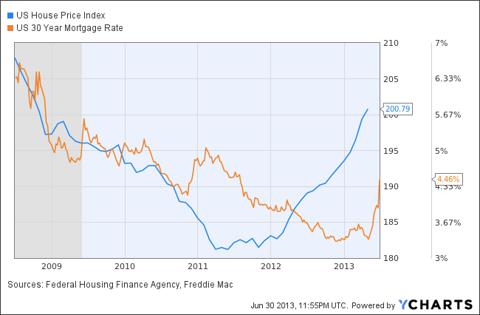 Specialty REITs, also known as "narrow REITs" (or NAREITs), include mortgage REITs that invest in mortgages instead of real estate. To achieve higher yield, mortgage REITs finance a portion of their investments by debt in addition to equity. The largest ETF based on mortgage REITs is the iShares FTSE NAREIT Mortgage Index , with nearly $1 billion in assets. Because mortgage REITs are long duration, they were hit especially hard by the upturn in interest rates. REM dropped by 20% to $12.7, the level of the previous significant drop in 2011. At this price and using 12-month historical dividends, dividend yield is a whopping 14%. REM's dividend has been rising since 2010, but as for any REIT, it varies.
We think that REITs present an excellent buying opportunity at these levels. U.S. REIT index ETFs provide exposure to real estate prices - real estate is now quite healthy, and moderate growth should continue. In this group, we like Vanguard's VNQ due to its extremely low expense ratio, size/liquidity, and yield of 3.7%. The yield is the same as long-term corporate bonds which don't provide the appreciation potential of REITs.
The best return-risk opportunities often lie outside of well-established asset class definitions. We especially like mortgage REITs. With no appreciation potential, they can be viewed as an alternative to fixed income, but with equity-like return. In fact, at 14%, REM's yield surpasses long-term expected return for equities, and is more than double the yields on junk bond ETFs (NYSEARCA:JNK), (NYSEARCA:HYG). Credit risk has improved since the real estate crisis; mortgage delinquencies normalized, and loan-to-value ratios improved due to the rise in housing prices. Interest-rate risk is significant, but investors are being paid very well for taking it.
Disclosure: I am long REM. I wrote this article myself, and it expresses my own opinions. I am not receiving compensation for it. I have no business relationship with any company whose stock is mentioned in this article.