Noodles (NASDAQ:NDLS) went public on Friday June 28, 2013, opening at $18 and rising over 100% in Chipotle-esque fashion (CMG popped over 100% in its 2006 IPO), closing at $36.75. This makes Noodles the second-best performing IPO of 2013 [behind ExOne Company (NASDAQ:XONE)], and the best-performing of the second quarter. The media hoopla ensued; Jim Cramer talked up the company on his show, expressing surprise with Noodles' "out of left field" performance. Noodles continued its upward trend in the following days, jumping to a high of $51. Since then the market has pulled back on Noodles, and it is currently trading in the low 40s. At these prices, Noodles is a bargain - the company has a very bright future and its stock price will likely trade higher after the market learns more about it. In this article I will analyze my areas of confidence and reservations about the business.
Success Drivers
U.S. Noodle Consumption - According to the World Instant Noodles Association [WINA] U.S. demand for instant noodles is robust and growing. The US consumed 3.4 billion packets of instant noodles in 2012, up 1.6% from 2011. Although this trend doesn't indicate that Noodles will necessarily take advantage of this growth - the sheer volume indicates that noodle consumption is alive and well. Americans already have a taste for noodles and this works to the company's advantage.
Restaurant Operating Efficiency - Having a restaurant run by key ex-Chipotle executives is certainly a plus. In 2012, the company-owned restaurant contribution margin was 20.3% -- at the top of the industry, according to food industry research and consulting firm Technomic. This is comparable to Panera's (NYSE:PNR) restaurant-level margin, which is around 22%.
Versatility - Noodles has the versatility to cater to a number of different consumer bases and demographics. Its fresh ingredients and numerous sub-500 calorie dish options cater to a health conscious crowd and its quick service complements the grab-and-go lunch crowd. In addition, Noodles also serves as a great option for low cost, sit down dinners.
Low priced, compelling concept - As of now, there aren't any serious competitors in the generic fast casual noodles space. At a relatively low price ($5.99 a bowl), Noodles customers are offered a variety of different options (Spaghetti, Japanese, Thai) for a decent-sized meal.
Customer Loyalty - In Noodles & Co's S-1, the company mentions that its surveys demonstrate that approximately 40% of its guests visit the restaurant at least once a month. This is a powerful data point that deserves attention. As the company is still in its early years and expects future growth, this customer return rate is very positive and should contribute to the "word of mouth" publicity the company will need to bolster its growth.
Areas of Concern
Same-Store Sales - Although Noodles has shown same-store sales growth in 28 of the last 29 quarters, unless there are strategic changes made - it may not provide Chipotle (NYSE:CMG) or Panera-style growth prospects. Same-store sales growth for 2010, 2011 and 2012 was 3.7%, 4.8% and 5.4%. Management guided long-term same-store sales growth of 2.5%-3% -- which seems to be a bit low.
Operating Margins - When compared to fast casual restaurants Chipotle and Panera, Noodles' operating margin and trend currently isn't competitive. However, as the brand further develops and gains popularity, I'm confident traffic will increase and margins will expand.
Operating Margin Trend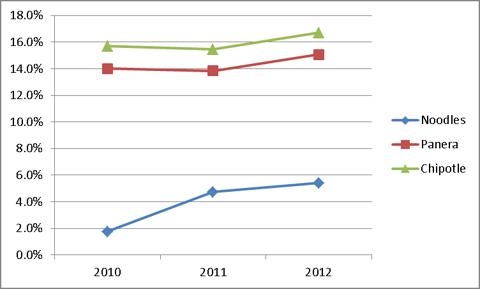 Expansion Discipline - Management has thus far pursued a heavily company-owned expansion model, relying on franchising to a lesser extent (276 company-owned versus 51 franchise-owned as of the S1). This company owned-franchise strategy needs to be intelligently calibrated if Noodles is going to successfully expand to 2,500 stores over the next 15-20 years. Many speculators have pointed to the untapped regions of New York, California, and Texas, as fertile frontier. However, Noodles may be better off expanding in areas where it has already proven itself to further take advantage of loyal customers before branching out into untested territory. There's always risk associated with starting restaurants in new geographies so Noodles will have to successfully mitigate this while it implements its expansion strategy. As the graphic below demonstrates, besides Colorado (Noodles' headquarters is in Denver) the company's restaurants have a disproportionately heavy Midwestern presence.
Restaurants by Region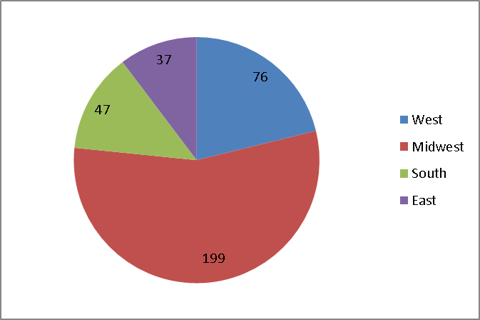 Conclusion
Noodles is a new concept in the fast casual space that's already received customer buy-in and developed a loyal following. The company is skillfully managed by Chipotle alums and will need to continue to be soundly managed in order to execute on management's vision to reach 2,500 stores over the next 15-20 years. Driven by its low prices, high customer loyalty, and measured geographic expansion - Noodles will develop into a fast casual staple. Now, as the market's pulling back on Noodles stock, is a great time to buy.
Disclosure: I am long NDLS. I wrote this article myself, and it expresses my own opinions. I am not receiving compensation for it (other than from Seeking Alpha). I have no business relationship with any company whose stock is mentioned in this article.