I was recently at my local Home Depot (NYSE:HD) and saw a woman pushing a cart loaded with about 20 Cree (NASDAQ:CREE) LED light bulbs. I said to myself, "now that's a good investment."
Home Depot is the exclusive seller of Cree LED light bulbs.
I have already bought two CREE bulbs that came out just this past March. One is a warm white LED 40w replacement that uses 6 watts and the other, a daylight LED 60w replacement that uses 9 watts. It was an experiment purchase just to make sure I liked the bulbs before replacing all my high energy bulbs. I'm glad to say, these bulbs are terrific.
The bulbs come with a 10-year warranty and the package states that if you use it three hours a day, they will last 22.8 years, which is about 25,000 hours.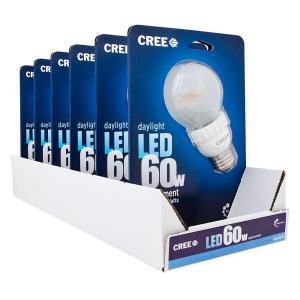 I can buy a six pack of these 60w replacement bulbs for $79.82 + tax (8% in my county) and it comes to $14.37 for each bulb.
I can also buy a four pack of general purpose 60 watt bulbs from GE for $3.79 + tax and it comes to $1.02 per bulb.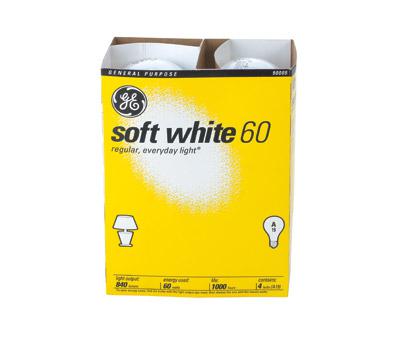 I did the math on the cost differences between the two and used numbers that are relevant for my state.
First of all, electric rates hit a record high in May, averaging 13.1 cents per kilowatt hour nationwide. In New York, Long Island, and Northern New Jersey, the rate was 47.3% higher, 19.3 cents per kilowatt hour.
For information sake, in 2011, per capita income in NY, Northern NJ and Long Island was $56,700.
The average monthly electric bill in NY state in 2011 was $111.59 per month. So that's $1,339 per year spent on electric bills or about 2.4% of per capita income roughly.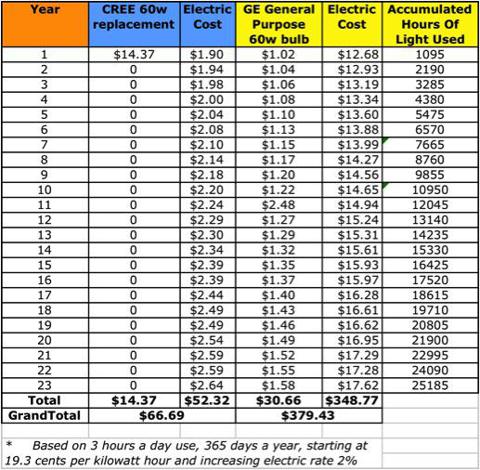 The GE bulbs only last for 1000 hours. This is compared to the CREE 60w replacement that has a life of 25,000 hours. So, you would basically have to buy a new bulb every year assuming you used the light for an average of three hours a day for 365 days a year or 1095 hours a year.
By far, the biggest savings comes from the cost of energy. The LED has a life cost of $52.32 and the GE 60 watt bulb has an energy cost of $348.77 in the same amount of time. The difference in the cost of energy is $296.45.
While I used 19.3 cents per kilowatt hour because that's the average for NY, Northern NJ, and Long Island, even if I cut that rate in half, at 9.65 cents per kilowatt hour, the difference is still great. The LED bulb would have a life cost of $31.57 and the 60 watt GE bulb would have an equivalent time cost of $208.20 for a difference of $176.63 based on the electric rate rising 2% per year.
I said I counted about 50 bulbs in my home. I obviously don't use all 50 bulbs three hours a day, but let's assume I use 10 bulbs three hours a day for a total of 30 hours of light bulb lighting per day and did so over the next 23 years.
The math is $296.45 X 10 = $2,964.50 over 23 years at 19.3 cents per kilowatt hour beginning this year. Starting at 9.65 cents per kilowatt hour, the savings would be $1,766.30 over 23 years.
The bottom line: Invest $143.70 in 10 CREE LED 60w replacement bulbs and replace the 10 most used bulbs in your home. In doing so, based on this little exercise, you can save anywhere from $1,766.30 to $2,964.50.
With that said, investors in CREE stock should have high expectations for CREE's sales of these light bulbs. I can say personally, I've yet to see Home Depot not have the bulbs on the shelf, so CREE should have been able to absorb what should be strong demand for the bulbs.
The stock market has been terribly inefficient at pricing CREE. Here is a chart from 2002: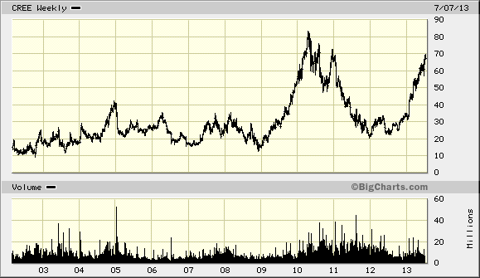 In their latest 10-Q, CREE said this about the LED segment of the business:
LED Products Segment Revenue

LED Products revenue represents the largest portion of our revenue with approximately 56% and 64% of our total revenues for the third quarter of fiscal 2013 and fiscal 2012 , respectively.

LED Products revenue increased approximately 8% to $195.6 million in the third quarter of fiscal 2013 from $180.9 million in the third quarter of fiscal 2012 , and approximately 2% to $584.1 million for the nine months ended March 31, 2013 from$571.9 million for the nine months ended March 25, 2012 .

Changes in revenue are the result of an overall increase in the number of units sold, primarily from our newer products partially offset by a decline in selling prices. The average selling prices for our LED products decreased in fiscal 2013 compared to fiscal 2012 , due primarily to market downward pricing pressure and sales of new lower cost products.
The LED light market is competitive and price pressure is certainly a factor. There has been very little growth in the LED light bulb segment as you can tell.
Unless this changes in its 4th-quarter report, due August 12, the share price may well be due for a break after its stunning run thus far in 2013.
Before I would consider buying shares in the company stock, I would want to know for sure that its bulbs have caught on in a big way and profit margins have improved. At $67 a share and forward earnings estimate of 1.86 a share, that P/E of 36 just seems a bit rich.
In the meantime, I'll have my 10 CREE bulbs soon enough.
Disclosure: I have no positions in any stocks mentioned, and no plans to initiate any positions within the next 72 hours. I wrote this article myself, and it expresses my own opinions. I am not receiving compensation for it (other than from Seeking Alpha). I have no business relationship with any company whose stock is mentioned in this article.