By David Russell
The bulls are stampeding into Cubist Pharmaceuticals (CBST), snapping up shares and calls ahead of an investor meeting next week.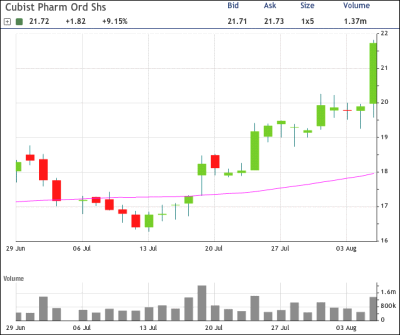 Volume in the August 22.50 calls rose to 5,278 against open interest of 345 contracts, according to optionMONSTER's Heat Seeker tracking program. The options changed hands for $0.10 to $0.75, with purchases accounting for most of the activity.

CBST rose 7.99 percent to $21.49 in early afternoon trading, bucking a 1.38 percent decline for the broader Nasdaq. Tuesday the drug developer said it would make a presentation at Canaccord Adams Global Growth Conference in Boston on Aug. 12 at 11:30 a.m. ET. The company also reported better-than-expected second-quarter profit on July 17.

CBST would need to climb more than 6 percent by expiration for most of the calls purchased today to turn a profit. It's already up 25 percent in the last month.

Overall options volume in the name was 14 times average. Calls outnumbered puts by 20 to 1.
(Chart courtesy of tradeMONSTER)