The purpose of this series is to highlight stocks that are undervalued, profitable, have underperformed the market, and have a favorable technical outlook. The stock that I will be covering for my undervalued series this week is AGCO Inc (NYSE:AGCO). AGCO stock has dropped 6.37% in the last month and has underperformed the S&P 500 (NYSEARCA:SPY) year to date. I believe AGCO is a solid undervalued long-term choice to gain exposure to the record planting year for corn in North America, and the continued growth of other regions buying farm equipment.
According to the Q1 AGCO Investor Presentation, the first chart below shows sales have been very strong for Asia, South America, and North America, but sales have been poor in Europe. The second chart shows revenues have increased from $2.3 billion to $2.4 billion over the same time from a year ago, and that in the last year, as a percentage of total revenues the European region, has become a smaller portion of revenues while the other regional segments have grown. I believe this is a positive sign because, going forward, the more growth from regions other than Europe, the better AGCO should be.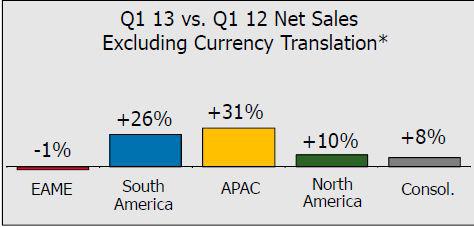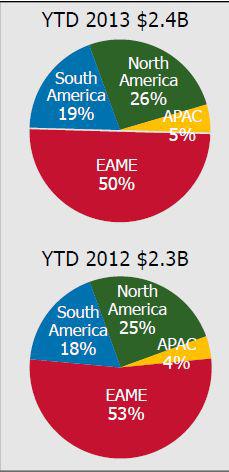 Value
To value AGCO I will be using a DCF calculator, with data for earnings and growth coming from Zacks.com, benchmark data from longrundata.com, and CPI data from the BLS. The DCF table below shows shares of AGCO is undervalued by 168.67%, which represents a potentially significant price appreciation opportunity for shares of AGCO.
EPS [ttm]: $5.22
Long-term Growth Rate: 17.25%
Earnings grow for next: 5 years
Level off: to 1% after
Benchmark return: 10 yr annualized SPY return of 7.05%+1.4% inflation= 8.45% benchmark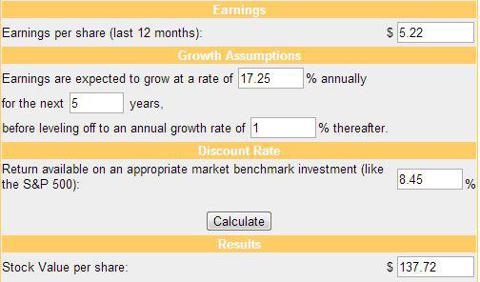 Technical Outlook
The chart below shows that shares of AGCO have been rising steadily over the last year and a half, and recently tested the bottom of the support line and bounced off. The chart shows that AGCO has tested its long-term support line about 7 times in the last year and a half, depending on how you count a test, and has held that support level with each test. I believe, with this strong level of support backed up with growth in the underlying business, shares of AGCO will break out to new highs long-term.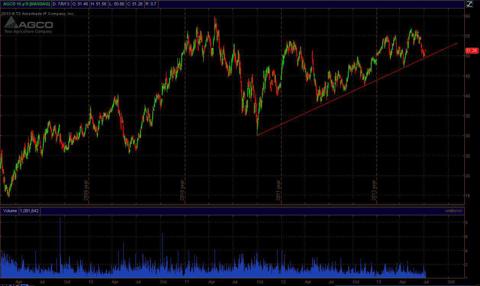 Catalyst
The biggest long-term catalyst for AGCO is the continued growth in sales of farm machinery to the fast growing regions of South America and Asia. For a shorter-term catalyst, AGCO is reporting earnings on July 31st, and I believe based on the underlying strength of the fundamentals and technical support, shares are poised to continue higher.
Risks
The biggest risk to AGCO is orders slowing down because of slower global growth. Even though everyone needs to eat, demand for products that AGCO manufactures could slow down, because if farmers see a questionable economy, they may not have the confidence to purchase new equipment, and instead stay with older equipment.
Closing thought
I believe shares of AGCO are poised to move higher from current levels, because the stock is undervalued, the underlying business is strong in three of the four regions AGCO operates in, and the stock recently bounced off a strong technical support level. In addition, AGCO this year started paying a dividend again for the first time since 2001. While the yield is small at 0.80%, AGCO has plenty of room to raise the dividend going forward, because it has earned $5.22/share and only pays out $0.40 in dividends. With earnings coming later this month, I believe shares will trend higher into the earnings report, and I expect shares to break out to new highs for the year. long-term [3-5 years] years, I believe AGCO will achieve my estimated share price of $137/share.
Disclosure: I have no positions in any stocks mentioned, and no plans to initiate any positions within the next 72 hours. I wrote this article myself, and it expresses my own opinions. I am not receiving compensation for it (other than from Seeking Alpha). I have no business relationship with any company whose stock is mentioned in this article.