By Paul Carton
Co-written by Mike Wrobel

There are signs of improvement within certain pockets of the restaurant industry but the pace of overall growth has slowed, according to two recent ChangeWave consumer surveys.
There were, however, a handful of standout winners.
First, as reported to our ChangeWave Research Network Members on June 30th, Starbucks (NASDAQ:SBUX) exhibited "by far the biggest improvement of any coffee shop or restaurant surveyed."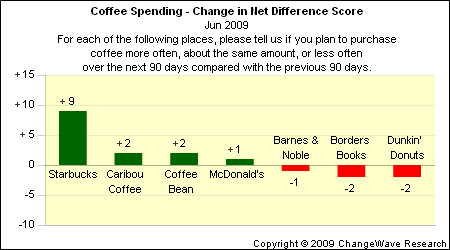 Nearly a month later on July 21st, Starbucks released their earnings and easily blew past Street expectations. As MarketWatch reported, "Starbucks swung to a fiscal third-quarter profit from a year-earlier loss, and showed that its store traffic is improving even as the recession drags on."
Upon the announcement Starbucks immediately rose almost 20% – yet one more example of a ChangeWave survey uncovering the trend weeks ahead of the Street.
Other Winning Restaurant Chains
Outside the coffee realm, there were additional restaurant winners. We asked respondents which individual restaurant chains they'd be spending more and less money at over the next 90 days – and compared the results with the findings from our previous survey.
Six restaurants stood out from the pack in terms of where consumers will be spending more money vs. less money over the next 90 days: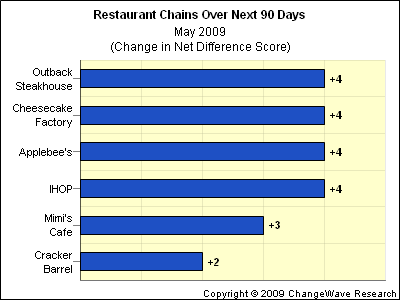 In terms of restaurant categories, high end casual restaurants (+12) and moderate casual restaurants (+11) are experiencing the largest increases going forward. And in a reversal, every category is looking up except for fast food restaurants (-1), suggesting consumers are beginning to "trade up" when it comes to dining out.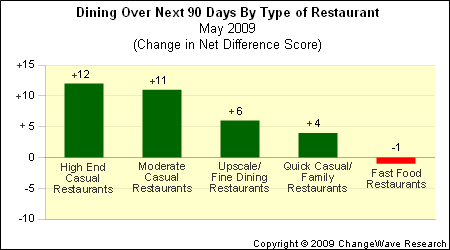 Other findings include:
A greater percentage of consumers say they'll be dining at more expensive restaurants going forward (4%; up 3 pts).
There's been a significant increase in the percentage of consumers who expect to dine out More Frequently over the next 90 days (14%; up 8 pts).
Still, overall only 10% of respondents say they'll be spending more at restaurants going forward, while 37% say they'll be spending less – both unchanged from May.