SanDisk (SNDK) reports its 2nd-quarter, 2013 financial results after the bell on Wednesday, July 17. Analyst consensus is looking for $0.92 in earnings per share [EPS] on $1.392 billion in revenue for expected year-over-year growth of 300% and 35% respectively.
EPS and revenue estimates continue to be revised higher for SNDK since the April 13, earnings release.
It was the first and 2nd quarters of 2012, where the wheels really came off the cart for SNDK, as inventory swelled, flash memory pricing collapsed, and gross margin plummeted from 43% in 4th-quarter 2011, to 33% in 1st-quarter 2012, to 27% in the 2nd-quarter 2012.
No question SNDK is hitting on all cylinders currently, with the big difference being that managements of both SNDK and Micron (NASDAQ:MU) are saying "it's different this time" in terms of production capacity being boosted, which is what causes these horrific cycles in the NAND and DRAM memory markets.
As our best-performing stock in Q1 13, up 25% and with SNDK up again 12% in the 2nd quarter of 2013, we recently took the opportunity to sell half of our position.
To be frank, I've been burned on the semiconductor cycle before with the stock, as EPS is uber-volatile on pricing and production swings, so even though we believe management to some extent that the capacity and pricing cycle could last longer this upswing, why get greedy when we had anywhere between a 40% to 80% in the stock off 2012's lows near $30.
There are several positives to SNDK as it sits today near $60:
With the announcement in last year's Q1 12 that SNDK is now an iPhone supplier, the flash memory maker is now a supplier to ALL smartphone manufacturers;
The weakening yen is a plus for SNDK - a 5% move in the yen impacts gross margins 200% - 300% per one source we read. A 200 - 300 basis point gross margin expansion is already baked into 2nd-quarter numbers, even though the yen has been stable around 100 for most of Q2 13;
Pricing is strong given demand and lack of capacity;
Valuation: after EPS fell 50% in 2012, EPS growth in 2013 is currently expected at +72%, which leaves a blended growth rate of 23% between the two years. EPS growth for 2014 and 2015 is expected to slow to mid teens, as revenue growth is expected at +15%, 10% and 10% the next three years.
Trading at 14(x) cash-flow and 13(x) the expected 2013 estimate, the real struggle I have always had with the stock is, "what are core or peak earnings" for SNDK?
We modeled the company since 1995, and tracked revenue and EPS since then and using current 2013 - 2015 forward estimates as well as historical estimates over the last 20 years, the "average" EPS for SNDK is $3 per share.
Personally I think "core" EPS (i.e earnings power) is closer to $4 per share, so with a 10(x) multiple, the stock could be thought to be fairly valued at $40, undervalued at $30 and overvalued at $50.
Now, what if this capacity and pricing cycle is different? What if MU and SNDK are right and less capacity will be brought online in late 2013, and what if pricing stays firm? SNDK's current forward 4-quarter EPS estimate is $4.25, so if $5 is peak earnings for this cycle, then the stock could trade to $70 - $75 on a 15(x) multiple of peak earnings, and if $6 is peak earnings for this cycle then the stock could make a run at $79 or the January, 2006 high.
Technicals: since we last updated readers on SNDK, the stock has traded above its $53 January, 2012 high, and seems to be consolidating in the high $50s - low $60s in July. To make a run at the high $70s high from early 2006, SNDK investors would have to hear about strong 2nd-half guidance for 2013.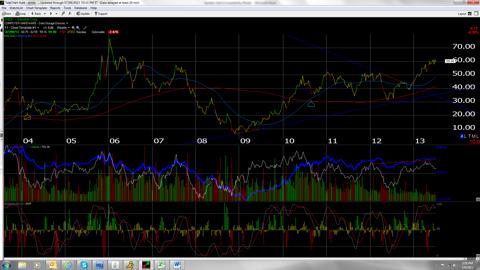 Conclusion: we halved our position as we think a lot of good news is currently in SNDK's stock price, but we also kept half to see if the favorable conditions can continue into the 2nd half of 2013.
This is a remarkably volatile stock in a remarkably tough sector.
Guidance and how the stock reacts following earnings next week will be key to what we do with the remainder of our position. We expect a very strong 2nd-quarter earnings report for SNDK, but we also wonder how much is in the stock.
Disclosure: I am long SNDK, MU. I wrote this article myself, and it expresses my own opinions. I am not receiving compensation for it (other than from Seeking Alpha). I have no business relationship with any company whose stock is mentioned in this article.