By David Urani
Homebuilders caught another needed break with the release of the CoreLogic foreclosure report. Overall the trends were good, with foreclosure completions down 27% from a year ago (albeit a little above April). In the meantime, inventory of foreclosed homes was down 29% year over year and down 3% from April. Remarkably, seven states showed foreclosure inventory down more than 40% year over year, including more than 50% for California and Arizona.
Of course, one thing investors like to keep an eye on is shadow inventory, or the backlog of seriously delinquent homes that may soon be added to the existing supply. The good news is shadow inventory was also down, by 18% year over year and by 3% month to month. This left shadow supply at its lowest point since December 2008.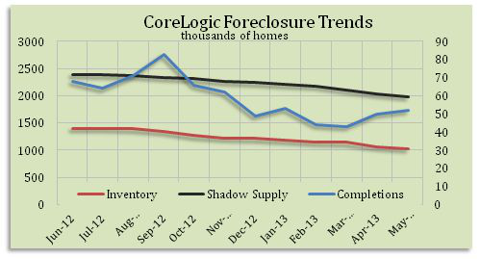 So, to add on to strong new- and existing-home sales we are also seeing positive trends in terms of supply. Likewise, the fundamentals remain quite strong for the industry, yet the market continues to have trouble shaking that mortgage rate fear driven by Federal Reserve angst. Housing stocks are getting a reprieve today, with the Dow Jones U.S. Home Construction Index up a full 5%, although still down 18% from the May high.