The motor vehicle sector has been one of the brightest spots for the US economy. To that end, motor vehicle sales neared 16.0 million SAAR in June, reaching their highest point since November 2007. The strengthening in demand has caused many motor vehicle manufacturers, including Ford (NYSE:F), General Motors (NYSE:GM), and Chrysler Group to forgo their normal summer shutdown / retooling breaks and to keep production lines running year round.
The steady growth in demand, however, may be reaching a breaking point. That means, it may be a good time to start looking into shorting the auto industry including the aforementioned Ford and General Motors along with Toyota (NYSE:TM) and Honda (NYSE:HMC) .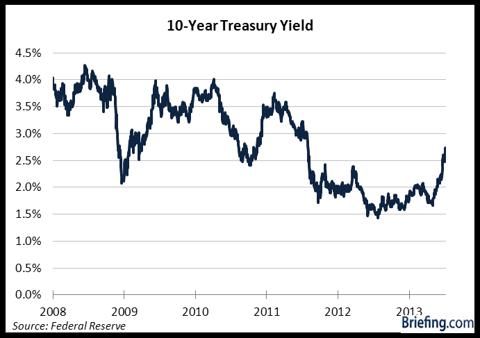 Over the past several weeks, interest rates have spiked as the probability of Fed tapering has suddenly increased. The 10-year Treasury yield has risen 107 bps since May 1. For goods that are highly reliant upon borrowing costs - such as motor vehicles - the increase in interest rates will be detrimental to future growth. The question is, when will the spike in interest rates start reducing motor vehicle demand?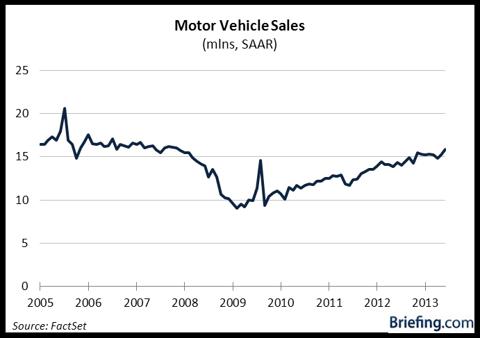 It is easy to dismiss the rise in rates as having no effect on motor vehicle demand considering sales jumped 4.3% while interest rates rose nearly 40 bps in June. In fact, many forecasters of auto sales are making that same mistake. Lately, a growing number of prominent economists have increased their vehicle sales predictions, boosting the consensus expectation of 15.3 million total sales for 2013 at the beginning of the year to 15.5 million - 16.0 million today. To put those levels into perspective, total sales in 2012 were just 14.5 million.
What these forecasters do not see is the temporary, positive effect on sales that comes from an interest rate shock.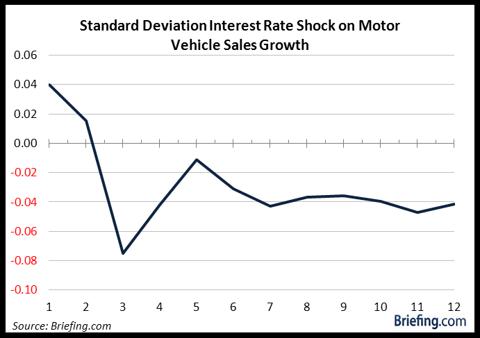 The graph above is an impulse / reaction function that comes from a one standard deviation interest rate shock on motor vehicle sales growth. Using data from 1980 through today, the regression results show that a shock to interest rates results in a temporary 2-month increase in sales growth. Those gains are followed by a sharp decline in the third month and then sales growth is permanently lowered.
Essentially, consumers see the interest rate shock and immediately purchase more vehicles. That may seem counterintuitive, but this trend is likely due to consumers rushing into the market because they think interest rates will continue to rise in the future. Demand is then pulled forward, leaving a payback period where potential purchasing power is severely crimped three months after the interest rate shock. That is likely what is going on right now.
Interest rates increased 4 standard deviations more than they normally do in May. That spike caused consumers to rush out and buy more cars in June in order to lock in relatively lower borrowing costs. Sales will likely stay strong in July before crashing in August.
Making sales predictions based on the June sales spike may be calling a new trend at the top of the market. We expect sales growth to weaken unless interest rates start coming back down.
This leaves a good investment opportunity. While analysts are predicting stronger sales in the coming months, the model shows a big crash in sales is looming on the horizon. If sales follow the model's prediction, then the sales numbers will disappoint and come in below expectations when the data are announced on September 4. Shorting the industry before September 4 may allow an investor to take advantage of this mismatch in sales expectations.
Disclosure: I have no positions in any stocks mentioned, and no plans to initiate any positions within the next 72 hours. I wrote this article myself, and it expresses my own opinions. I am not receiving compensation for it. I have no business relationship with any company whose stock is mentioned in this article.