By guest author Nicholas DeCesare, a highly respected investor and journalist within the biopharma realm.
Take one look at a chart of Javelin Pharmaceuticals (JAV) over the past six months and you will see a stock that has doubled in price but still sits only around $2.00 per share.
In fact, just two years ago, the stock was being recommended by analysts with its stock price hovering around $7.00.
In short, as detailed on their website, Javelin is a specialty pharmaceutical company that applies innovative proprietary technologies to develop new drugs and improved formulations of existing drugs that target current unmet and under-served medical need in the pain management market.
Javelin's focus is different than other pharmaceutical companies' pain management products: they develop new and proprietary administration routes for well-characterized molecules of the non-opioid category. This enables patients in hospitals to be less dependent on pain medication which utilizes opioids thus keeping them in the hospital for longer stays, something the health-care field is trying to drastically reduce. Javelin currently has three drugs in Phase III testing, one of which, Dyloject, already has European approval.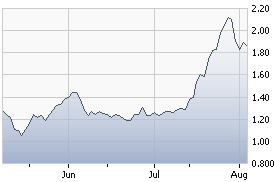 What has investors so excited about this stock is a long list of positives.
First and foremost, this year, with Javelin announcing a $71 million European commercialization partnership with Therabel Pharma for Dyloject, they have already begun to tap into a large pain management market and are reaping the benefits financially. Global Industry Analysts Inc. predict that the worldwide pain management market will hit 43.2 billion by 2010.
This is a huge market that Javelin is working hard at continuing to tap into. Currently, according to CEO Martin Driscoll, Javelin is working on a partnership for Dyloject in the United States.
In June, JAV reported fantastic results from their safety study for Dyloject in the United States and will be filing what Mr. Driscoll calls a "high quality" NDA this fall.
With such great results from their study, it seems highly unlikely that the FDA will deny or even seek additional information from Javelin once the NDA filing is complete. Like Javelin's other two drug candidates, Ereska and Rylomine, Dyloject focuses on helping patients deal with pain.
In particular, however, Dyloject is injectible and focuses on post operative pain; it is being used in hospitals throughout the United Kingdom. A large partnership with a mid to large cap pharmaceutical company is imminent once Dyloject is approved in the United States.
In their recent May 2009 conference call, Mr. Driscoll stated that JAV had enough cash to fund operations into 2010. JAV's recent increase in cash burn was related to being ahead of schedule for Phase III trials of Dyloject and Ereska. With Rylomine trials on the backburner until Javelin can finish filing NDA's for Dyloject and their promising drug Ereska, cash burn will slow as revenues increase.
In fact, in the first quarter of 2009, Javelin revenue exceeded $2 million compared with $66,000 in the same period a year earlier. Investors are currently waiting for Ereska Phase III top line results which should be out in the next week or two. Many are expecting these results to be extremely solid, Ereska, which is a nasal formulation of ketamine (which is used to block receptors in the central nervous system that gives us the perception of various stages of pain) appears to be a very promising drug that is used primarily for post-operative and neuropathic pain.
As reported by Javelin, interest in Ereska outside of the United States had grown and the company is already working on a major partnership for the drug, leading investors to believe trial results will be solid.
Javelin anticipates their high quality NDA for Dyloject will be ready by late Q3 or early Q4 (this fall). Their studies for Dyloject and Ereska have all been well ahead of schedule, which reflect positively on their R&D department. Javelin has slowed their cash burn now that their safety data on Ereska is complete and their Phase III clinical development programs are done.
With a Unites States commercialization partnership for Dyloject most likely around the corner, a high quality NDA in the works for the coming weeks, positive results from Ereska trials, a possible near term partnership for Ereska, and no FDA road blocks for Dyloject or Ereska (Mr. Driscoll reported that the FDA comments on Ereska contained no surprises and they would be able to complete their top line results as anticipated), Javelin Pharmaceutical's stock price could be in for a huge lift.
With millions of dollars that could be acquired by Javelin for Dyloject alone, both in Europe and the United States, the stock could easily be in the $3 – $4 range. With positive Ereska results, Javelin would have two very strong products that will be seriously eating into the $43 billion pain management market.
Finally, Javelin has refused to dilute shares through stock offerings intended to raise cash. With a relatively small market cap, Javelin has increased efforts to develop partnerships with a bigger pharma. Javelin is also considered an attractive buyout target as a result of their two late stage drugs, Dyloject and Ereska, one of which is already approved and marketed in Europe. At a share price around $2, and with great products and a solid management team, an investment in Javelin Pharmaceuticals could be a huge payoff.
Author bio: Nicholas DeCesare is an educator of 11 years in the state of Connecticut and holds a Master's Degree in Education. He has been a freelance journalist for several local newspapers writing about topics ranging from investing to all aspects of technology. Nicholas has been investing in the stock market for the past 15 years with a particular focus on DRIP plans and biotechnology companies.
Disclosure: Nicholas DeCesare has a long-term position in JAV