US equities opened weaker yesterday after a softer session in Asia and early dataflow failed to quite live up to expectations. But a good portion of those losses were gradually pared as reports emerged of further upgrades to analyst forecasts of US economic growth to leave the S&P 500 down just 0.3% in low volume. The losses would have been greater had financials not rallied more than 3%, led by solid gains at the banks and huge gains in battered companies such as AIG and CIT Group (NYSE:CIT). Encouragingly, after the bell Cisco's (NASDAQ:CSCO) earnings beat expectations and the company said that it was seeing a number of positive signs this quarter in the economy and its business (although the company's shares still lost ground in after-market trading).
Today's Market Moving News
China's stocks fell overnight as investors speculated the central bank may rein in lending. The People's Bank of China said it will fine-tune monetary policy where necessary and guide "appropriate" lending growth. Jiangxi Copper slumped 6.7% and PetroChina, the world's most valuable company, slipped 2.8% as copper and crude oil prices dropped. "The 'fine-tune tone' is spooking investors who are worried that the central bank will follow up with tightening measures, such as hiking the reserve ratio," said Wang Zheng, a fund manager at Jingxi Investment Management in Shanghai. "With the market at a high-flying level, investors are very sensitive to any news related to liquidity."
Japan's Nikkei share average rose 0.9% overnight, led by Honda (NYSE:HMC) after a report the world's top motorcycle maker will import bikes from Thailand to sell in Japan to cut costs. Camera maker Nikon (OTCPK:NINOY) saw its shares plunge 11% after it warned of a loss that would be more than double its initial forecast.
China's gross domestic product is expected to grow about 8% this year as the economy recovers, the Chinese State Information Centre said. China's annual GDP growth rate had slowed to 6.1% in the first quarter of this year but picked up to 7.9% in the second quarter, ending seven consecutive quarters of deceleration, as government support measures helped an economic recovery take hold. Investment remained the driver of the rebound in the world's third-largest economy, although a slide in exports was abating as the environment for overseas demand became less severe and government measures such as export tax rebates took effect. China's exports are expected to fall 17.5% this year although imports were forecast to decline at a more modest 16% rate. The report added that China's consumer prices should begin rising again before the end of the year.
The Bank of Japan will probably forecast three years of deflation extending to March 2012 in its twice-yearly outlook report in October, sources with direct knowledge of the matter said. This could delay its exit from its current ultra-easy monetary policy. The central bank already expects Japan's core consumer price index to fall 1.3% in fiscal 2009 and drop 1.0% in fiscal 2010 which ends in March 2011. With economic growth expected to remain anaemic due to weak final demand, there is a high possibility that consumer prices will remain negative in fiscal 2011 too.
Japan's index of coincident economic indicators rose 0.7 points in June to a preliminary 87.8, adding to signs that the economy may be rebounding from its worst recession since World War Two. Indicators such as industrial output and electricity usage contributed to the rise in the index. Japan's economy likely grew steadily in April-June after suffering record contractions, thanks to a pickup in exports and personal consumption spurred by stimulus spending at home and abroad.
British house prices will end this year slightly higher than a year earlier, the Royal Institution of Chartered Surveyors forecast, scrapping its previous prediction of a 10% fall. However, RICS said the British housing market would still face significant challenges in 2010 and said there was a risk house prices would slip again next year. The RICS report follows a series of surveys suggesting the British housing market decline may be tailing off. RICS predicted last December that British house prices would fall about 10% in 2009, with risks skewed to the downside, resulting in a peak-to-trough drop of at least 25 percent as a deep recession took hold. Following a considerable shift in sentiment in the housing market over the past few months, which had seen prices starting to pick up in some areas, RICS said it was changing its forecast. Lack of supply has given some support to house prices in recent months and buyer demand has improved. But further increases in mortgage rates, rising unemployment or prolonged weakness in the economy could all challenge the emerging recovery in the market.
Couple of newspaper stories that caught my one good eye: Despite bailouts, business as usual at Goldman and China suffers largest suspected bank fraud.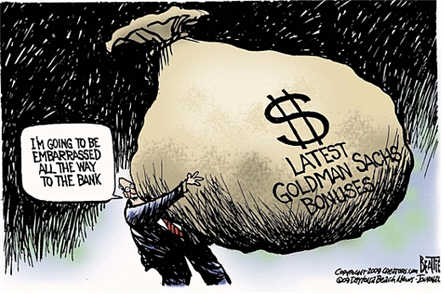 The Catch Up Trade
A nice video below on the catch up trade i.e. those who missed the rally and who are underweight stock or frustrated bears who were waiting for the equity version of Godot i.e. the pullback that never materialised. So we have a buyers capitulation trade i.e. panic buying leading to an overshoot in prices unjustified by future earnings or the state of the economy.

Data Ahead Today
The Bank of England (noon BST, all times UK) and the ECB (12:45) will be the main focus today with any BOE comments on the continuation of Quantitative Easing the main point of the meeting. The ECB is likely to keep rates on hold at the 1% level despite IMF calls for a lower level. The idea that 1% will be the floor has solidified over the past few weeks.
In reality all eyes are on Friday's monthly US non farm payrolls. The importance of this release is partly diminished by the fact that those market participants not on vacation have greatly reduced their market exposure during the past weeks plus liquidity is poor during these dog days of summer.
Earnings from Sirius XM (NASDAQ:SIRI) and Unilever (NYSE:UL).
And Finally… If You Are Going To Give It, You'd Better Be Able To Take It

Disclosures: None