Back on May 30th, I wrote an article entitled "mREITs - Where From Here?" in which I went through the interest rate sensitivities of the various mREIT portfolios. Since that time, the mREIT market has been battered by the "winds of tapering" with the sector (using iShares Mortgage Real Estate (NYSEARCA:REM) as a proxy) lower by approximately 15%.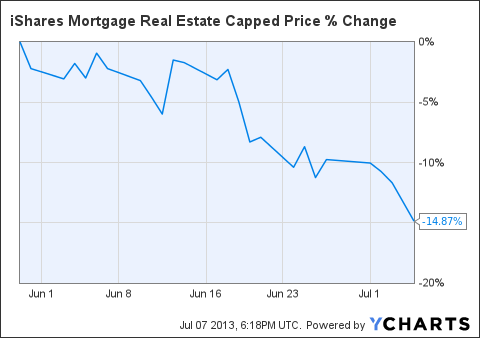 The dividend yield on the sector doesn't make you feel much better when you have seen your investment marked down by an amount equal to or greater than the yield you believed you were getting (I will admit to being relieved I said Two Harbors (NYSE:TWO) and Annaly Capital (NYSE:NLY) would fare better, as they have). But what is an income investor to do?
Many who have read my articles on this site will probably know where I am going with this - look at the preferred stock. Let the sell-off work for you and buy in at lower prices than we have seen in a while. Prices since the Bernanke induced "winds of tapering" have fallen over 10% in some cases, allowing investors to buy in near or below par. While I realize that the 10% loss sustained by existing investors is significant, and also above the rate they are earning, there is more stability in the preferred stock (not to mention the fact that dividends won't get cut and are senior to equity holders) and a greater likelihood of realizing the results you anticipated.
In this article, I will be focusing on agency mREIT preferreds and my top selections in the agency space. Hybrids will be addressed in another article and investors are encouraged to blend the two as part of an income focused portfolio (as they are often influenced by some differing factors). The specific agency mortgage REITs I will look at are the larger in the space as they are more likely to have preferred stock. Specifically, they are:
Annaly Capital Management ,
American Capital Agency Corp. (NASDAQ:AGNC),
Armour Residential REIT (NYSE:ARR), and
Hatteras Financial Corp. (NYSE:HTS)
Annaly Capital Management, Inc.
Annaly owns, manages, and finances a portfolio of real estate related investments in United States. The company invests in mortgage pass-through certificates, collateralized mortgage obligations, agency callable debentures, and other securities representing interests in or obligations backed by pools of mortgage loans. It also invests in agency debentures issued by Federal Home Loan Bank, Freddie Mac, and Fannie Mae.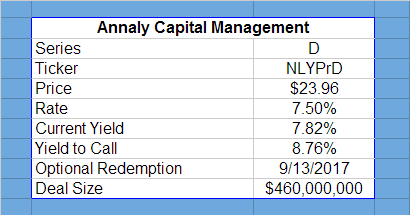 The prospectus for the Annaly Series D can be found here.
American Capital Agency Corp.
American Capital invests in residential mortgage pass-through securities and collateralized mortgage obligations for which the principal and interest payments are guaranteed by government-sponsored entities or by the United States government.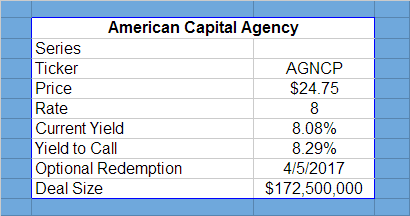 The prospectus for the AGNC preferred can be found here.
Armour Residential REIT
ARMOUR's residential mortgage-backed securities portfolio consists of hybrid adjustable-rate, adjustable-rate and fixed-rate residential mortgage-backed securities issued or guaranteed by the following U.S. Government-chartered entities: the Federal National Mortgage Association, the Federal Home Loan Mortgage Corporation and the Government National Mortgage Administration.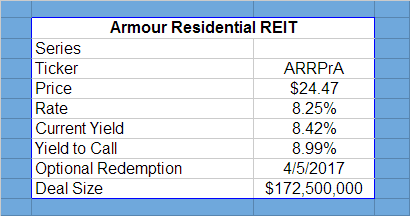 The prospectus for the Armour Series A can be found here.
Hatteras Financial Corp.
Hatteras Financial invests primarily in single-family residential mortgage pass-through securities guaranteed or issued by the United States Government agency or the United States Government-sponsored entity, and the Federal Home Loan Mortgage Corporation.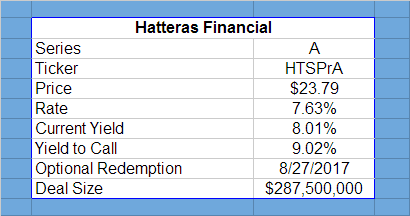 The prospectus for the Hatteras Series A can be found here.
You will notice that all four selections trade below par, which is something many investors look for and create a yield to call higher than that of the dividend rate. The selected preferreds also have four years until their optional redemption date, locking in the yield for at least this long, although I cannot imagine we will be in a rate environment in four years that will allow them to be redeemed or refinanced economically.
Bottom Line: Income investors have many choices available to them, many of which are entirely appropriate and suitable for their portfolios. Mortgage REITs have been somewhat of a staple in income portfolios, but recent volatility and dividend cuts run counter to the risk profile of these portfolios. Fortunately, mortgage REITs have attractive preferred stock yields that should be more stable than their equity counterparts and higher than traditional REITs or preferred stock. Mortgage REIT preferred stock should be considered as part of an income focused portfolio.
Disclosure: I am long NLY, TWO. I wrote this article myself, and it expresses my own opinions. I am not receiving compensation for it (other than from Seeking Alpha). I have no business relationship with any company whose stock is mentioned in this article.
Additional disclosure: This article is for informational purposes only, it is not a recommendation to buy or sell any security and is strictly the opinion of Rubicon Associates LLC. Every investor is strongly encouraged to do their own research prior to investing.