We have long been bulls of the small-cap stocks and have always recommended that some portion of a portfolio, even if it is strictly a conservative portfolio, have exposure to this important part of the market. The easiest way to gain exposure to these names is via the low cost ETF index funds that trade on the exchanges, as one is able to buy one liquid security and gain exposure to the entire field. In this scenario the risk is dramatically lowered and costs are too.
With the blue chip names having run significantly higher and buying smaller names as they seek bolt-on acquisitions, we have seen the Russell 2000 march to new highs, as the Chart of the Day indicates with the 10-year chart of the Russell 2000. The iShares Russell 2000 ETF (NYSEARCA:IWM) is a very liquid way to play this trend.
Chart of the Day: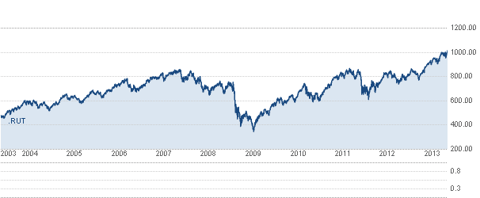 Source: CNBC
We have economic news due out today and it is as follows:
MBA Mortgage Index (7:00 a.m. EST): N/A
Wholesale Inventories (10:00 a.m. EST): 0.3%
Crude Inventories (10:30 a.m. EST): N/A
FOMC Minutes (2:00 p.m. EST): N/A
Asian markets finished mostly higher today:
All Ordinaries -- up 0.39%
Shanghai Composite -- up 2.17%
Nikkei 225 -- down 0.39%
NZSE 50 -- up 0.73%
Seoul Composite -- down 0.34%
In Europe, markets are trading lower this morning:
CAC 40 -- down 0.55%
DAX -- down 0.27%
FTSE 100 -- down 0.29%
OSE -- up 0.20%
In Herb We Trust?
Yesterday was a good day to be Herb Greenberg, the CNBC personality who has made a career out of warning investors of bubbles and pointing out companies with faulty accounting and/or operations. Two companies he has been talking about for some time, Intuitive Surgical (NASDAQ:ISRG) and SodaStream (NASDAQ:SODA), came under pressure with Intuitive Surgical falling over 16% on its earnings disappointment.
With the shares hitting new 52-week lows and having broken through what was previously support we think that the shares might be entering a protracted underperforming period - especially if hospital spending is in fact falling.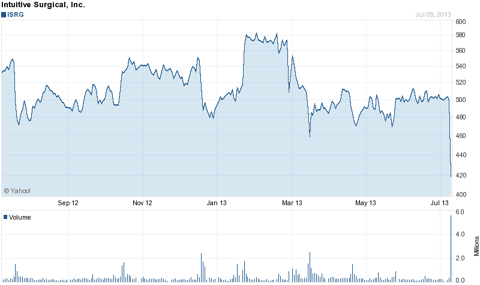 Source: Yahoo Finance
Love him or hate him, Mr. Greenberg tends to be correct when pointing out issues at companies. Many investors like to take him to task for picking on their stocks, but we think the only fault one could find is simply his timing. We do like to listen to his thought process and research notes because on momentum stocks it is usually the opposite of what we are thinking and certainly keeps us grounded.
Intuitive Surgical's quarterly results indicated that hospitals are slowing their purchases of the company's robots and, even more troubling, that insurance companies are trying to direct patients to other types of procedures. These are issues that Mr. Greenberg has warned of before along with the rising toll that lawsuits were having on the perception of the machines.
SodaStream fell on reports that the company was having difficulty in selling itself. The New York Post first reported it and it now appears that the rumors of Pepsi wanting to buy the company at least had some truth to it, as we read that Pepsi had interest in SodaStream's carbon-dioxide container business but nothing else.
Transportation
FedEx (NYSE:FDX) saw shares rise nearly 4.4% on extremely high volume after it was reported that Bill Ackman was looking to raise $1 billion for a new fund in order to take a position in the company. Nothing has been confirmed at this point, but the move would fit Ackman's latest moves of going long big name blue chips that have entrenched management. Fred Smith at FedEx is one of the longer serving CEOs out there and has a tight grip on the company, trying to shake up the business model now, especially with the weakness in what was once the companies strength - Asia, appears logical. There is smoke now, but everyone will have to wait a few months to see whether there is fire. The stock closed at four month highs on the rumors.
Aside from the sharp rallies from drops in the shares caused by the financial crisis and China issues there has been very little outperformance in the past 5-7 years. That is in sharp contrast to the move through the end of 2005, as the following chart highlights.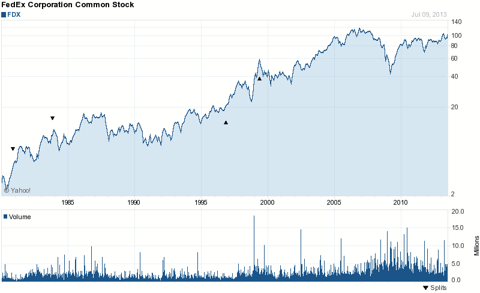 Source: Yahoo Finance
Restaurants
One of our favorite restaurant stocks will be reporting earnings after the close today and we just wanted to bring that to readers' attention this morning. We are of course talking about Yum! Brands (NYSE:YUM), one of the names we highlighted over two years ago and have seen go up and down, although as of yesterday's close it was very near 52-week highs. The shares have come under pressure in the past as worries about China have crept up and with the Chinese economy cooling right now, there is a very real possibility that investors overreact to management trying to tame expectations or one off events. If that happens we would advise looking to add on any pullback. It is a move that has worked every time thus far and we never argue against the trend, especially when it concerns a blue chip.
Disclosure: I have no positions in any stocks mentioned, and no plans to initiate any positions within the next 72 hours. I wrote this article myself, and it expresses my own opinions. I am not receiving compensation for it (other than from Seeking Alpha). I have no business relationship with any company whose stock is mentioned in this article.