Commodities are up across the board this morning and we love to see green on our screens, especially early in the morning before North American trading desks have had the opportunity to flex their financial muscles. It does cause concern for us as we are aware that the world and US economies have decoupled and with the growth in countries such as China, Brazil and India it takes a lot more from America to push the world growth needle. The world is becoming more diversified which is a good thing, but it requires far more research on our part.
Which brings us to Chevron (NYSE:CVX) and their numbers due out today. Readers should remember that we advised selling Valero near the top and gave some important levels for where support would be sought. Our advice was that if those levels were breached, those who had not already sold should take the opportunity as the sector was probably headed lower after the initial excitement over increasing margins. This has all held true and our attention this morning is upon the interim production numbers for the second quarter that Chevron will report. It will be nothing earth shattering, but it will lend us some insight into how the quarter is shaping up for the sector.
With earnings expected to trend lower for the big names, we think that one of two things are possible long-term. We will either see further share buybacks and increased dividends or the big names going out and seeking acquisitions to add areas of growth for production moving forward. It would take a lot to move the needle at these names, but there are a few names out there which would make for great additions to 'Big Oil' portfolios.
Chart of the Day:
Yes the US Dollar Index is always important to commodity prices, especially oil, however, this chart indicates to us that the importance may be less than one would think. With the US becoming a bigger producer and importing less, coupled with what we believe is a rotation out of gold and into oil, and it is easy to see the recent moves at the tail end of this chart actually making some sense. This is obviously important and we will be looking into this some more over the next few weeks and months to see if it is but an anomaly or the beginning of a longer-term trend.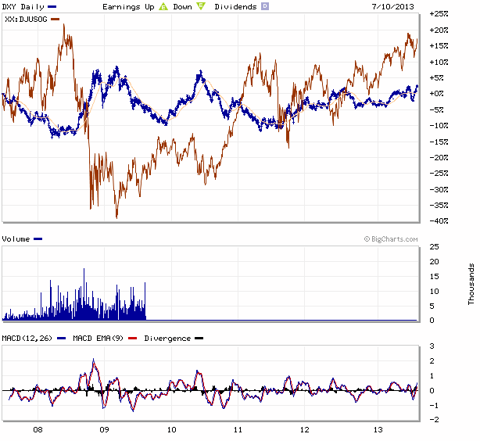 Source: Big Charts
Commodity prices this morning are as follows:
Gold: $1252.10/ounce, up by $6.20/ounce
Silver: $19.215/ounce, up by $0.077/ounce
Oil: $104.87/barrel, up by $1.34/barrel
RBOB Gas: $2.964/gallon, up by $0.038/gallon
Natural Gas: $3.72/MMbtu, up by $0.063/MMbtu
Copper: $3.0765/pound, up by $0.012/pound
Platinum: $1375.00/ounce, up by $6.40/ounce
Oil & Natural Gas
We noticed yesterday that investors were pushing shares of EV Energy Partners, LP (NASDAQ:EVEP) higher and that does make us happy. Although it is quite difficult to get too excited over the move, simply because this has been one of our biggest losers over the past 2-3 years via our LEAPs and unit holdings, up is up and for that we are thankful. It appears that the shares have already bottomed and that so long as that secondary does not hit the market full force with more negative news on the Utica sale then the direction on this one is most certainly higher. We remain bullish on this name and have gone in heavier on it as it has trended lower. It goes against our momentum style, but in the retirement accounts we have sold winners that we thought had gotten ahead of themselves and rotated into EV Energy, thus making it by far our largest holding. Although we are not buying anything right now in the retirement accounts, we do have the distributions set up to automatically reinvest. Our logic is that these are great prices and getting to add a few more shares each quarter commission free is a solid return on our investment, especially when those new 'free' shares help drive the derived yield higher the following quarter. Readers should be aware however that there is some concern about the sanctity of the distribution right now, however we think it is safe - even if the company has to do a secondary. Long-term this is a name readers want as part of their portfolios, especially at these levels.
Where we have been incorrect on EV Energy Partners, there have been plenty other names where we have more than made up on that underperformance and for our conservative investor readers that name has been EOG Resources (NYSE:EOG). It is one of our safer recommendations and by no means did we expect to hit any grand slams with this one, simply a few singles with a good solid batting average. That is how fortunes are made, and EOG Resources should be a pillar to any energy portfolio. Long-term this has exposure to both the Bakken and the Eagle Ford and plenty of drilling locations to last many years into the future. It is one of the names we believe can help consolidate the industry as well as help fund the large amount of exploration and production work that needs to get done to bring acreage under control of the industry so that leases do not expire. This is already under way and the $38 billion plus market cap company is pacing its growth to take advantage of technological advances that are driving production higher in various areas and drilling costs lower. This pace of development also enables it to leverage its balance sheet to take advantage of deals brought to it by its weaker peers, a trend we expect to see accelerate in future quarters and years.
One will not get rich overnight on shares of EOG, but over time, yes. The shares closed just below a new 52-week high yesterday and with oil still holding strong on the back of the events in Egypt we expect that to get taken out in short order.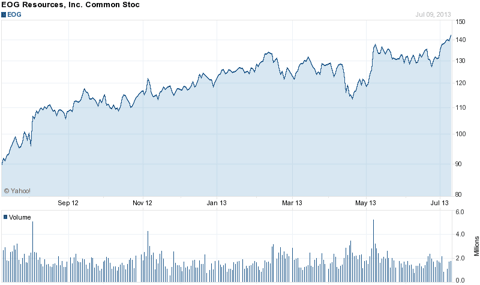 Source: Yahoo Finance
One name we have highlighted recently was FX Energy (NASDAQ:FXEN), which has had some success in Europe, specifically Poland, recently and got investors quite excited. Their latest results from the Plawce-2 well were not only disappointing to the company, but investors too as shares fell $0.52 (15.16%) to finish the session at $2.91/share on volume of 2.4 million shares which was well above the three month average daily volume. We openly wondered whether the company would disappoint investors again with their results after their earlier success and with the news that the Plawce-2 well produced only formation water in the two lower intervals of the well with the top interval only producing non-commercial quantities of natural gas it appears that this might be the case. Granted no one in the business drills with 100% success, not even the shales allow this as wells can cave or run into other issues, but with the price action after the initial successes reported there were very high hopes. We are still watching this name.
This is not the chart investors want to see in any investment they make, but the price action from May until now kind of tells the company's entire story. It is a volatile relationship and when the company surprises investors, typically that is followed by disappointment...at least that has been our experience from watching it over the years.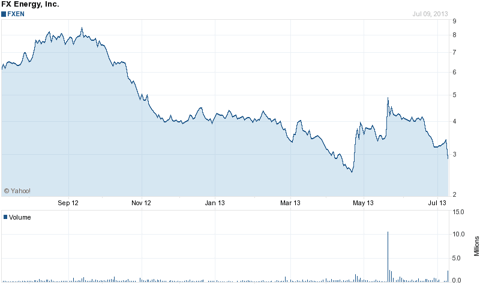 Source: Yahoo Finance
China Trade
We noticed on our Twitter feed this morning (readers can follow us on Twitter @theinvestar for up-to-date musings and thoughts on market action for when we are out of the office) that CSFB initiated Freeport-McMoRan (NYSE:FCX) with an 'Outperform' rating and a $38/share price target. It is an aggressive price target for Credit Suisse to initiate with, especially with the recent weakness in gold prices and the issues we have been highlighting with the copper market in London. We like the thinking here, as the shares have obviously languished for some time and are near multi-year lows on the back of the company's oil and natural gas acquisitions but we are still worried about the new mines which are opening up around the world which will continue to add gold, silver and especially copper to world supply. Even more troubling is the level of output that could be produced if the planned mining projects and expansions of mines were to be carried out over the next few years. Credit Suisse is all-in on this one, but we are still on the sidelines and would not necessarily be adding to positions here as there are so many other opportunities available out there with higher returns for investors.
Just how bullish is Credit Suisse on Freeport? Very. Their price target indicates that they think the shares will get back to pre-acquisition levels...which time-wise was not all that long ago, but $38/share sure seems a world away from current levels...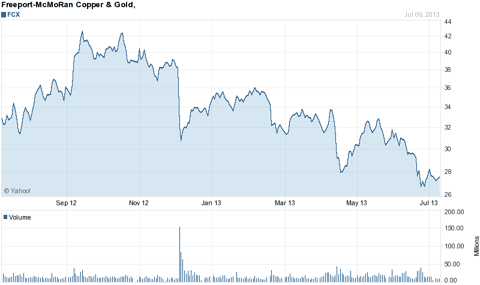 Source: Yahoo Finance
Disclosure: I am long EVEP. I wrote this article myself, and it expresses my own opinions. I am not receiving compensation for it (other than from Seeking Alpha). I have no business relationship with any company whose stock is mentioned in this article.