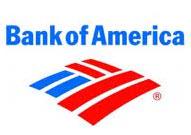 Executive Summary
For those of you who follow me you know I have been very bullish on the banks for the past year. My favorite money center bank is Bank of America (NYSE:BAC). Even so, I have taken profits in my position prior to upcoming earnings. I feel earnings for BAC and the banking sector in general may be under pressure this quarter. Furthermore, many new headwinds have arisen. In the following sections I will detail my take on the current status of BAC followed by what I see as general U.S. banking sector headwinds.
Bank of America Headwinds
BAC is bumping up against consensus price targets
The current consensus price target for the stock is $13.54 according to finviz.com. BAC was trading as of yesterday for $13.53.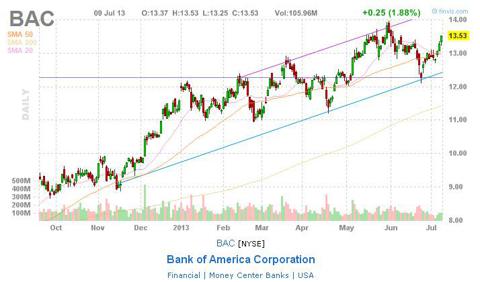 Once a stock reaches analysts' targets, often the stock is either upgraded or downgraded based on valuation. Analysts can either upgrade the stock and raise the price target or downgrade the stock and lower the target. With BAC on the cusp of eclipsing the current price target, there is a chance at least one of the analysts will downgrade the stock. Even though I feel these types of downgrades are superfluous, many market participants use these as an opportunity to take profits. There is a risk someone may downgrade BAC in the near future based simply on valuation. The stock is up 73% over the past 52 weeks.
Revenues are down quarter over quarter
BAC has done a great job ringing out profits by cutting costs and rightsizing the company. The issue is the top line growth slipped slightly last quarter by 8.8%. BAC's ability to beat on the bottom line without improving the top line may be near an end. The stock may be at an inflection point regarding this trend. I chose to lock in profits now and take a wait and see approach prior to earnings. I want to see if BAC can actually grow revenues going forward.
Insider buying is extremely low
Over the past six months change in insider ownership is up a meager 1.47%. I like to see a higher level of insider buying. The people with the best perspective on a stock are usually the insiders. Entire investing themes are based on this one data point. The fact that few insiders are snapping up shares at current levels is a tell to me. If the stock was set for significant gains I surmise insider ownership would be increasing at a faster pace.
Return on equity (ROE) is low
An important profitability metric is Return on Equity. ROE reveals how much profit a company earned in comparison to the total amount of shareholder equity. Shareholder equity is equal to total assets minus total liabilities.
The return on equity for banks is a common measurement used to assess the returns made on the initial capital invested. Without a substantial return on this capital, a bank may suffer low income and be unable to pay for its administrative expenses and costs. The money a bank earns from its initial capital is also a part of the net income earned by the bank. The higher the ROE the more easily the company will be able to raise money for growth. BAC's ROE currently stands at 1.60%. This is fairly low compared to its peers. Citigroup has a current ROE of 4.4% for instance. This concerns me.
Banking sector headwinds
The banks have been on fire over the last year
The banks have been on fire over the past twelve months. Citigroup (NYSE:C) is up the most with a 79% gain followed by Morgan Stanley (NYSE:MS) up 66.53%, Goldman Sachs (NYSE:GS) up 58.37% and Wells Fargo (NYSE:WFC) up 31.54%. Furthermore, all these banks are trading within 10% of their 52-week highs. Finally, we really haven't seen a major pullback in 2013 yet. This quarter could be the point where market participants take some profits on weakness.
Year-over-year results bar set extremely high
Earnings for the banks have been on a steady rise over the last few years beating estimates each quarter. I think we have reached the summit of the earning mountain at this point. Revenues have begun to flatten out and the banks have squeezed out just about every drop of cost savings they can. This may be the first quarter they actually miss.
Banks may give lowered guidance
These large money center banks track economic conditions. The IMF just came out and lowered global growth estimates going forward. Moreover, with interest rates jumping up so quickly, the U.S. housing market may pause somewhat in the coming months. This may lead to reduced guidance and we all know what happens then.
Competition is fierce so margins will suffer
Margins may be under pressure due to increased competition from other global banks and local regional banks. Due to slowing loan growth caused by increasing interest rates the competition for these scarce opportunities is increasing exponentially. Furthermore, I fear it will only intensify going forward. This is not good news.
Regulations may start to take their toll
Regulators want U.S. banks to meet a stricter measure of health to reduce the threat they pose to the financial system. The Federal Reserve stated banks should increase their ratio of equity to loans and other assets from 3 percent to 5 or 6 percent. Equity includes money banks receive when they issue stock and profits they have retained. The rule would apply to eight U.S. banks that are considered so big and interconnected that each could threaten the global financial system. This should put even more pressure on earnings for banks.
Conclusion
If the above headwinds come to fruition, BAC could see a pullback in the near future. One bit of good news is I feel the pullback will be a buying opportunity. Moreover, the timing of the article is based on the release of the FOMC meeting minutes as well. I don't think the reaction by market participants will be positive. We may be on the cusp of the 10% pullback everyone has been anticipating. Nevertheless, I feel this will be healthy for stocks in general. Buy BAC on the dip.
Disclosure: I have no positions in any stocks mentioned, and no plans to initiate any positions within the next 72 hours. I wrote this article myself, and it expresses my own opinions. I am not receiving compensation for it (other than from Seeking Alpha). I have no business relationship with any company whose stock is mentioned in this article.