The recent earnings picture at Dell Inc. (NASDAQ:DELL) has given some real cause for concern. But there is a growing cache of sentiment-based reasoning that supports the previous data and indicates a clear "sell" bias in the stock, with limited downside risk. Already this month, we have seen the stock fall below the $13. A subset of the investment community has viewed this as a buying opportunity; if Michael Dell wants to buy the company at 13.65, why not buy the stock at its lows of 12.70 (a discount of almost 7%). We have seen some rallies from those lows, but that bounce is of the "dead cat" variety. This comes largely from the fact that we are seeing now is a stalemate between the majority of stockholders, and there is little reason to believe that this lack of direction is going to help the company's already weak fundamentals into the late parts of this year.
Carl Icahn and his partners at Southern Asset Management have put valuations on the company that are as high as $22 per share. Thus far, the stock has been treading water in the $13s. For those holding shares in DELL, this should light warning flares, as it has become increasingly unlikely that Michael Dell and Silver Lake Partners will raise their bids and establish a majority compromise. This added element of uncertainty creates an excellent backdrop against which to sell the stock, and should offer a sufficient catalyst for those long DELL to at least cut back on their positions. Next we will see the critical vote to determine whether or not buyout proposals will be accepted. If we see nothing in the way of resolution, the company will be without clear strategic direction, only adding to the company's already bleak outlook.
How Low Can DELL Fall?
For traders who are looking to short DELL's stock before next week's key event risks, some downside price targets should be considered. When we compare the company to Hewlett-Packard, one of its key competitors, some comparative valuations can be seen. If, for example, markets elected to start selling the stock and push it down to the earnings multiple of HP, DELL's stock could trade as low as $5.85 per share. In 2012, DELL's stock dropped below the $9 area, a level that could easily be seen again if investors are not convinced the company has a clear vision of how to repair its recent drops in earnings.
For the fiscal first quarter, DELL posted one of the market's most notable disappointments, as earnings fell by nearly 80%, while revenues were lower by 2%. The weakness was driven largely by negatives in the PC division, as sales fell by nearly 10% (to $8.9 billion) along with significant declines in laptop sales. Operating profits in this area of its business were lower by 65% to $224 million). Broader weakness in the PC industry is creating some clear headwinds for the company, and with most of the attention focused elsewhere, there is little reason to believe that DELL will be able to rectify this weakness in the coming quarter.
Investors that are comparatively bullish on the stock might cite its trailing price-to-earnings ratio of 9.94, which is well below the industry average of 14.5. Other positives can be seen its price-to-book ratio of 2.2 (where the industry average is 3.5) or its price-to-sales ratio of 0.4 (industry average is 1.6). But with a bleak industry outlook for key aspects of its business, and an apparent inability to come to a cohesive response for how to address recent earnings weakness, it is clear that the cheaper valuations in DELL's stock are much more of a reflection of potential uncertainty.
Chart Perspective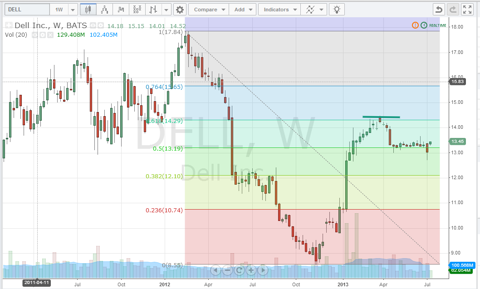 Click to enlarge
Recent rallies in DELL have been thwarted by the 61.8% Fib retracement of the rally from below $9. Sideways trading has taken over and key breaks of support are starting to be seen. Inability in the market to maintain demand at 12.70 should accelerate losses.
Disclosure: I have no positions in any stocks mentioned, and no plans to initiate any positions within the next 72 hours. I wrote this article myself, and it expresses my own opinions. I am not receiving compensation for it (other than from Seeking Alpha). I have no business relationship with any company whose stock is mentioned in this article.