One often overlooked sector in the financial markets is that of the investment brokers. Retail investors become so focused upon large banking institutions, that these smaller entities are often left somewhere in the wake. The goal here is to focus on TD Ameritrade Holding Corporation (NASDAQ:AMTD) and the positive indicators that are propelling this stock higher for investors.
The Company

TD Ameritrade Holding Corporation provides securities brokerage services and technology-based financial services to retail investors, traders, and independent registered investment advisors in the U.S. The company provides its services primarily through the Internet, network of retail branches, mobile trading applications, and interactive voice response and registered representatives via telephone. AMTD was founded in 1971 and its headquarters is in Omaha, Nebraska.
What most investors know as today's TD Ameritrade started in 2006, when Ameritrade purchased TD Waterhouse USA from TD Bank Financial Group. This created one of the largest discount brokerages in the United States and the largest in terms of average client trades placed each day. In 2009, TD Ameritrade acquired the thinkorswim Group Inc., which was the fastest-growing brokerage at the time. This allowed the company to have access to innovative technology and sophisticated trading platforms. One end results was that the combination allowed TD Ameritrade to further expand its offerings for active traders by introducing complex options, futures and foreign exchange trading.
With the onset of mobile devices and trading applications, AMTD provides investing and trading services for nearly six million client accounts.
Management
Fred Tomczyk is the Chief Executive Officer and has served in that capacity since October 2008. Over that time, AMTD has delivered four consecutive years of double-digit annualized net new client asset growth, and grown the total assets to more than $500 billion.
Marv Adams is the Executive Vice President, Chief Operating Officer where he oversees all IT and operations functions of the company. He has more than 30 years of operational and technology experience in the financial services industry. His prior work experience includes such companies as Fidelity Investments, Citigroup, Bank One Corporation and Ford Motor Company.
Bill Gerber is the Executive Vice President and Chief Financial Officer. He has been with TD Ameritrade since 1999 and served as managing director of finance, where he played a major role in the merger and acquisition opportunities that the company has been through.
Financials March 31, 2013 and 2012
AMTD ended the second quarter of 2013 with relatively flat growth in net revenue and earnings. The company breaks its revenue out into three mains areas as identified below: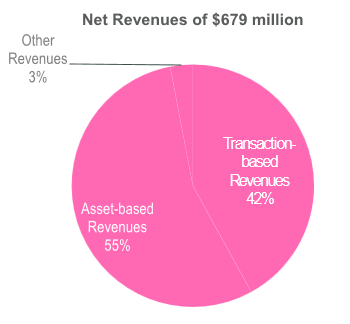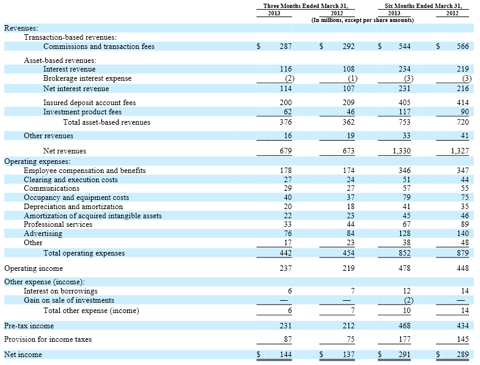 Net revenue of $679 million was up 1% from $673 million in 2012. Commissions and transaction fees decreased 2% to $287 million, primarily due to decreased client trading activity. Asset-based revenues, which consist of net interest revenue, insured deposit account fees and investment product fees, increased 4% to $376 million for the second quarter of fiscal 2013. Other revenues decreased 16% to $16 million, due primarily to lower client education revenue, partially offset by increased fees from processing corporate securities reorganizations for the second quarter.
Operating income dropped roughly 3% in the quarter and net income of $144 million was up 5% from $137 million in Q2 2012. Earnings per share calculated to $0.26. The total client assets were $517 billion and the total funded accounts were numbered at 5.9 million.
Another positive trend for AMTD deals with the company's average client trades per day. The fourth quarter of 2012 showed the average trades to be roughly 328,000. Moving to the first quarter of 2013 saw growth as that number was 334,000. Finally the most recent second quarter of 2013 shows a figure of 378,000. That is a difference of 50,000 trades per day increase from Q3FY12 to Q2FY13.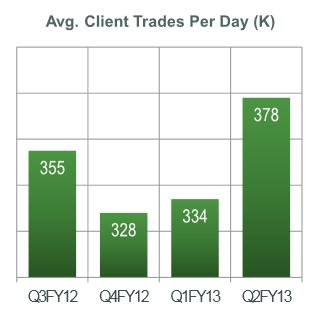 Balance Sheet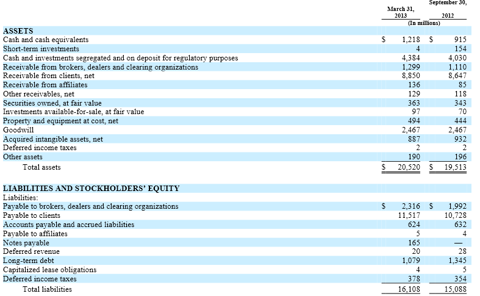 The company ended the second quarter of 2013 with $1.2 billion in cash and cash equivalents, which was up 33% over the end of September 2012. Of course this was offset against a $150 million drop in the reported short-term investments. Total assets stand at $20.5 billion. Liabilities included standard current items and long-term debt of $16.1 billion. This is an increase from September 2012, by $1.02 billion, which is an increase of 15%.
Dividends and Stock Buybacks
ATMD has declared a $0.09 per share quarterly cash dividend on its common stock during each of the first three quarters of fiscal 2013. The company also declared and paid a $0.50 per share special cash dividend on its common stock during the first quarter of fiscal 2013. AMTD paid a total of $372 million to fund the quarterly and special cash dividends declared during the first half of fiscal 2013.
On October 20, 2011, AMTD's board of directors authorized the repurchase of up to 30 million shares of common stock. This was disclosed on November 18, 2011, in the company's annual report on Form 10-K. See below the current status of the buyback:

Obviously the buyback has really yet to begin looking at the latest reporting. During the quarter ended March 31, 2013, 20,165 shares were repurchased from employees for income tax withholding in connection with distributions of stock-based compensation
Competition
The table below (from Yahoo! Finance) shows AMTD's direct competitors which are E*TRADE Financial Corporation (NASDAQ:ETFC) and The Charles Schwab Corporation (NYSE:SCHW). SCHW obviously has the largest market capitalization followed by AMTD and finally ETFC. SCHW shows it had higher quarterly revenue growth rates, but AMTD had the highest operating margin (0.36). AMTD's key measurements compare very well against its direct competitors when looking at its EPS of 1.07, while SCHW comes in at 0.69 and ETFC is reporting negative figures.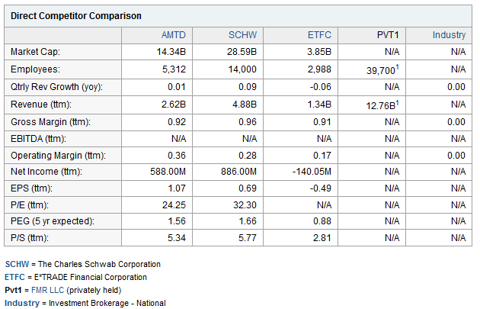 All the stocks for these companies mentioned have been doing rather well as shown below with a comparison of the stock returns for each.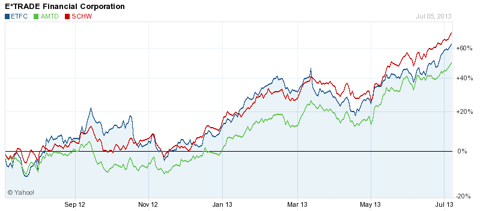 Unique Situations
After the initial analysis, AMTD looks like a company that is operating like a well-oiled machine. A closer look finds something very interesting for investors. One key event was identified in June of 2013. At that point in time it seems 23,500 January 2015 $25 calls were purchased. There was also an equal-sized block of January 2015 18 puts and January 2015 $30 sold as well. Before the transaction there was almost no open interest at these strikes. Any option trader knows that this is an extremely bullish position for the stock. Since that time the open volume has only gotten bigger as the positions have nearly doubled in size as shown below on the option chains dated 7/8/2013: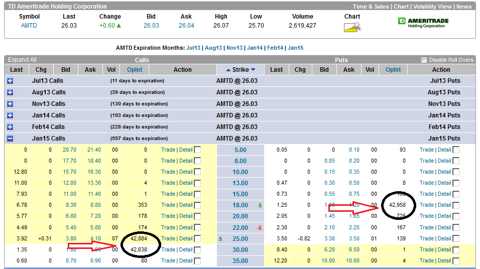 This huge anomaly, or outlier, is definitely worth noting. While not a guarantee for success, this large option position is a vote of confidence by larger investors that the stock price for AMTD will continue its rise.
Conclusion
TD Ameritrade offers investors some compelling information that supports its investment thesis. The industry it exists in is doing rather well as shown by the charts above. Huge bullish call buying has been in play since early June 2013. Finally the company's market-fee-based revenues and average client trades per day have been steadily on the increase. AMTD is a stock that investors should consider.
Disclosure: I am long AMTD. I wrote this article myself, and it expresses my own opinions. I am not receiving compensation for it (other than from Seeking Alpha). I have no business relationship with any company whose stock is mentioned in this article.