Quoting the USDA, both Bloomberg News and the WSJ are reporting the first annual drop in U.S. farmland prices in 20 years of an average 3.2%.
Of course, as in the housing price correction, the regional variations are great. They fell most in the mountain states, remained strongest in the Northeast, and fell 2.2% in Iowa and Illinois to $3,620 per acre.

From the WSJ:
...a deflation of the commodity markets and the overall wilting of the economy are now trickling down to the farm.
From Bloomberg:
The USDA expects net-farm income to drop 20 percent this year to about $71.2 billion from last year's record. Wheat fell 31 percent last year on the Chicago Board of Trade while soybeans declined 19 percent and corn 11 percent. "Livestock and crop commodity prices have declined from a year earlier, thus producers and investors are less optimistic than a year ago," the USDA said in yesterday's report. "A decrease in the demand for recreational land has also contributed to the overall decrease in land values.
There has been a decrease in prices of: cattle, hogs, dairy, ethanol profit margins, and grain commodities; along with a decrease in speculation, investing in farmland, and in recreational land purchases. Last year experienced record volume purchases and high commodity prices as foreign nations invested heavily across the board. This year the USDA expects farm incomes to fall 20% due to the global economic downturn.

Calculated Risk did an updated graph on farmland prices showing the new downward trend (click to enlarge):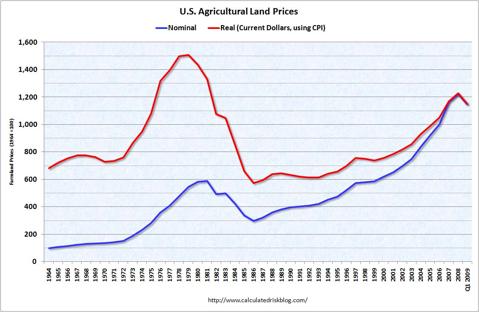 Click to enlarge

My concern is that agricultural inputs are continuing to rise while commodity prices are falling, squeezing the farmer, especially the small farmer. This trend is being experienced first by our dairy industry, only to be followed by other types of farm producers. Currently, it appears that this fall's corn price will not cover the cost of inputs for corn acreage, using a break even return of $4/bushel.

In a July Seeking Alpha article which I wrote, I stated,
Commodity prices, like the oil story we are now witnessing, are directly related to the economic health of individual nations throughout the world.
And, if you believe like I do, that we are experiencing a "sucker's rally" to be followed by some hard lessons from kicking cans down the road these past ten months, then you will probably agree with me that farmland is not a wise investment right now in the U.S. because it is in the early stages of a decline.

Disclosure: No stocks, commodities, futures, or agland owned.