This is the first of an ongoing series in which I will use our inter-sector analysis to determine where an investor should be looking to find opportunity. My hope is to help investors determine when they might want to be overweight a sector, and when they might want to be completely out.
Using ETFReplay.com, it is easy to find out what sectors are working around the world, and which are not. We run a model, which tells us when to be in a sector, and when to be out. The sectors that we monitor are:
U.S. Stocks: Micro, Small, Mid, Large, and Mega Cap
International Stocks: Emerging and Developed
During our test, we consider these stock sectors as a risk on trade. For a risk off trade, we consider cash and long-term Treasuries as our risk off sector, depending on which is stronger at the moment.
It is no surprise, but U.S. Stocks have been working, along with cash over the past two months. We are in an interesting time when International stocks are not doing well, but relative to long-term Treasuries, they would be the place to hide. Since Long-Term Treasuries have been hit recently, the model would tell us to hide in cash instead if a sector is in risk off mode. From 1960 until 2000, the correlation of Treasuries and Stocks was positive. Once the Tech Crash happened, the correlation inverted and has remained so for over a decade... until recently when both stocks and Treasuries moved down in May and June of this year.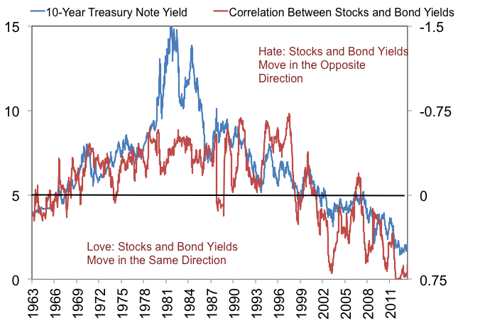 As you can see below, this model has done fairly well. Keep in mind these hypothetical results do not factor in a myriad of issues, which would make following this model hard to replicate. This is not a suggestion to take a position, only information for investors to consider stronger or weaker sectors in their overall investment plan.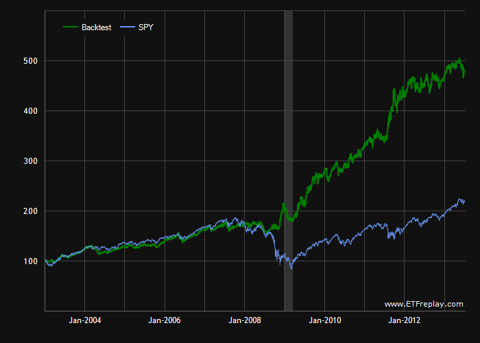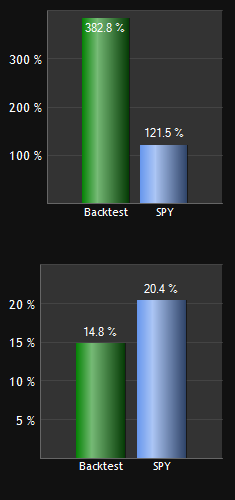 As can be seen, over the past 10+ years, investing in the strongest sectors and rotating to cash or Long-Term Treasuries when the sector is weak could have produced outsized returns with much less volatility, 14.8% for the test versus 20.4% for the S&P 500 (NYSEARCA:SPY) ETF. More importantly, you can see the way the model helped an investor avoid the majority of the drop in 2008. The S&P 500 fell over 55% from peak to valley while the model tested as dropping only 16.8% during that time period as it slowly rotated from all stocks into Long-Term Treasuries. The correlation of the model to the SPY has tested at a historical level of only .10, meaning that the previous outcomes were not strongly linked to the overall market. During the testing period, the model has not shown a negative year of performance either, with the interesting point being 2008 when the model returned 17% while the SPY lost 34.3%.
That said, let's get to what the model is saying now.
Currently, the model continues to suggest that cash is the risk off vehicle of choice. Therefore, any sector that does not make the cut will have cash as the alternative compared to Treasuries.
There are only two major foreign sectors that are strong enough to make the cut. Japan (NYSEARCA:DXJ), even after the current pullback, and the Netherlands (NYSEARCA:EWN) just triggered from Risk Off to Risk On. All other major foreign sectors are in Risk Off mode. These countries include:
Australia (NYSEARCA:EWA), Canada (NYSEARCA:EWC), Sweden (NYSEARCA:EWD), Germany (NYSEARCA:EWG), Hong Kong (NYSEARCA:EWH), Italy (NYSEARCA:EWI), Switzerland (NYSEARCA:EWL), Spain (NYSEARCA:EWP), France (NYSEARCA:EWQ), Singapore (NYSEARCA:EWS), Taiwan (NYSEARCA:EWT), United Kingdom (NYSEARCA:EWU), Mexico (NYSEARCA:EWW), South Korea (NYSEARCA:EWY), Brazil (NYSEARCA:EWZ), China (NYSEARCA:FXI), India (NYSEARCA:PIN) and Russia (NYSEARCA:RSX).
If investors are thinking of getting into these countries, the model would say that now is not yet the time to do so.
Every Sector in the U.S. is currently in Risk On mode for the model. This includes Micro-Caps (NYSEARCA:IWC) , Small Caps (NYSEARCA:VB), Mid-Cap (NYSEARCA:VO), Large Cap (NYSEARCA:VV), and Mega Cap (NYSEARCA:MGC) stocks.
The current weighting of the model shows 31.6% in cash, and the rest allocated to all sectors in Risk On mode. This would inform me that U.S. stocks with a flavor of international is the place to be and investors can expect guarded gains moving forward. I would be a bit more encouraged with the bull case if the allocation was closer to 90% stocks and International stocks weren't so beat up. If things get better for them, I can be certain the model will find a way for investors to get exposure to these markets.
Disclosure: I have no positions in any stocks mentioned, and no plans to initiate any positions within the next 72 hours. I wrote this article myself, and it expresses my own opinions. I am not receiving compensation for it (other than from Seeking Alpha). I have no business relationship with any company whose stock is mentioned in this article.