Baidu (NASDAQ:BIDU) is a Chinese-language search engine that is facing ongoing pressure from Qihoo (NYSE:QIHU) with their new search engine - introduced in August - that has been stealing market share from Baidu's core business. Consequently, Baidu's share price has taken a hit, and the company's overall performance has been mediocre at best.
Competition from Qihoo's Search Engine (So.com)
Qihoo's search engine - SO.com - boasts a 10% market share in China's search space and has an ambitious target of 40% market share by 2015.

Qihoo arguably has the best user interface of any Chinese based search engine. In the search business, the best user experience will win over users. So.com looks much cleaner than Baidu.com and offers no unnecessary text near the search box. Instead, So.com opted to hide extra links on the top of the page. The end result of Qihoo's minimalist approach is a more satisfactory user experience that will boost user base.
Furthermore, Qihoo took advantage of improved browser HTML capabilities, and sports a "fresher" GUI while Baidu's GUI looks old and outdated. Little things like the "shiny hover effect" on So.com add to the user experience.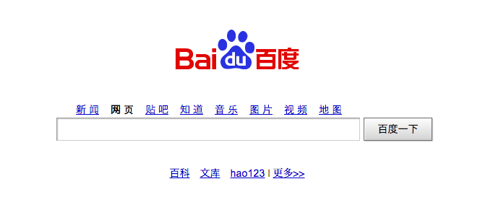 Search Engine Shows No Competitive Advantage
After searching multiple phrases through Baidu and So.com, I found that they yielded almost identical results.
Here are the first 5 results after searching the term "Seeking Alpha".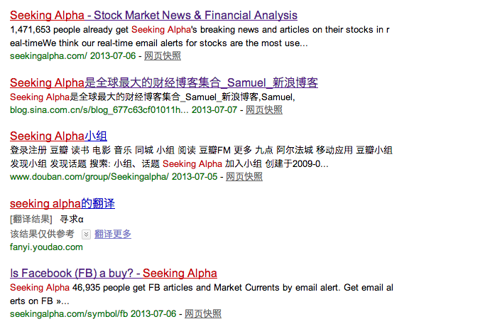 (So.com)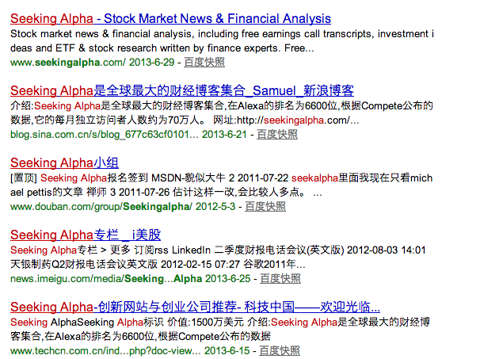 (Baidu.com)
The results of the 2 search engines are almost indistinguishable; thus, Baidu is more widely used based on preference rather than reliability. Whereas in North America, Google is more widely used because of their search results' reliability compared to competitors. Baidu does not have the same competitive advantage Google (NASDAQ:GOOG) has. Instead, user base comes solely from a bias towards Baidu and nothing more. Therefore, Baidu has the two fold task of retaining existing users, and to out innovate everyone else to attract new users.
To put it in laymen terms, would you buy a chair from Wal-Mart (NYSE:WMT) or Costco (NASDAQ:COST)? Would it make a difference? That is the predicament Baidu is in right now. Users don't care where their results come from, just as long as they get results.
Baidu Is Slowing Down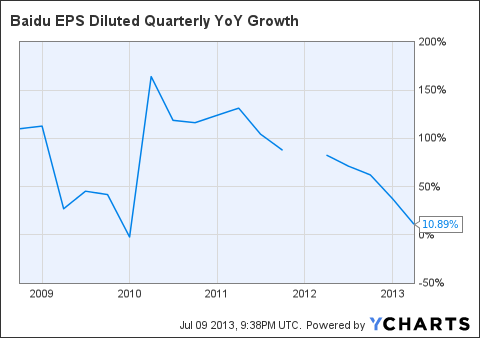 BIDU EPS Diluted Quarterly YoY Growth data by YCharts
Baidu is losing its competitive advantage; as a result, the company's growth is slowing down. Eventually, Baidu will incur year-on-year declines in earnings.
Consistency is key, fluctuations in growth translate into wild fluctuations in prices. A sound investment has consistent growth that won't leave the investor wondering what will happen next.
Baidu's Lackluster Balance Sheet
| | |
| --- | --- |
| Company | Debt/Equity Ratio |
| Baidu | 0.4177 |
| Qihoo | 0 |
| Yandex (NASDAQ:YNDX) | 0 |
| Google | 0.0681 |
| Company | Current Ratio (Working Capital Ratio) |
| Baidu | 4.526 |
| Qihoo | 2.137 |
| Yandex | 2.654 |
| Google | 4.740 |
| Company | Price/Book Ratio |
| Baidu | 6.941 |
| Qihoo | 12.40 |
| Yandex | 25.73 |
| Google | 3.928 |
Baidu has the highest debt to equity ratio of its peers. Baidu's debt has been growing faster than its earnings - from 86 million CNY in 2010, to over 11.941 billion CNY in 2012. This equates to a whopping 13948% increase in debt while Baidu's same period earnings only grew by 604%. This begs the question, why does Baidu need loans for a business that is not capital intensive? The answer is beyond me, and I'm sure it's not a good one.

(Source: Google Finance)
Baidu has the strongest working capital position of any technology company. However, management is too conservative with its business and is not putting the $6 billion cash hoard to good use; as a result, shareholder value is being lost due to ineffective management. To add insult to injury, management insists on spending billions of dollars to create products that will make nothing.
Baidu has a lofty price to book ratio of 6.941; when paying a significant premium to equity, you place more emphasis on the future of the company than the underlying fundamentals.
Conclusion
Baidu is an overpriced company with a lackluster business, with no clear competitive advantage. Baidu's stock has only started to adjust to reality and has a lot more room to go.
Disclosure: I have no positions in any stocks mentioned, and no plans to initiate any positions within the next 72 hours. I wrote this article myself, and it expresses my own opinions. I am not receiving compensation for it (other than from Seeking Alpha). I have no business relationship with any company whose stock is mentioned in this article.