Very recently, Evercore Partners downgraded shares of Intel (NASDAQ:INTC) and slapped a $20 price target on the name. In addition to that, the group cut estimates for FY2013 to $52.8B rev/$1.80 EPS, representing a 1% Y/Y decline in sales and a 10% drop in EPS. Of course, the market took Evercore's note to heart and the stock immediately sold off. I do not agree with this bearish outlook for 2013 and lay out my reasoning for why here.
Intel's Guidance Just Isn't That Aggressive
To recap, note that Intel did $53.34B in sales during FY2012, and management is calling for a "low single digits" increase in sales. That, in my view, means a 1-4% increase in sales or a range of $53.9B - $55.47B. Now, while the bear trio (Evercore, Bernstein, and now Citi) seem to think that this is wildly optimistic and expect Intel to come in well below the low end of this range, I disagree... let's dissect this bit by bit:
In 2012, PC Client Group did $34.27B in sales, and "Other IA" (this is Atom + Infineon Wireless) did $4.378B in sales. Combined this comes to $38.65B total sales. Assuming that "Other IA" does much better thanks to the new products coming in 2H 2013, and assuming that this is offset by weakness in PC Client Group, we come to about flat Y/Y
Data-center group did $10.74B, so assuming a mere 10% growth (very low end of guide), we hit $11.81B
Assume that Software and Services Group, which did $2.38B in 2012 (up from $1.87B in 2011) is only up by 3%, in line with the Y/Y increase during Q1 (slowdown from ~27% Y/Y from 2011->2012), suggesting $2.45B in sales.
Finally, assume that "All Other" which includes NAND flash (NAND pricing is actually quite high and flash is in demand these days) is up a modest 5% from $1.567B to $1.65B.
Add all of this together and we get $54.56B, or 2.3% growth.
Now, note that I was mostly conservative here in that I assumed that software and services would only increase by 3% (when the previous year saw a >20% growth rate), and that data-center growth would come in at the very bottom of the "double digit" growth rate. The "big" assumption, then, is the one where I claimed that PC Client Group weakness would be offset by Other IA. I now justify this claim.
PC Sales Down 10%? Maybe, But...
Something that I believe is widely missed is that the slowdown in PC sales tends to be at the low end of the spectrum; i.e. people aren't likely replacing a $1000 PC with a $200-$300 tablet, but a $300-$400 PC - particularly as a secondary or tertiary machine - is likely to come under significant threat from said $200-$300 tablet.
So, now consider this: assume that the majority of the PC decline is actually at the low end, right, since people prefer thinner & lighter, touch-enabled fanless form factors. Let's now suppose that we can classify PC chips into three major buckets:
Low End with ASP for CPU + Chipset of $55
Mid-Range with ASP for CPU + Chipset of $110
High-End with ASP for CPU + Chipset of $165
This gets us to an ASP of $110, which is roughly the value you get when you divide $34.27B by ~80% of the total PC unit volume from 2012.
Now, let's further assume that the unit composition looks something like this:
20% Low End
60% Mid-Range
20% High-End
And, for fun, let's assume that this year's projected "10% decline" comes out of Low/Mid/High end in the following way:
70% from low end
20% from mid-range
10% from high-end
Now, assume that Intel maintains ~82% market share of the total PC space, which suggests that we see a drop from 2012's ~305M PC units shipped to 274M units. This suggests, then, that of the 31M units lost, we lose the following:
21.7M low end CPUs @ $55/each
6.2M mid-range CPUs @ $110/each
3.1M high-end CPUs @ $165/each
This suggests revenue loss of ~$2.4B Y/Y, which is significantly less bad than a 10% drop of $3.4B.
Now, Can Atom Make Up For This?
So, let's now look at the tablet market: it's growing, and growing rapidly. According to IDC, the mix in 2013 of small, mid-range, and large tablets is going to look like this:
| | | | |
| --- | --- | --- | --- |
| Screen Size | 2011 | 2013 | 2017 |
| < 8" | 27% | 55% | 57% |
| 8" - 11" | 73% | 43% | 37% |
| 11"+ | 0% | 2% | 6% |
| Total | 100% | 100% | 100% |
Now, very curious. Note that the 11"+ segment is likely to be the "high end" tablets serviced pretty much exclusively by "Core" processors from Intel. Let's further assume that in 2013, 229.3M units will be shipped (as per IDC's projections), and then let's finally assume that the ASP for these chips is in the "mid range" in terms of pricing - so, let's say $110/each. That gets us back $504M of our lost revenue.
Further, note that - pre Bay Trail and pre Haswell - we saw that in Q1 2013 Microsoft's (NASDAQ:MSFT) Windows had 7.4% of the global branded tablet OS market (up from 0% in Q4). I expect that a good 90% of that was driven by "Clover Trail" and "Ivy Bridge" based tablets (there are over 10 design wins in the market, as far as I can tell), while the rest of the 10% was from Microsoft's own Surface RT. 90% of 7.4% suggests that 6.66% of the total tablet market went to Intel In Q1 2013. Now, note that Clover Trail and Ivy Bridge tablets were found almost exclusively in the 8" - 11" band (10.1" - 11" actually), so this suggests that Intel took ~15.5% of the 8" - 11" tablet market in Q1 2013.
Now, further note that on the most recent call, Intel made the following remark regarding tablet shipment volume pace,
First quarter tablet volume more than doubled from the fourth quarter, and we expect it to double again in the second quarter
Note that this is WITHOUT the impact of Bay Trail OR Haswell! This is 100% Ivy Bridge and Clover Trail, although I expect that even the majority of that is Clover Trail. This is where it gets interesting...
Bay Trail SIGNIFICANTLY Broadens Tablet TAM
Now, if Intel could grab ~6.67% of the tablet market in a mere quarter after launching "Clover Trail," which many believe to be a pipe-cleaner for "Bay Trail," and if Intel's TAM was restricted to 10.1 - 11" tablets with this part, then "Bay Trail" may, indeed, have a huge impact on sales. In a previous article, I pointed out that the design win momentum and the different form factors. On Windows 8 alone, the diversity of the tablet wins explodes. Take a look at what the Taiwanese ODMs were demo'ing at Computex,
iPad Clone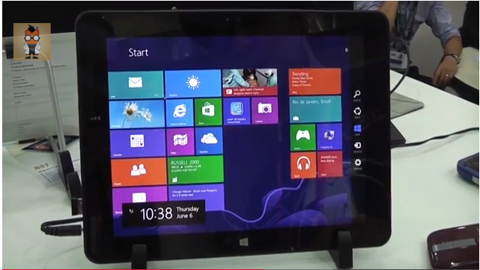 Click to enlarge
Surface RT Clone/Fanless & Thin Surface Pro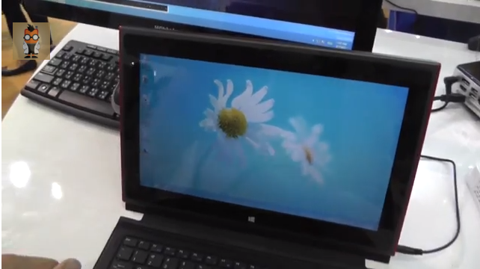 Click to enlarge
7 Inchers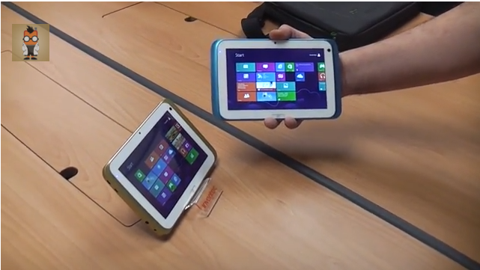 Click to enlarge
So, now Intel will be participating in the sub 8" market, will be ramping new and better designs in the 8-11" market, and will have the >11" market all to itself with "Core." Intel will also be participating in the Android tablet market with "Bay Trail" and is there today in a limited fashion with the Galaxy Tab 3 and the ASUS designs. Let's now assume that Intel's pace of "doubling" tablet sales throughout each quarter of the year (which I think may be somewhat pessimistic) continues throughout the year.
Given that 49.2M tablets shipped in Q1 2013, and that Intel captured ~6.66% or 3M unit shipments (assuming a very pessimistic ASP of $30 per chip), and let's further assume that this number continues to double shipments each quarter (although even this could be pessimistic in light of the absolutely), we come to 6M units in Q2, 12M units in Q3, and then 24M units in Q4. This year, then, we can expect that from "standard" tablets we will get 45M units * 30/unit = $1.35B back from our PC losses. These "standard" tablets, coupled with the potential from that 2% of the really big tablets brings us to ~$1.85B, or roughly a balancing out of the $2.4B we expect to lose on the PC side of things.
This Assumes That Haswell Does Not Help Unit Shipments Or Mix, And That Bay Trail-M Does Not Help
Another source of upside is that "Haswell" may simply be able to command higher ASPs; that is, thanks to significantly better power management, integration of the PCH on package (which likely simplifies board layout and could command a slight premium for the total savings), and higher tiers in the on-board graphics (which may continue to eat into the low-end discrete graphics market), Intel could see a richer mix in PC Client Group.
Further, as I expect the Haswell systems to be more attractive, and as I expect that Windows 8.1 helps to drive modest sales growth, there could be real upside to the unit shipments, proving a "10% decline" to be pessimistic.
Finally, the Street seems to discount the upcoming "Bay Trail-M" parts, the spec list of which recently leaked and is reproduced here for your convenience,

Click to enlarge
This means that even the low end notebooks may become significantly more attractive than they had been previously (large, bulky, hot, with bad battery life). This could drive a shift away from tablets back to notebooks particularly as these devices will come in at reasonable price points and offer fanless/touch form factors.
Q2 Likely To Come In Above Bearish Estimates
Evercore, the lead bear in the most recent round of downgrades, suggested that Q2 will actually come in flat Q/Q from Q1. I believe that this is unlikely. During Q1, Intel was ramping/qualifying Haswell for sale, and it is likely that inventory at the OEMs was particularly lean given that Haswell is a substantial improvement from Ivy Bridge. This suggests that despite reports of weak ODM/OEM builds that there may have been some inventory replenishment going on during Q2 (this is not a novel idea; management flatly stated this as the key driver for a better-than-seasonal guide). Unless the data-center disappoints, tablet shipments fail to double as expected, or NAND sales simply fall off a cliff, it is very unlikely that we see Q2 flat Q/Q from Q1 in light of Haswell.
Conclusion
I believe that many Intel bears are taking a single dimensional view of what is going on here, and as a result I have to disagree that Intel will guide down/miss for 2013. If I am correct, then Intel will blow away 2013 consensus, 2014 consensus will see a dramatic revision upward, and the share price should see multiple expansion in light of the increasingly bright prospects for Intel's mobile strategy.
2013 is the year that Intel proves its worth in tablets, and 2014 should see extended tablet momentum coupled with a full year of a high end, competitive smartphone platform on the market. I believe that Q1 was the trough for Intel's business and that from here things get much better.
Disclosure: I am long INTC. I wrote this article myself, and it expresses my own opinions. I am not receiving compensation for it (other than from Seeking Alpha). I have no business relationship with any company whose stock is mentioned in this article.