Earnings estimates have been soaring for M.D.C. Holdings (MDC) as the homebuilder continues to benefit from a rebounding housing market. The significant increase in demand for new homes not only means higher revenues for MDC, but also significantly higher profit margins as the company is able to raise prices and reduce incentives while leveraging its fixed expenses. It is a Zacks Rank No. 1 (Strong Buy) stock.
M.D.C. Holdings is a homebuilder that has been building under the name "Richmond American Homes" for 40 years. It primarily operates in the Western and Mountain regions of the United States, with some exposure in the Eastern U.S. The recent rise in interest rates has hurt shares of homebuilders like MDC, but the sell-off could be a great buying opportunity as the fundamentals of MDC look very attractive.
Big First-Quarter Beat
M.D.C. Holdings reported strong first-quarter results on May 2. Earnings per share came in at 45 cents, crushing the Zacks Consensus Estimate of 26 cents. It was a huge increase over the 4 cents it reported in the same quarter last year.
Total revenue surged 77% to $344.3 million, well ahead of the consensus of $294.0 million. Home sale revenues rose a whopping 80% to $331.7 million, which was driven by a 64% jump in home delivered. The average selling price for homes closed rose 9% to $325,900.
The gross profit margin expanded 330 basis points to 17.4% of revenue as the company continued increasing prices and decreasing incentives as demand picked up considerably. Meanwhile, selling, general and administrative expenses fell from 18.5% to 14.5% of revenue as the company leveraged its fixed expenses.
Estimates Soaring
Following solid Q1 results, analysts revised their estimates significantly higher for MDC, sending the stock to a Zacks Rank No. 1 (Strong Buy). You can see the dramatic rise in earnings estimates in the company's Price and Consensus chart: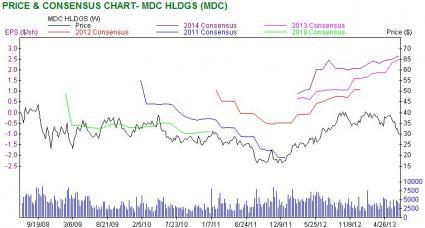 The Zacks Consensus Estimate for 2013 is currently $2.49, representing 103% EPS growth over 2012. The 2014 consensus is now $2.65, corresponding with 6% annual growth. In fact, estimates have been rising in general for homebuilders. The Building-Residential/Commercial industry ranks eighth out of the 265 industries that Zacks ranks. That puts it in the top 3% of all industries.
Reasonable Valuation
Despite strong earnings momentum, shares of MDC have sold off recently as interest rates have risen. But shares look attractive at these levels. The stock currently trades at just 12.5x 2013 earnings, which is below the industry median of 14.5x. Its price-to-book ratio of 1.6 is also well below the industry median of 2.0.
The Bottom Line
With very strong industry trends, soaring earnings estimates and reasonable valuation, this homebuilder offers a lot to like.
M.D.C. Holdings: Free Stock Analysis Report (email registration required)