Marsh & McLennan's (NYSE:MMC) second quarter earnings of 33 cents per share were in-line with Zacks Consensus estimate (conference call transcript here).
However, as a result of goodwill impairment charges associated with the sale out of Kroll Government Services, its U.S. government security clearance screening business, in the second quarter of 2009 the company reported a loss in the quarter.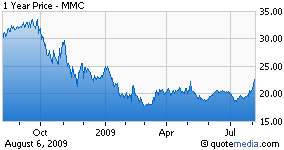 The company reported a net loss of $193 million or 37 cents per share, compared with net income of $65 million or 12 cents per share in the prior-year period.
The sale of Kroll was completed in the second quarter. In relation to this sale, the company evaluated Kroll's overall goodwill for impairment. Consequently, the company realized a non-cash charge of $315 million or 60 cents per share.
The company also experienced an investment loss of $31 million in the quarter, driven by mark-to-market declines within its private equity fund investments.
Consolidated revenue was $2.6 billion, down 13% year-over-year or 6% on an underlying basis.
The Risk and Insurance Services segment revenue was $1.3 billion, down 5% year-over-year and flat on an underlying basis. However, operating income was significantly up, reflecting improved results of both Marsh and Guy Carpenter. Results reflected the benefits of cost-containment measures.
Consulting segment's revenue shrank 17% year-over-year to $1.1 billion or 9% on an underlying basis, reflecting substantial declines in both Mercer and Oliver Wyman. Operating income was adversely impacted by increase in professional liability costs of approximately $30 million, primarily associated with a legal settlement at Mercer. Combined with this, foreign currency translation also impacted this segment's income.
Revenue in Risk Consulting and Technology business that include Kroll's operations was $161 million, down 40% from the prior year period or 20% on an underlying basis.
The company continued to experience decent expense reduction as a result of its well-executed restructuring initiatives. It has reported a 7% year-over-year decline in expenses to $2.65 billion.
While the results for coming quarters should somewhat benefit from improved pricing, we think that such benefits will be largely offset by recent strength of the US dollar and reduced revenue from the consulting business, due to ongoing weakness in economy. As such, we maintain our Hold recommendation on the shares.