With the latest short data in for Sirius XM (NASDAQ:SIRI), it appears that nearly 14 million shares were added to short positions since the last reporting period. All in all that totals around $50 million worth of shares that were added to these positions given the average share price during the period.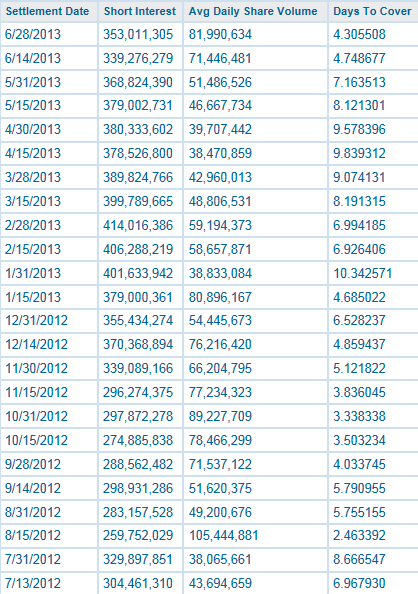 In summation with the previous $100 million worth of shares covered as of two weeks ago, this brings the total amount of short covering for the month of June to just $50 million. What was a very good move by the shorts was followed by a very bad move by the shorts. Like chasing candy down a drain into the sewer, it appears these newest short positions may be stuck in a foul place given Sirius XM's recent press release.

Click to enlarge
These shorts will likely have to cover at a loss. The recently released subscriber net additions for Q2 by Sirius XM showing that 715,000 net additions were made in the second quarter on the back of very strong auto sales figures shows considerable strength for the company. Those expecting a lower number or even a few expecting a negative number, citing competition from Pandora (NYSE:P) and other streaming music applications for smartphones, have just been hit hard with reality.
The fact of the matter is that Sirius XM continues to impress the street and beat its own guidance. With all eyes on the Q2 call going forward, investors now have very good news to provide confidence and a strong foundation for an upbeat call.
As I said in my previous short data article linked above:
Being short has generally meant being wrong, and I don't expect that to stop for the foreseeable future. With Sirius XM's $2 billion buyback in full swing, it would seem that shorting shares is simply "feeding the beast." The long side is, and has been, the right place to be. Despite some recent volatility in the market Sirius XM has been on a consistent trajectory to the upside, and while share prices have not skyrocketed due to the buyback, that's just fine by me.

Why? Because as I have stated, lower share prices benefit the buyback to a greater extent. The lower the share price, the more shares the company can buy back, and the greater the reward down the line.
Investors and remaining shorts alike will want to watch the Q2 call for updated buyback data. Considerable numbers of shares marked as repurchased could provide another pop in share price like investors saw after the Q1 call.
I continue to maintain that the long side is the right side for investors in Sirius XM. Shorts, please, do yourself a favor. End this madness and exit your short positions. I have been suggesting this since under $2 per share. We are now at $3.60. Why wait for over $4?
Disclosure: I am long SIRI. I wrote this article myself, and it expresses my own opinions. I am not receiving compensation for it (other than from Seeking Alpha). I have no business relationship with any company whose stock is mentioned in this article.
Additional disclosure: I am long SIRI January 2014 $2, $2.50, $3 and $3.50 calls. I am short SIRI January 2014 $4 calls.