Bank of America (NYSE:BAC) is set to report second quarter earnings for 2013 before the market opens on July 17. According to Earningswhispers.com, the consensus estimate is for a profit of 26 cents per share. There are a few reasons why I believe Bank of America could be poised to decline after it reports earnings. Because of this, investors may want to consider waiting for what might be a better buying opportunity. Current shareholders might want to lock in profits and sell this stock while it still trades near 52-week highs. Here are 4 reasons to consider selling BofA shares now:
1) Bank of America shares plunged about 10% after it reported earnings for the first quarter. BofA shares were trading for nearly $12.50 just before earnings came out on April 17. However, the stock dropped to about $11 in the days following the first quarter report. Since then, the stock has rebounded and climbed higher with the markets, but that could spell trouble since the stock could have further to fall if earnings or guidance disappoints investors and analysts for the second quarter. It seems that BofA shares often run-up before earnings, only to pullback after. There are some reasons why this earnings report and guidance could create downside for the stock, especially from currently lofty levels.
2) Famed bank analyst Dick Bove recently predicted a "sloppy quarter" for the banks this quarter. In a CNBC article, he pointed several reasons why it could be a tough earnings season for the banks and stated:
"We did not have a great second quarter from an economic standpoint," he said. "So we're not going to have a great second quarter in terms of bank earnings."

He ticked off the reasons: "Loan volume in the two big areas, commercial industrial and residential mortgage, have slowed down dramatically. Price competition has picked up to push margins lower."

"You got this issue with long-term rates going up creating issues about capital," he added. "You've got the fact that trading did pick up pretty good for a couple months in the quarter, but wasn't great the whole quarter."
3) The recent jump in interest rates has caused a big drop in bond values. BofA owns Merrill Lynch and it likely owns a significant amount of bonds, which are probably worth a good deal less now. With mark-to-market accounting, losses on bonds or other securities could impact earnings for this quarter and future quarters if bonds continue to decline, as interest rates rise. Sheila Bair, the former chairman of the Federal Deposit Insurance Corp., recently warned that interest rate spikes could create big losses for financial institutions and we may see that reported by the banks soon. A Wall Street Journal article states:
"Ms. Bair said she's worried more about interest-rate risk than any other issue. A significant and speedy rise in rates could produce big losses for individuals and institutions with large bond portfolios and raise borrowing costs across the country."
4) As the chart below shows, BofA shares are at the top end of the recent trading range and close to a 52-week high. It seems like this stock might be putting in a bearish "double top" as it heads towards the 52-week high of $13.99. It had resistance at that level before and I do not expect it to push through $14 in any meaningful way. If the shares can't break past this high soon, it could be perfectly positioned for a sell-off that could be sparked by the earnings and guidance for Q2. This stock is elevated well above the 50-day ($13.06) and 200-day ($11.44) moving averages, and that is another reason why investors could so easily be disappointed with the earnings and guidance. Furthermore, the stock is now trading above an analyst price target of $13, which was set by Deutsche Bank (NYSE:DB) on May 15. UBS (NYSE:UBS) has an even lower target price of $12 that was set on April 18, 2013. For these and all the reasons discussed above, BofA shares appear to have come too far too fast, and that could be creating the perfect recipe for another significant post-earnings pullback.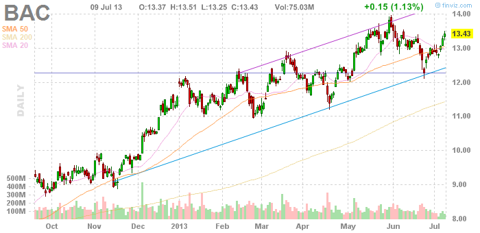 Here are some key points for BAC:
Current share price: $13.49
The 52-week range is $6.90 to $13.99
Earnings estimates for 2013: 96 cents per share
Earnings estimates for 2014: $1.31
Annual dividend: 4 cents per share, which yields .3%
Data is sourced from Yahoo Finance. No guarantees or representations are made. Hawkinvest is not a registered investment advisor and does not provide specific investment advice. The information is for informational purposes only. You should always consult a financial advisor.
Disclosure: I have no positions in any stocks mentioned, and no plans to initiate any positions within the next 72 hours. I wrote this article myself, and it expresses my own opinions. I am not receiving compensation for it (other than from Seeking Alpha). I have no business relationship with any company whose stock is mentioned in this article.