The equity REIT sector sits at an interesting crossroads in the current economy. While sector constituents have provided investors with a generally dependable, elevated income stream in a ZIRP world, REIT stocks have become highly volatile due to blurry economic visibility and a near-term struggle with valuation. The love/hate relationship investors had with REITs the past quarter has provided a lot of market drama and some spirited discussion as to how (and if) investors should currently invest in the sector.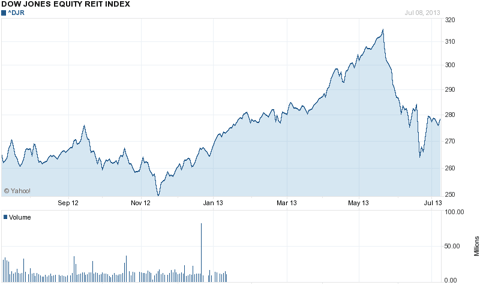 Odd Man Out
While I've offered a generally more pessimistic outlook on the group than cohorts Brad Thomas and Dane Bowler, I have by no means advised sector abandonment. Indeed, as part of a diversified income or total return portfolio, I think carefully selected REITs make sense. Dane's recent article which advises current investment in trusts with low FFO and other positive attributes echoes my ongoing thoughts about the types of companies investors should be searching out.
Yet, I also find myself somewhat in disagreement with Dane over another write-up in which he maintained that the recent sector downswing was "unjustified." Given stretched valuations relative to muted growth prospects in a great deal of the space, I found the sell off in many REITs over the past two months as mostly justifiable. Trusts that possessed operating output multiples in excess of 20 and growth rates in the mid single digits, like Realty Income (NYSE:O), Ventas (NYSE:VTR), and others, have been appropriately and significantly re-priced. And with the assumption of a lackluster growth horizon, perhaps they have not been re-priced enough. Have clear values been created in some REITs where price has been hit too hard - perhaps - but I don't think a broad brush can be painted over the whole sector.
Meanwhile, in Brad's latest work, he penned the following, which I think encapsulates the dilemma that investors face with regard to REITs:
It's no secret that the impact of rising interest rates on REIT performance impacts valuation. In one way, higher interest rates reflect higher cost of capital. However, it also reflects an improving economy and growth prospects with the potential to improve market rental rates and occupancy.

Obviously, rising interest rates will eventually impact REIT cash flows by changing debt refinancing rates. It will also impact REIT valuations by increasing the required returns. For some REITs, this higher rate of return will be offset by higher cash flows over time as they increase rate and occupancy.
I would agree with Brad's view on the give and take that can occur internally with REITs in a rising rate, or generally strengthening economic environment. However, the wild card here is whether any rent gains or NOI growth that might occur would actually offset higher borrowing costs. I remain unconvinced that would necessarily occur. Therefore, I would opine that the REIT recovery in the ZIRP world over the past four years has represented an optimal operating climate, and that future NOI gains and therefore dividend and stock price growth will likely be much tougher to come by in a rising rate environment.
Portfolio Strategy And Weighing Your Options
I recently recommended that investors consider an underweight allocation to the REIT sector. Interest rate and macro-issues worries aside, the primary reason I am taking that stance is for lack of clear, robust growth visibility. Despite the seemingly optimal operating environment, from a comparative valuation and forward growth perspective, I perceive better risk-adjusted total return opportunities elsewhere.
Both Dane and Brad have recently exhorted the virtues of healthcare building owner Ventas, a stock that has dropped about 18% in the recent swoon and now yields roughly 4 percent. While I agree that Ventas's diversified business platform and strong balance sheet are worthy of investor consideration, there are plenty of other equities with similar quantitative characteristics that may have better near-term growth visibility, making them a superior risk adjusted play.
I have picked out three industry-diversified stocks from my personal equity-income portfolio, Intel (NASDAQ:INTC), Phillp Morris (NYSE:PM), and Conoco (NYSE:COP), upon which to develop a quantitative comparison.
| | | | | |
| --- | --- | --- | --- | --- |
| Stock | Valution Multiple '14 Expectations | Expected '14 operating growth rate (analyst consensus) | | Current Yield |
| VTR | 16X | 5% | | 3.9% |
| INTC | 11X | 8% | | 3.7% |
| PM | 14X | 11% | | 3.9% |
| COP | 10.5% | 10% | | 4.2% |
Data Source: Yahoo Finance
As we can see in the chart, Ventas sells for more and is expected to grow less than the other three in 2014. Obviously each of the three alternative equities comes with its own set of caveats and industry specific risks, but from my perspective, quantitatively speaking, I'm a buyer of Intel and Conoco in this market before Ventas. And while I still like the Phillip Morris' franchise, I see plenty of intangible risk in owning the name here; so while its forward operations look better on paper, for me it might be a coin flip between the two with fresh money.
Therefore, I think investors may be best advised to examine dependable income and total return opportunities outside of the sector before settling down with an overweight real estate position.
REITS I Like Here
While I hate to sound like a broken record, many of my large REIT holdings are similar to ones that Dane has recently recommended. These would include American Realty (ARCP), which trades at a significant discount to peer Realty Income. Following the closure of its recent buying binge (see below), the company will own better than 2500 properties leased to 470 tenants. While ARCP's accretive acquisition strategy is fundamentally aggressive and arguably risky, I think it seems logical, given current fundamentals and lack of robust organic growth drivers in the triple net space.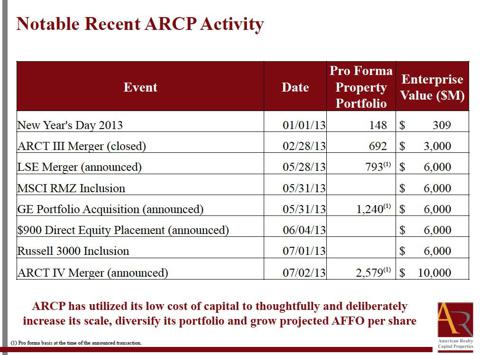 I also like hybrid CRE entity NorthStar Realty Finance (NRF) which continues to be a dividend growth and total return machine via its unique, multi-pronged revenue stream model.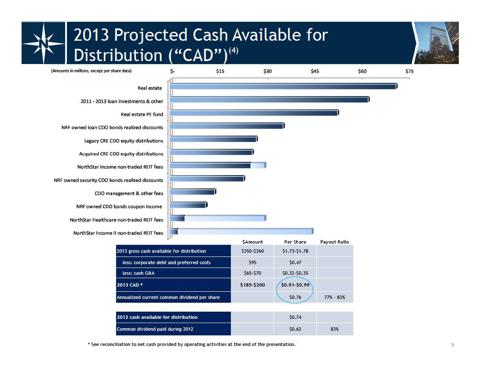 Speaking of unique, for the high income portion of my portfolio, I'm fond of Gladstone Commercial (NASDAQ:GOOD), which leases a variety of real estate to mostly non-investment grade tenants at a premium cap rate. Though the risk level is elevated here, I think investors are compensated and protected with a 8% dividend and low FFO valuation at current pricing.
Conclusion
I suspect most REIT investors were ill prepared for the roller coaster ride they were given during the first six months of 2013. Since the next episode of this ongoing, volatile drama seems unclear, given the unpredictable economic and interest rate backdrop, I think one may be best advised to underweight the space as part of a diversified portfolio and adhere to a value driven stock selection strategy. While there are still reasonable total return and dependable income stories to found, investors may need to temper their forward expectations and consider alternatives that better feed income, dividend growth, and total return objectives.
Disclosure: I am long ARCP, COP, GOOD, INTC, NRF, PM. I wrote this article myself, and it expresses my own opinions. I am not receiving compensation for it (other than from Seeking Alpha). I have no business relationship with any company whose stock is mentioned in this article.
Disclaimer: The above should not be considered or construed as individualized or specific investment advice. Do your own research and consult a professional, if necessary, before making investment decisions.