Introduction
Google's (NASDAQ:GOOG) focus on offering new and first-class products and services should continue rewarding investors in the company. I remember when Google made several headlines when going public in 2004:
The company went public by the way of a Dutch auction allowing investors and not investment bankers to determine the IPO price,

Its IPO price was set at a triple digit price of over $100, a rarity for a newly public technology company, and

The company's founders, Sergey Brin and Larry Page, got on the SEC bad side by giving an interview to Playboy during the company's quiet time, when the company is not allowed to promote its IPO in the press.
Despite early problems, Google common stock has returned about 800% during its life as a publicly trading company. This is significantly more than the return of old media and technology companies such as Comcast (NASDAQ:CMCSA) and Microsoft (NASDAQ:MSFT) but less than the return of Netflix (NASDAQ:NFLX), the video streaming and rental website (see graph). Google is well positioned to continue this strong performance despite its large size and due to its ability to innovate and offer competitive products at lower prices (and often free) to consumers, leaving the major bill (which is tax deductible) for businesses to pay.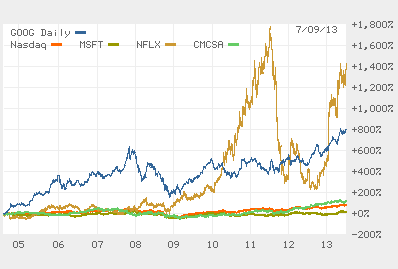 Fundamentals and valuation
As seen from the table below, Google's common stock trades attractively on a number of measures compared to some of its competitors, including Comcast, Microsoft and Netflix. Google has gross and operating margins that are second only to Microsoft. However, Microsoft has lower growth rates, higher dividend yield and higher beta (volatility) than Google, signifying that going forward, Microsoft may not be a reliable investment. Importantly, Microsoft's gross margin less operating margin is nearly 48% compared to about 33% for Google. It seems that Google is able to control its operating costs excluding the costs of goods sold much better. If Microsoft's gross margin declines to a more normal level, it is likely that its operating margin will also follow. On the other hand, a rumored restructuring at Microsoft could boost the company's operating profit even if pressures on growth and gross margins intensify.
Finally, Google derives the largest portion of its revenues from foreign sources (over 50%), which highlights the company's ability to offer products and services on a global level. As free trade, globalization and technology continue to evolve, companies that can compete on a global level are likeliest to succeed.
| | | | | |
| --- | --- | --- | --- | --- |
| | GOOG | CMCSA | MSFT | NFLX |
| Price-to-earnings (NYSE:PE) '13 est. | 19.6 | 17.6 | 12.5 | 169 |
| PE-to-growth | 1.2 | 1.1 | 1.1 | 1.3 |
| Price-to-book value | 4 | 2.3 | 3.7 | 16.1 |
| Price-to-sales | 5.6 | 1.8 | 3.8 | 3.5 |
| Dividend yield | nil | 1.8% | 2.7% | nil |
| Gross margin | 57.4% | 41.2% | 75.2% | 27.5% |
| Operating margin | 24.0% | 19.8% | 27.3% | 1.6% |
| Beta | 0.9 | 1.1 | 1 | 0.8 |
| International revenues | 54.7% | n/a* | 47.3% | 13.9% |
Source: Thomson Reuters, author's calculations and SEC filings.
* International revenues are not available for Comcast but are estimated at about 15% following the company's acquisition of NBC Universal.
Business developments and initiatives
Google continues to be a leader in the major areas it operates such as internet search, maps (further strengthened with the recent $1.1 billion acquisition of Israel-based Waze) and mobile software while also aggressively bringing ground-breaking products and services to market organically or through acquisitions. Two examples of such breakthrough products are Google's glasses and high-speed Internet.
Google Glass, a voice activated computer whose monitor is on a person's eyeglass frame, is among the most anticipated wearable technologies. Since Google already has software capabilities, introducing new hardware is likely to take market share from other companies. It is likely that consumers will spend less time on their desktops that are still mostly run on Microsoft software following the introduction of Google Glass. In fact, Google already is a leader in portable devices software with its Android system and in cloud computing with its Chrome laptops.
Google is expected to earn over 50% of the net mobile ad revenue in the U.S. in 2013 and its share is expected to continue its growth. Microsoft and Comcast, despite being the leading technology and media companies just a few years ago, are not able to capitalize on the increasing proliferation of computing devices consumers can take with them on the road. Netflix, with its "play anywhere" video streaming service, has the fastest growth rate. However, Google's dominance in user created videos with its YouTuibe web site is threatening established media companies such as Comcast and new companies such as Netflix. People are increasingly turning to Youtube for their video needs from breaking news and sports to entertainment and social networking.
The second breakthrough innovation is Google's high-speed Internet offering. Similar to Google glass, it is difficult to measure its success. However, it is clear that it is threatening the existing Internet service providers and cable TV companies including Comcast. Google Fiber offers connection speeds that are 100 times faster than traditional broadband (currently offered by Comcast) allowing users to have much better media experience. According to Comcast's latest quarterly report, it derives about two-thirds of its revenues from cable communications. Given the large dependence on cable communications, which competes directly with Google's new fiber-optic network, it makes sense for Comcast to be the leading innovator in this area. However, if the company has completely given up investing in innovations and has thrown in the towel on bringing new products, it certainly makes the case for investing in Google much stronger.
Google's innovations include other areas such as renewable power projects, notably the Northern Cape Solar Project in South Africa, social networking with its Google+ service, and in content with its Google books project. However, these are not areas that are likely to have significant impact on the company, which derived 87% of its revenues in 2012 from advertising. Google's ability to enter new and diverse areas are likely to strengthen its core advertising offering while also providing future avenues for growth.
Conclusion
Google has been one of the most successful public companies in the past 10 years whose common stock is likely to continue to benefit from its innovative abilities. Google faces challenges as it operates in a highly competitive technology area and it faces a number of legal problems related to privacy issues, anti-competitiveness and patent infringement.
Recently, Google won the title of the largest media owner in the world. Comcast was four places behind at number five. It is clear that Google is well positioned to be the leading media company while also bringing innovative software and services. All this makes Google a company able to leverage its success in a number of industries and to continue to reward shareholders despite the stellar stock price increase in the past decade. Investors looking for a long-term investment in a growing but relatively stable company with reasonably valued shares should consider Google.
Disclosure: I have no positions in any stocks mentioned, and no plans to initiate any positions within the next 72 hours. I wrote this article myself, and it expresses my own opinions. I am not receiving compensation for it (other than from Seeking Alpha). I have no business relationship with any company whose stock is mentioned in this article.