A major news outlet today is carrying the headline shown in this article, referencing a supposedly "well known mortgage analyst" in California. This article and predictions within it are quite simply full of bunk. The analyst tries to make the argument that a 45% spike in the 30 year mortgage rate in a short period of time will have the effect of putting the hammer down on the recovering mortgage market. I have already laid out the case why the increase in mortgage rates is actually healthy for the housing market over the long term. As the "Dire" outlook for the housing recovery is gaining a ton of media coverage today, I think it is worthwhile to poke holes in the glaring omissions of this article and why investors would take heed and ignore it completely.
Is The Housing Recovery Doomed?
About the only part of the aforementioned article on the housing recovery that is correct is that mortgage and home purchase activity will take a breather due to the quick spike in interest rates. There are inevitably a number of home buyers who were previously qualified for a mortgage, right on the margin of a debt to income equation, who now no longer qualify. However, this assumption is based on the fact that this subset of buyers were purchasing the absolute maximum amount of house they could afford. Anecdotally, as evidenced by what the Lennar CEO said on the company's latest earnings call, it is apparent that at the very least most new home buyers are not completely maxed out on the affordability of the homes they are purchasing. Said another way, they would still qualify for a mortgage even after the spike in interest rates.
On the one hand, you have CEO's of major homebuilders such as Lennar (NYSE:LEN) and Ryland (NYSE:RYL), saying that until interest rates rise closer to 7% they do not see a major impediment to the housing recovery. You also have one of the most respected names in the housing market, in John Burns and his consulting firm, also saying that rising mortgage rates are great for housing. John Burns and his consulting firm cover the housing market from coast to coast and are extremely in tune with the inner workings of the market as well as understanding what the dynamics are within the new home building industry. If a website is worth a thousand words, take a look at John Burns' website and the research available compared to what Hanson Advisors (and its gloomy outlook) has to offer.
Most importantly, the arguments made by Mark Hanson in his dire predictions article are misleading at best. Mr. Hanson attempts to compare the end of the home buyer tax credit in April 2010 and the subsequent fall-off in sales with what he believes will happen as a result of the rise in mortgage rates:
When that stimulus went away, new home sales fell 38 percent in a single month, down 25 percent year-over-year, and existing home sales fell 30 percent over a single month, 24 percent year-over year.
Mr. Hanson is comparing one of the worst housing years on record to a time period when the housing market is squarely in the middle of a recovery. Total housing starts in 2010 will end up being almost 50% below the level seen in 2013 as housing starts are projected to approach 1M units this year on an annual basis. In April 2010, home buyers had no idea if home prices had bottomed yet. In July 2013, those under contract to buy a new home have probably seen their home price increase in value since the time they signed the contract to purchase the home. Again, this is a completely different market. Also, April generally marks the end of the spring selling season. Home sales always dip heading into the summer months, which is just one additional flaw in the "Dire" prediction analysis.
The article also notes that Mr. Hanson is predicting a 19% jump in contract cancellations, or buyers who are under contract to purchase a home but decide not to buy the home because of the rise in interest rates. Again, this prediction is hard to even vet out because it is missing key information. Is the prediction that a cancellation rate of 20% will increase by 19%, for a total cancellation rate of 23.8%? Conversely, is the prediction that a 20% cancellation rate will increase to 39%? If it is the first prediction, I would say to you, who cares as this is just a blip on the radar. If it is the second prediction, we would have heard about this on the Lennar earnings call and will surely find out when the remaining national homebuilders report earnings in the next 30 days whether or not this is true.
The article also goes on to note that mortgage applications are down 28% on a month over month basis, which is again as much a result of the spring selling season ending as it is higher mortgage rates. On a year over year basis, mortgage applications are up over 4%. Nothing here is to be unexpected. Home prices rocketed higher in the beginning of the year, and that pulled home buyers off the fence as much as low mortgage interest rates did. Buyers who had been waiting for the bottom in housing prices had reason to believe it was in, and they rushed to purchase homes which pulled some demand forward.
Outlook
I typically do not feel the need to take a very contrarian view of another person's opinion, but in this case, I think it is prudent for investors to realize the sky is not falling and that those who are much more respected in the industry (whom I mentioned above) will back up this statement. The chart below shows the 30 year mortgage rate over time: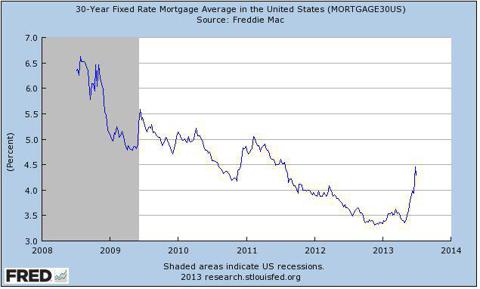 Note that in April 2010, mortgage rates were roughly at the same level they are today. Yet the housing market itself is in a completely different place, with prices rising significantly in many markets. The employment outlook has improved, less potential home buyers are trapped in homes with negative equity, and the general sentiment around housing is night and day better than it was in April 2010 when the home buyer tax credit expired. Do yourself a favor and don't listen to the dire predictions about rising mortgage rates stunting the housing recovery. If you do, you're apt to miss out on what will turn into a slow grinding healthy recovery versus an artificially low interest rate bubble recovery.
Disclosure: I have no positions in any stocks mentioned, and no plans to initiate any positions within the next 72 hours. I wrote this article myself, and it expresses my own opinions. I am not receiving compensation for it (other than from Seeking Alpha). I have no business relationship with any company whose stock is mentioned in this article.