Vonage (NYSE:VG) continues to drop customers as the company pares marketing and subscribers opt for their wireless phones. What's unclear is whether Vonage can ever juice growth again. Vonage, however, is promising new features that may improve its standing.
Vonage ended the second quarter with 2.5 million lines in service down from 2.58 million for the three months ended March 1. In the second quarter a year ago, Vonage had 2.6 million subscribers.
In addition, the churn rate crept up to 3.2 percent, up from 3 percent a year ago. Average monthly revenue per line was $28.88 in the second quarter, down from $29.04 a year ago.
On a conference call with analysts Wednesday, Vonage CEO Marc Lefar said a marketing overhaul and a weak economy hurt the company's customer tally. Lefar added:
The economy continues to cause many consumers to struggle financially, yet consumer expectations of quality continue to increase. Competitive intensity and wireless substitution demands that we provide even better value and innovation across multiple devices and varying forms of communication.

Subscriber growth was disappointing. Net line loss was 89,000 during the quarter, as gross additions soften. In addition to the impact of increased competitive promotions, we reduced our marketing investment as we completed the transition to our new agencies and continued in the development of new advertising. Further reductions resulted from the elimination of inefficient non-media spending. These non-media reductions will provide financial benefits in future quarters as well.
What'll fix things? Lefar alluded to new services that would touch the mobile market.
We will also announce major enhancements to our product set touching multiple platforms including mobile, and they will be available to new and existing customers. These changes will dramatically improve the overall value of our service.
But Vonage has an uphill climb, and it lives or dies based on its marketing spend.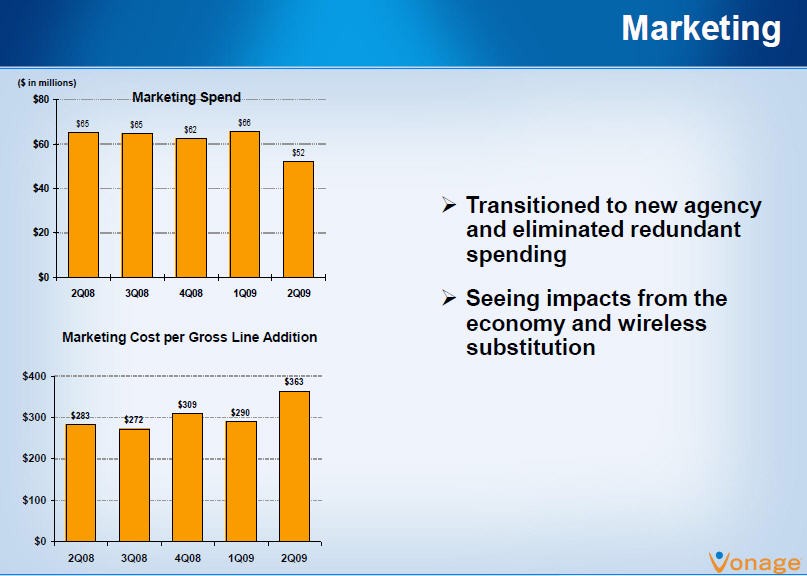 In addition, Vonage competes with triple play offerings from the likes of Verizon (NYSE:VZ), Comcast (NASDAQ:CMCSA) and other big players. It also competes with wireless substitution effects. And let's not forget services like Skype. However, Vonage did report earnings of $2 million, or a penny a share, on revenue of $220 million, down 3 percent from a year ago.
That performance (statement) is OK considering Vonage has been in much worse shape, but the company has to grow. If Vonage fails to add customers, it will be just another zombie company in a down economy.