Synopsis: On 11th July Nokia launches a high-end camera-centric smartphone. On 18th July Nokia releases the Q2 interim report. Both events can trigger unusually high volatility of Nokia's stock. With Nokia's path to sustainable success still uncertain in a rapidly commodifying and saturating market segment, I recommend investors to either take profits off the table or apply an ATM call option substitution as protective device with upside potential. Nokia remains a trading vehicle.
Evaluating the Nokia (NYSE:NOK) of 2013 is like trying to peek at Schrödinger's Cat - is it dead or alive? The probability of Nokia's survival in its current form is smeared between yes and no and evades calculation. The number of variables is simply too high yielding an easy go-to formula providing certainty to the investor. Rather than dabbling in quantum finance, I am looking at Nokia from a product developer's and consumer researcher's perspective, and I do not like what I see.
The question is simple: Are Nokia's products and services selling and will they continue to do so sustainably, contributing positively to the bottom line? Will Microsoft (NASDAQ:MSFT) finally care to overhaul its deficient Windows Phone OS, off which Nokia's smartphones are running? If not, Nokia in my view has no viable future and its parts may be recycled under new ownership.
Investors must be aware of what descent the girl is they are eager to take home from the dance.
1. The OS wars: History repeating?
Because Nokia abandoned its Symbian OS in favour of Microsoft's Windows Phone OS - for reasons other SA contributors have already discussed at length - it is essential to look at Microsoft's capability to establish, grow and sustain a third option besides Apple's (NASDAQ:AAPL) iOS and Google's (NASDAQ:GOOG) Android OS.
Futurologists better than I recursively assert that, due to Microsoft's financial strength and entrenchment in the corporate world, Nokia's success is inevitable. My humble opinion is that the only things certain in the known universe are mathematic proofs and the four fundamental forces of physics.
Apple's 1984 OS was eventually overtaken by 1990 MS-DOS/Windows, with IBM's PS/2 (and other niche operating systems) falling by the wayside. Whereas the Apple OS space was and is proprietary, pitching a limited selection of hardware to consumers willing to pay a premium, the MS-DOS/Windows OS space operated on licensing from the outset and soon spawned a plethora of vendors offering hardware ranging from the low to high end, fiercely competing unto this day. With Microsoft supplying the de-facto standard desktop/portable OS, hardware and price-point multiplicity won consumers and businesses over, making it easy to find a matching and affordable solution in a seemingly boundless spectrum.
Interestingly, the mobile OS space seems to unfold similarly - but now with Google in Microsoft's role. With Apple having enjoyed first mover advantage as in early desktop/portable OS space, accompanied by successful proprietary hardware sales unto this day, it is Google's free and forkeable Android OS that has swiftly overtaken Apple's iOS and, equally to the MS-DOS/Windows OS in desktop/portable space, spawned a plethora of vendors offering mobile hardware running off the Android OS. As in commodified desktop/portable space, consumers, by and large, are price conscious and do not necessarily care too much about UI design or build quality, they even accept security and malware potential - the huge market for barely functional low-end and used Android OS devices is proof that the majority of consumers is subscribed to the "good enough" paradigm just to be able to own a "real" smartphone - even if used primarily for calling and texting to keep cost of data low.
Returning to the analogy, Windows Phone OS and Blackberry's QNX OS could well turn out to be the PS/2 of mobile OS space, not being able to compete on a level to be profitable long-term. Not surprisingly, like Windows in desktop/portable space, Android in mobile space has, due to its overwhelming popularity, become the most profitable target for malware and virus deployment - history repeating indeed.
Meg Whitman's Hewlett-Packard (NYSE:HPQ), still #1 PC vendor (and like Nokia in a difficult turnaround situation), is attempting to eventually re-enter portable/mobile space by way of Google's Chrome OS and Android OS, not Windows RT and Windows Phone - the smoke alarm in Seattle was surely triggered.
2. Windows Phone: An unfinished symphony?
Windows Phone 7 was released in November 2010 and, to principle acclaim, brought a novel approach to UI design into mobile space, replacing the cluttered and skeuomorph overabundance of iOS and Android with a clean-cut and highly glanceable system of self-updating tiles. Undoubtedly, Windows Phone is a truly innovative solution and, picking up the OS wars analogy, is no regurgitation of Apple's original icon based design concept, used by Android device vendors (that compromise UI design even further by way of skinning).
In June 2012, Microsoft launched Windows Phone 8, which would not run on any devices sold prior to the launch - with that, Microsoft effectively osborned Nokia's device efforts, albeit having entered into a five year mutual support agreement in 2011. In October 2012, Microsoft finally released Windows Phone 8, coinciding with Nokia re-launching its entire Lumia range of smartphones on 5th September with the Lumia 920.
In theory and by its design, Windows Phone - and consequently Nokia's devices - should have very much appealed to the three most valuable customer groups Microsoft wanted to address: first-time smartphone adopters, seasoned users on the lookout for the new and business users interested in interoperability. Unfortunately, Windows Phone has so far failed the latter two and the slow pace at which Microsoft addresses user demands is astounding. Not surprisingly, in my view, Kantar Worldpanel's ComTech figures, when viewed not YoY but MoM, show Windows Phone stagnant or even declining in various important markets.
| | | | | | | |
| --- | --- | --- | --- | --- | --- | --- |
| | 3 m/e Dec 2013 | 3 m/e Jan 2013 | 3 m/e Feb 2013 | 3 m/e March 2013 | 3 m/e April 2013 | 3 m/e May 2013 |
| Germany | 2,6 | 5,1 | 6,8 | 6,1 | 6,4 | 6,1 |
| GB | 5,9 | 6,2 | 6,7 | 7,0 | 8,4 | 7,8 |
| France | 4,1 | 5,7 | | 7,2 | 6,2 | 7,4 |
| Italy | 13,9 | 14,0 | 13,1 | 10,9 | 10,5 | 9,7 |
| Spain | 1,8 | | | 1,3 | 1,5 | 1,9 |
| USA | 2,6 | 3,2 | 4,1 | 5,6 | 5,6 | 4,6 |
| China | 0,9 | 1,2 | 1,4 | 2,0 | 2,4 | 2,9 |
| Australia | 2,8 | 3,4 | 3,4 | 4,1 | 5,1 | 5,6 |
| EU5 | 5,4 | | | 6,5 | 6,7 | 6,8 |
(Source: here and previous monthly reports)
In context of Nokia being able to win customers, one must consider the common list of issues that seasoned and business smartphone users continue voicing vociferously, ever since Windows Phone was released:
Lack of functionality -
VPN
Notification centre
Volume profiles
1080p screen driver
E-mail reply account change
E-mail pinch-to-zoom image
E-mail forwarding of documents
File manager
W8 style tile grouping
Task manager
Universal search
Auto-rotate lock
Wireless presenting
...
Lack of apps -
Banking apps (country specific)
Travel apps (plane, train, bus, petrol stations)
Shopping apps (supermarket-, clothing-, fast food-chains)
Entertainment apps (newspapers, magazines, cinemas, theatres)
Municipal/e-government apps (parking, events, monitoring use)
Loyalty scheme apps (services)
Game apps (most popular)
Niche apps (most popular)
...
Particularly the lack of most popular apps deters the younger crowd as well as savvy older users, which see near instant availability of original apps essential to either keep up their peer-group standing or support their very particular mobile habits entrenched over five (Android) to six (iOS) years - Hal Berenson and his contributors eloquently formulate gems of complaint. Particularly users living outside the U.S. (the vast majority of Nokia's customers) feel very much stranded with hardly any localised utility apps available. Whether investors like it or not - such is the reality of consumer behaviour in international mobile space. Vesa Jutila, Nokia's Global Head of Smartphone Marketing, agrees, and also Paul Thurrott makes a qualified assessment of the current ambivalent state of Windows Phone - and much well reasoned criticism from the developer perspective can be found further down in the comment section.
With Microsoft controlling the design, functionality and update frequency of Windows Phone, Nokia has effectively shunted itself to the siding. With Samsung (OTC:SSNLF), HTC (TW:2498) and LG (KR:066570) having virtually abandoned Windows Phone - and Lenovo (OTCPK:LNVGY) and Sony (NYSE:SNE) monitoring the situation from the fringe - the question remains, if and how the all-important tipping point can be reached from which on developers and businesses, large and small, (and, importantly, not only in the U.S.), consider Windows Phone app development a commercial as well as brand-building necessity, not as an afterthought or even redundancy.
click to enlarge images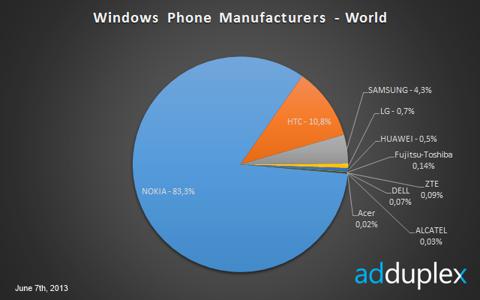 Click to enlarge
(Source: here)
Thus it could be that Windows Phone remains, after three years of development, primarily appealing to first-time users and small business owners not yet entrenched in an ecosystem of app-centric utility. Consumers shopping increasingly for the lower end could be evidence of that. Unfortunately for Nokia, the lower end entails lower ASP and margins.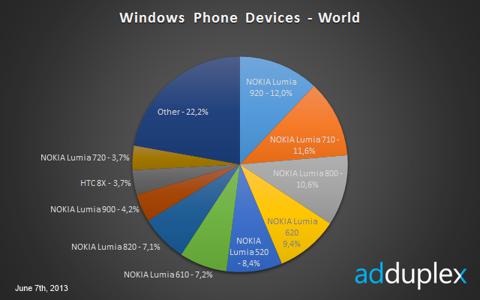 Click to enlarge
(Source: here)
3. Nokia's product portfolio: Brimful of Asha?
Nokia's first Windows Phone 8 products, the Lumia 920 and 820, were launched 5th September 2012, but available only from November in small quantity and limited colour selection. They were not launched in Nokia's core markets but as carrier exclusives in the U.S. through AT&T (NYSE:T) and in the UK through EE, two carriers with low consumer acceptance that both failed to adequately promote and sell. In Nokia's traditional home markets in Europe, the situation was even worse; device uptake hampered by low shipments. Nokia missed the all-important Christmas holiday season when most consumer electronics purchases occur and products market themselves by being shown around family and friends - 1st tier testimonials free of charge. Unfortunately, Nokia replayed the script by missing the Chinese New Year with their TD-SCDMA variant, the Lumia 920T. Nokia's products have initially not been available in quantity in the right places at the right time.
Since then, Nokia has continued with a carrier exclusive strategy, providing their most insignificant market with exclusive models; a Lumia 822 for Verizon (NYSE:VZ), a Lumia 521 (a repackaged Lumia 520) for T-Mobile and a Lumia 928 (a repackaged Lumia 920) again for Verizon. Barely half a year after the Lumia 920 went on sale, Nokia is launching another expensive camera-centric device, the Lumia 909, aimed at photo enthusiasts, hoping its functionality halo will support the Lumia range as a whole. The former master of product planning, production and distribution seems somewhat paralysed, falling back onto Olli-Pekka Kallasvuo's failed strategy to plug all carrier and market slots with an overabundance of models (staggered launches of variants), confusing the consumer with minimal feature differentiation - the devices prone to osborning each other.
Initially, Nokia rekindled its extinguished determination to self-confident design on par with Apple: In a 2012 interview, Nokia's brilliant chief designer Marko Ahtisaari sketched out a roadmap of simple sophisticated forms, married to a bold new colour scheme. Nokia's CMYK approach (modeled after the inks used in offset, inkjet or laser printing), brought much welcomed colour choice back to the smartphone space after six monochromatic years. Sadly, the recent Lumia 925 and 928 saw Nokia reverting to a me-too design strategy, abandoning colour for black, grey and white as pioneered by Apple and subsequently picked up by Samsung. Not surprisingly, many consumers and reviewers expressed their discontent for that decision, because previous devices were available in colour as well as understated neutrals. The Lumia 520 and 620 carry Marko Ahtisaari's vision forward and are favoured by many first-time smartphone buyers. As low margin devices, I doubt they will contribute substantially to the bottom line with view to the following.
Q1 saw a serious decline in Nokia's feature/mobile phone division, down 30% from 79.6m to 55.8m units with the Asha range down 46% from 9.3m to 5m units - in just one quarter. It is not even clear, if these numbers reflect sell-in to trade or sell-through to consumers.
European smartphone shipments are declining further. The majority of consumers, particularly in Asia and Africa, has no need for or does not yet own a smartphone; apparently, there is ample space on the low end. From that, many investors like to derive a natural law, seeing Nokia inevitably poised to profit by way of its brand recognition, build quality and price point coverage. The problem with this is that space on the low end is only virtual; the market segment is plugged with a plethora of extremely affordable devices from an array of manufacturers. One should not forget that the average consumer is far less quality conscious as far as device build quality and OS reliability is concerned and many potential customers want to document their ascend on the aspirational ladder through smartphone ownership - an affordable or used Android device often suffices.
In April, Nokia released the 105 feature phone in India, Pakistan, Kenya and South Africa, their lowest-end device yet, which, according to iSuppli, achieves a 29% margin. In July, Nokia released the 208 and 209 as well as the Asha 210 and Asha 501 devices, the latter based on a mobile OS adapted from Norwegian Smarterphone, introducing yet another mobile OS to consumers and the developer community. These devices, adhering to Marko Ahtisaari's design strategy, featuring a dedicated WhatsApp and/or Facebook key as well as exceptional battery life, have not contributed to Q2. Fellow SA contributor Abu Bakr Hussein has outlined the futility of European consumer electronics brands to compete long-term on the low end and I agree with his reasoning.
At the end of the day, with Microsoft determining device functionality and Nokia overstretching its product portfolio, I doubt that Nokia can grow their smartphone business at a rate that compensates for the ongoing decline in the feature/mobile phone division (that includes the Asha range).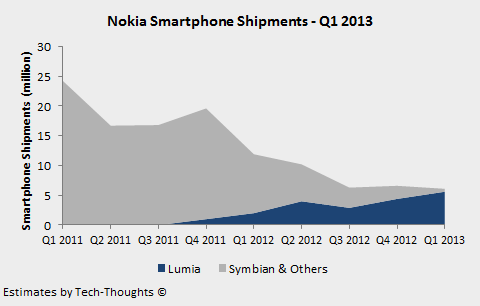 (Source: here)
4. HERE: going nowhere?
HERE is Nokia's location-based services and local commerce division; it "contributed" with an OP of -$97m to Nokia's OP of -$150m in Q1 with yet another negative outlook guided. It is unclear, when and how this division (it emerged from Steven Elop's predecessor Olli-Pekka Kallasvuo's purchase of Navteq for $8bn in July 2008, Nokia's largest ever acquisition), will ever contribute positively to the bottom line.
Nokia's mapping and navigation solutions are widespread in the automotive sector and are deployed on its Lumia smartphone range. HERE maps are also available from any browser and can provide navigation when no wireless signal is present. Ingenious as this may be, it is a niche utility feature for the urban populace in Europe or Asia and not monetised. In fact, compared to its rival Google, HERE maps enjoys hardly any consumer or business mindshare; internet search equals "googling" as looking for directions equals "Google Maps" in most parts of the world. Like Frisbee, Kleenex, Plexiglass, Scotch Tape, Xerox, et al. Google has achieved the absolute maximum in branding: It has become synonymic.
I have yet to see a business that prioritises advertising through HERE, and with Google's recent acquisition of Waze, I do not see how HERE can possibly compete. Unlike Nokia's HERE division, Google has the unique advantage of not having to monetise its mobile OS mapping and navigation solution through license and service fees. Instead, Android is an umbrella under which Google cleverly enlists its enormous user base as eager, voluntary and unpaid data-mining employees, further strengthening Google's all-important databases with their every use of Google's mapping, searching or shopping services, while (unintentionally) helping to remove equivalent regional or local offerings worldwide. Compared to WP8 and BB 10 for that matter, Google's ingeniously woven network of free services is truly organic - it self-sustains its own growth.
5. NSN - Nokia's Notworks?
Nokia Siemens Networks is a telecommunication equipment and service joint venture formed in 2007 by Nokia and Siemens (SI) under Stephen Elop's predecessor Olli-Pekka Kallasvuo. The concept was that two ailing bodies donate their remaining working organs in order to plug together a healthy entity. With six-years open-heart surgery entailing job cuts and unit removals, NSN showed brief signs of life in Q4 2012 and Q1 2013. As of 1st July 2013, the entire body has been transferred to Nokia's ward.
Other SA contributors have explained the possible motives and repercussions in detail. Whether the fire-sale purchase of Siemens' minority share of NSN has provided Nokia with a stratum of easily mined cash remains very much to be seen; Ericsson, Huawei and Alcatel-Lucent will not just go away.
Conclusion
I very much like Nokia's products and have used them. But at this point in time, I do not like the business and the stock. Time is running out and the light at the end of the tunnel could be an oncoming train.
Disclaimer: This is no recommendation to buy or sell securities as that carries with it very high risks. The information contained in this article is for informational purposes only and subject to change at any time. Do your own due diligence and consult with a licensed professional before making any investment decision.
Disclosure: I am long ERIC, ALU, AMD, HPQ. I have sold my NOK short term trading holding on 5th July. I wrote this article myself, and it expresses my own opinions. I am not receiving compensation for it (other than from Seeking Alpha). I have no business relationship with any company whose stock is mentioned in this article.